← Back
The Ramones' First Public Performances
The Ramones sprung onto the scene in mid-1974, revolutionizing rock music and performance by reinjecting energy, simplicity, and humor into a genre which had become increasingly serious, self-important, and bloated.  In the midst of presidential scandals and resignations, urban decay, and disintegrating social fabric, the Ramones called for a new order based upon three chords, basic instrumentation, and fun.
The band is of course considered the inventors of punk rock, as well as the ultimate downtown band and the embodiment of the CBGB's scene.
Yet it may come as a surprise to some, their first public performance was not at CBGB's or another downtown venue, but a bit further north, in what is now commonly referred to as the Flatiron District.
On March 30th, 1974 The Ramones played at Performance Space, at 23 East 20th Street, just east of Broadway.   You can view their setlist here.
It was actually not until August 16, 1974, that they played at CBGB's — the downtown club with which they were so strongly associated.
The Ramones went on to produce seventeen live and studio albums and play 2,263 shows — they toured virtually non-stop for twenty-two years until they broke up in 1996.  They never achieved great commercial success during their lifetimes, but are considered one of the greatest and most influential rock acts of all time.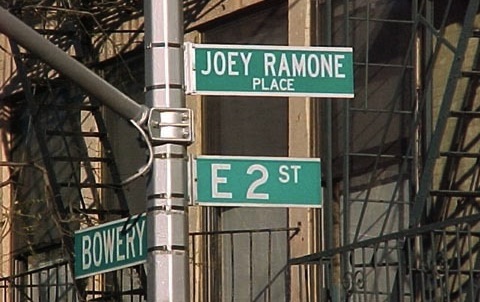 In 2003, the corner of the Bowery and East 2nd Street, outside what was then still CBGB's, was named "Joey Ramone Place."  Sadly, CBGB's closed in 2006.