It's that time of year again! Every June, as part of Village Preservation's Annual Meeting, we highlight with our Village Awards those special businesses, organizations, individuals, and places that make Greenwich Village the best neighborhood in the world. This year's Village Awards winners have been selected:
LaMaMa
New York Central Art Supply
New York Marble Cemetery, Inc.
Pino Prime Meats
Unoppressive Non-Imperialist Bargain Books
Village Community Boathouse
& Kathy Donaldson (Regina Kellerman Award)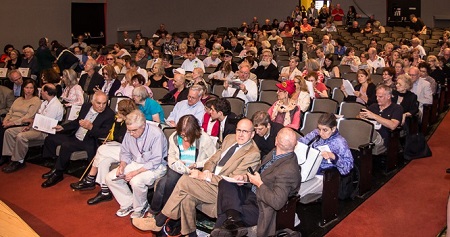 A few months ago we asked the public to submit nominations for a Village Award, and we were once again deluged with your replies and nominations. A hard-working and dedicated committee reviews all the submissions, gathers research on the nominees, and has the herculean task of choosing from this pool of worthy nominees the final list of winners. Retail stores, restaurants, buildings, outdoor spaces, individuals, and non-profit organizations are well represented in the mix of contenders.
During the next few weeks we will focus some of our Off the Grid blog posts on the individual winners to give you more details about them. In the meantime, if you haven't already made plans to attend the Annual Meeting & Village Award ceremony on Monday, June 16th, mark your calendar now, and send in your rsvp here.