← Back
Flowers and books for a summer day
Two weeks ago our friends at Green Guerillas led us on a tour of some remarkable gardens in the East Village. There are more community gardens in the East Village than in any other neighborhood in New York. Each one has a different story to tell, a different look and feel. And each one is a result of neighbors who give their time and hard work to create a beautiful garden out of an abandoned lot.
We began at Orchard Alley Garden, on East 4th Street between Avenues C and D. We were greeted by Ayo Harrington, who told us the history of squatters like her who transformed this vacant lot into a green space little by little, and the battles with government bureaucracy.
Our next stop was the Parque de Tranquilidad, on the same block, where Jutta Neuman told us about the plants, the water supply, and the struggles to keep this garden open and thriving.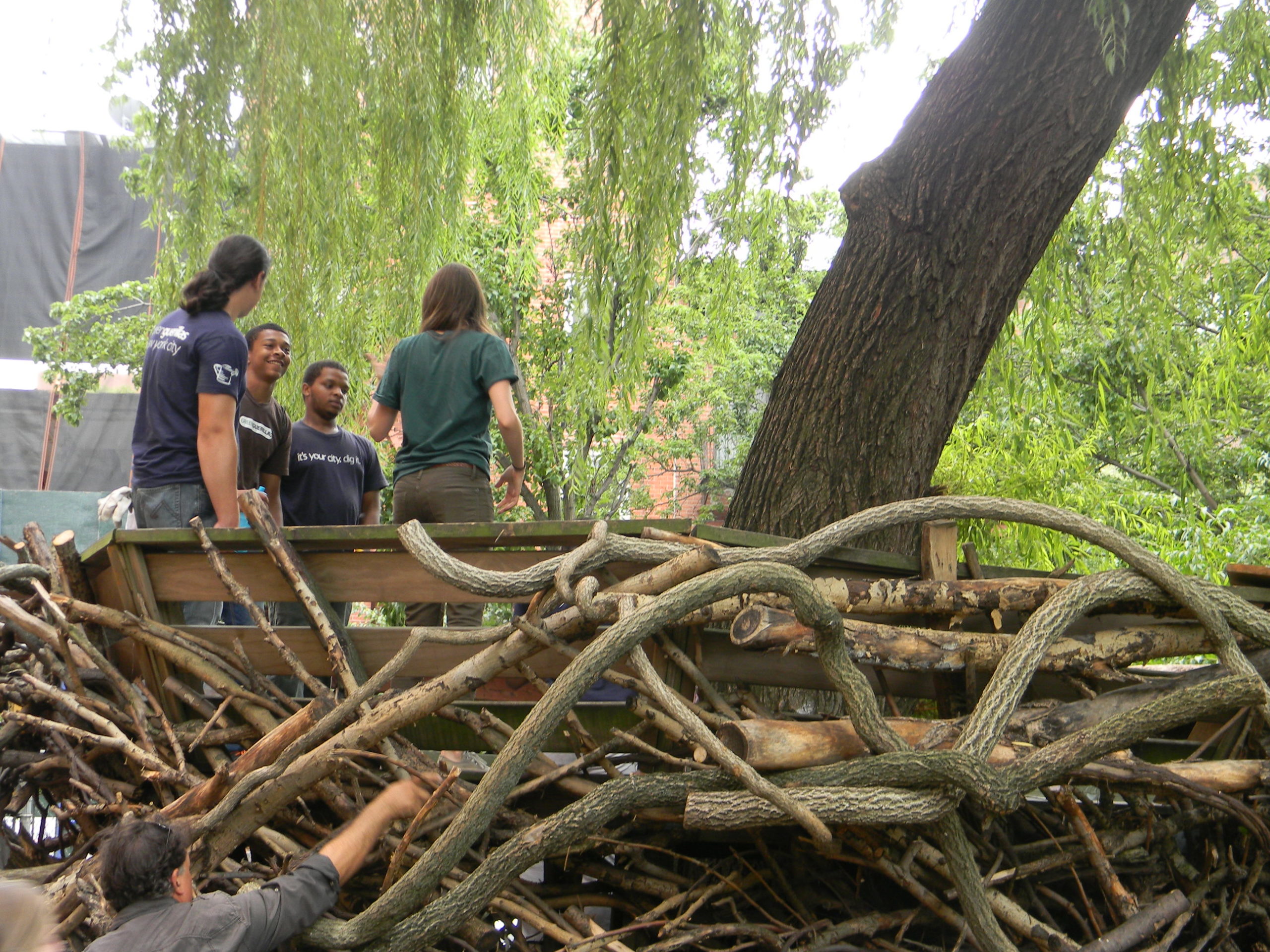 We crossed to the north side of East 4th Street to stop in El Jardin del Paraiso which features a tree house and a turtle pond. Then we were off around the corner on East 3rd Street to All Peoples Garden. This garden is dedicated to its founder, the late Olean Cowart For, and her portrait is painted on a wall overlooking this space she envisioned. We met Herman Hewitt, who has worked there for many years, and he told us about Olean, about performances, weddings, parties, and the gazebo that was donated by Home Depot.
We walked up Avenue C, passing a building that we previously mentioned here on Off the Grid, to visit La Plaza Cultural, where we were greeted by shiny metal sculptures and chickens. Yes, real live chickens scurrying around the garden. Ross told us the history of this garden and its use as a performance venue. Our friends from the nearby Museum of Reclaimed Urban Space (MoRUS) were there getting ready for a cookout.
Our final stop was diagonally across the street to the 9th Street Community Garden, where a huge willow tree, damaged by Hurricane Sandy, is doing its best to spring back to life. As we strolled the meandering paths we discovered a children's section, a huge peach tree, and small plots of tomatoes and corn. Former Village Award winner Bert Waggott, of Sir Winston Churchill Garden in the South Village, was one of the tour attendees. I can always count on Bert to educate me when I see a flower or tree I can't identify – Bert knows them all!
Today I was walking along East 3rd Street and passed 3 small community gardens: Brisas del Caribe, Jardin Los Amigos, and Miracle Garden. I stopped in to St. Mark's Bookshop, another former Village Award winner, which has just relocated to 136 East 3rd Street just west of Avenue A. After many years at 3rd Avenue and 9th Street, the store was forced to relocate due to unaffordable rent. We often lament the loss of the stores and restaurants that make Greenwich Village, NoHo, and the East Village so special, but one way to help them survive is to spend your money there.
I have a great idea: Stop into the new St. Mark's Bookshop (the store is beautiful), say hi to Bob, buy yourself a new book or two or three, and go sit in one of these serene and colorful gardens to relax and read. What a perfect way to enjoy this beautiful summer weather. And a slice from Two Boots will make it the perfect day!