← Back
Horsing Around the Village
By the turn of the twentieth century it is estimated that almost 75,000 horses and 4,500 stables could be found in New York City. Before the mass-adoption of the car and truck, horses played a vital role in the transportation economy of the city. Though today horses are largely absent from the city's streets, their former stable homes can still be found, knit into the city's architectural fabric and since re-purposed in many different ways.

Here are just a small sampling of the former stables that can be found around our neighborhoods:
The large four story 704-706 Greenwich Street building was constructed in 1892-93 to the designs of architect Julius Munckwitz. The building, with its brick and stone-clad façade, housed many commercial tenants (many early trucking firms) and it also contained a livery stable during its early years.
One of the grandest examples of equine architecture (and not just a stable) is the former Van Tassell & Kearney Horse Auction Mart at 128 East 13th Street. GVSHP mounted a six-year campaign to save this unique building, which in 2006 was threatened with demolition so that a seven-story condo could be built. The Horse Auction Mart was designed by the firm of Jardine, Kent & Jardine and constructed in 1903-04. Though it originally served as a horse auction mart that catered to New York's elite families, the building has had an interesting post-horse history, which you can read about here.
This four-story ground-floor stable building at 129 Charles Street, which originally also housed wagon storage and an upper-story residential unit, was constructed in 1897 to the design of architect Henry Andersen.
23 Cornelia Street This stable building was designed by Charles B. Meyers in c. 1912. By 1925, it served as both a stable and a garage for automobiles.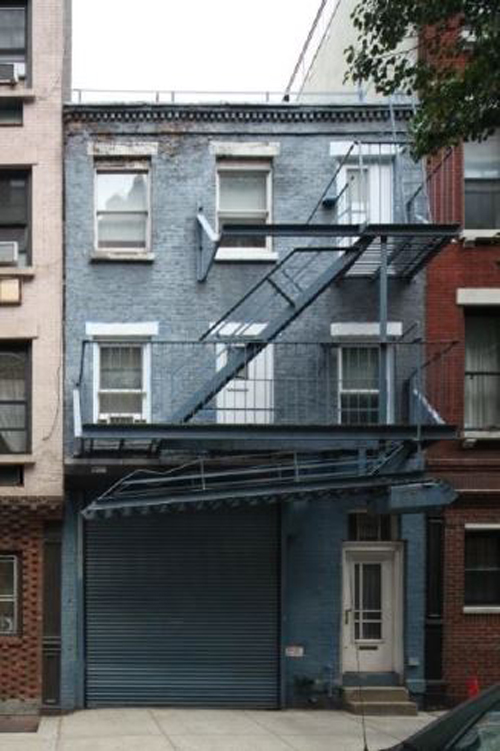 This three-story Greek Revival stable building at 15 Downing Street was constructed between 1829 and 1832. In 1892 the building was converted into a stable with stalls for sixteen horses on the second floor and the doors were widened to accommodate wagons.
The grand stables at 31-33 Great Jones Street were constructed in 1870-71 for the private New York Board of Fire Underwriters (NYFBU), which the city's Landmarks Preservation Commission noted, was "founded for the purpose of protecting the contents of buildings from fire and water damage…the NYFBU had formed several patrols located throughout the city. Fire Patrol 2, established in 1855, moved into the three-story brick building at 31 Great Jones Street in 1873 and remained until 1907." You can read more about another notable Fire Patrol building on West 3rd Street here.