← Back
Commemorating a Favorite Concert Hall, the Fillmore East
GVSHP will officially unveil a new historic plaque at the former Fillmore East at 105 Second Avenue on Wednesday, October 29 at 5 p.m. The event is free and open to the public, but we appreciate reservations at rsvp@gvshp.org.
About the place
I first learned the name "Fillmore" from Grateful Dead bootleg tapes, which, among other things, provided a survey of America's rock venues: Winterland, Red Rocks, the Spectrum, Watkins Glen, the Cow Palace, Hampton Coliseum, and so on. This made it exciting to actually encounter one of those places, as I did one night when my college friends and I drove through the foggy Virginia hills to hear the Jerry Garcia Band at the very same "Hampton Coliseum" that I'd penned onto so many cassette jackets.
And so it is with Fillmore: a storied auditorium that, it turns out, once stood in our very own East Village – just down Second Avenue, at East 6th Street. The Fillmore East! Absolutely everyone played there, as you can see from this list. And practically everyone in the neighborhood (of concert-going age in the late '60s) will tell you they went there, too. The genius promoter Bill Graham – who came to America alone as a child, a German orphan refugee from the Holocaust who grew up to shape the popular music business – opened it as a companion to his Fillmore Auditorium, later renamed Fillmore West, in San Francisco. Graham supported social causes, befriended musicians, booked the stars, and believed in up-and-comers who became stars. He gave away apples and Hershey's kisses and created a place that felt as good as it sounded. (See Jane Bernstein's memories here and more of Amalie Rothschild's photos here. The Local East Village also has performers' memories here.)
Perhaps the building itself gave Graham a head start: It was built to entertain. It opened its doors in 1926 as a Yiddish theater, one of many that lined Second Avenue, the "Yiddish Rialto." Shortly after, it became the Loew's Commodore movie house, eventually morphing into the Village Theater, which offered a variety of movies and live acts, including some in Yiddish. From March 1968 through June 1971, it was the Fillmore East. Then it sat dark for a time, becoming The Saint in the 1980s: first a concert hall, then a gay nightclub that came to define the fabulousness of gay nightclubs. In 1995, Emigrant Bank bought and occupied the building. In 2013, Apple Bank rented it from Emigrant. Apple Branch Manager Krystyna Szabunka, who grew up and lives in the East Village, is excited to commemorate the building's past. She's proud of the collages and photos in the bank's lobby that tell its story.
About the plaque
For a few years now, GVSHP has been putting up plaques in Greenwich Village and the East Village to commemorate both well-known and lesser-known locations, such as the radical saloon of Justus Schwab and the home of poet Frank O'Hara. Our partner and financial supporter is E.V. pizza parlor Two Boots and its generous owner, Phil Hartman.
What you don't realize when you walk by a building with a plaque on it is how much has actually gone on in the background. Plaque-placers like us know that the building owner must be located and communicated with: an insurmountable obstacle all by itself in some cases, which can stop a project in its tracks. In this case, after a number of letters, phone calls, e-mails and a visit to the c-suite of Emigrant Bank in Midtown, we received permission from Emigrant Chairman Howard Milstein to place a plaque on the facade of the building. We further established that the tenant, Apple Bank, was quite enthusiastic. Then it became a question of whether the Landmarks Preservation Commission would also give permission, as 105 Second Avenue falls within the East Village/Lower East Side Historic District — but it did, issuing a permit stating that in regard to this "Medieval Revival style theater building … the Commission determines the proposed work to be appropriate to the building and the historic district."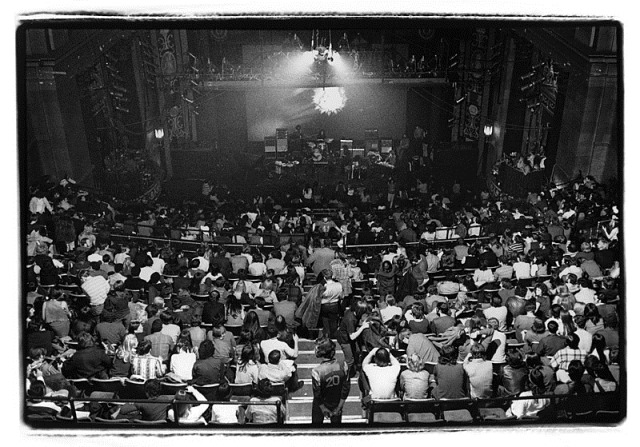 We had already drafted and re-drafted language, and received Mr. Milstein's edits. We had measured the wall in question and done the layout. We placed an order with our plaque fabricator.
That's why we had to laugh when we read in the New Yorker that when actor Daniel Radcliffe, who played Allen Ginsberg in the film "Kill Your Darlings," walked by Ginsberg's longtime apartment building at 437 East 12th Street, he questioned why there wasn't a plaque there. Ha! That's easy. It's because the ground-level facade is all glass.
About the present
Lest commemorating the Fillmore East make us in turns nostalgic, and mopey about today, let's take a moment to view the present through the affectionate lens that we more often use for the past. After all, there's still plenty of great music in the neighborhood. In 43 years – the same span that's passed since the Fillmore's closing – we likely will look back fondly on today's opportunities. Remember how Webster Hall was packed with bands and fans every night? Remember walking by the roadies loading in, musicians chatting on the steps, and the kids waiting in line for tickets? Remember the ridiculous dance parties there?
Remember the exuberant global funk and spirit of Nublu on Avenue C? Or the basic black box of The Stone, on the corner of C and Second,  that would host spare jazz paired with spoken word and live painting one night, and a sweaty rocking reggae band the next? No? What about romantic nights accompanied by le jazz hot at Jules, or around the piano at Rue B? Do you remember the crazy profusion of offerings at Drom … or those hootenannies at Mona's?
Ah, the teens of the twenty-first century, those were the days, back in the East Village. They oughta have a plaque.