← Back
On This Day: Lou Reed's "Walk on the Wild Side"
Lou Reed's classic paean to downtown New York and some of the more prominent characters that occupied that space and time, Walk on the Wild Side, was released on November 8, 1972.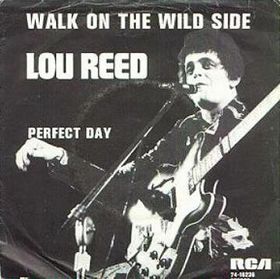 At the time, Walk on the Wild Side was groundbreaking in many ways — musically, lyrically, thematically.  Though it's now comfortably middle-aged, the song arguably sounds every bit as pioneering and haunting, enticing and disturbing as it did when it was released more than four decades ago — adjectives which were probably equally applicable to the decadent and vibrant downtown communities of which the characters in the song were a part.
The final track on the first side of Reed's groundbreaking Transformer album, Walk on the Wild Side was also the only one of the forty-four singles Reed released to make the Hot 100 Singles chart in the United States, peaking at #16.  Considering the topics the song dealt with — prostitution, drug use, transsexuality, oral sex — one might have guessed it would be the least likely of all his singles to crack the pop charts. The B-side of the single, Perfect Day, also from Transformer, has alternately been viewed as one of Reed's more innocent compositions about romantic love, and as an ode to heroin addiction, which Reed struggled with at the time.
Both songs, along with the rest of the album, were co-produced by David Bowie and Mick Ronson, and recorded in London, using largely British session musicians.  But Walk on the Wild Side unmistakably portrays the gritty and transgressive side of downtown New York in the early 1970's, using the lives of five Andy Warhol "superstars" whom Reed knew to varying degrees to paint that picture.
Unfortunately, several of the subjects of the song are no longer with us.  Candy Darling, who, according to the song, "came from out on the Island" (and did in fact grow up on Long Island), died March 21, 1974 of lymphoma.  Darling, like most of the other characters in the song, was a Warhol "superstar," who appeared in many of the artist's films, including Flesh and Women in Revolt.  Jackie Curtis, whom Reed depicted as "just speeding away," in fact died of a heroin overdose on May 15, 1985.  Like Candy Darling, Curtis was an actress who appeared in both Flesh and Women in Revolt as well.
But Holly Woodlawn, whom Reed accurately described in the song as having come to New York "from Miami F.L.A/hitchhiked her way across the U.S.A." (though Woodlawn claimed she never knew Reed before the song was released and was shocked to find her life described in it when she first heard it on the radio), and Joe D'Allesandro, whom Reed said "never once gave it away/everybody had to pay and pay," are both still with us (update: Holly Woodlawn died in December of 2015). Each continued acting after their Warhol days; Woodlawn more recently has been performing as a cabaret singer, while D'Allesandro has done some fairly mainstream film and TV work, in addition to appearing in films by John Waters and Steven Soderbergh.
Sadly, Reed himself is also no longer with us, having died of liver disease on October 27, 2013 at his home in Southampton, New York, at the age of 71.  Before he died, Reed  generously donated a short piece to GVSHP's book, Greenwich Village Stories.  In it, he talks about looking out on the Hudson River and the inspiration and peace it continued to provide for him.  Reed lived downtown with his wife, Laurie Anderson, until his death.