← Back
Business of the Month: Makari
Your input is needed! Today we kick off our new "Business of the Month" feature on independent stores in Greenwich Village, the East Village and NoHo. Tell us which store to highlight next: just click here to vote for your favorite.
Behind an understated storefront on busy Third Avenue near 14th Street lies a charming oasis of beautiful things. Makari Japanese Antiques and Fine Art provides an incense-scented tour of Japanese craft, from ceramics that are hundreds of years old, to contemporary pottery, textiles, sculptures and artworks. Much of the furniture displaying items is for sale, too. While some pieces are pricey, many items are available in the $20-$50 range.
Yuko Nose (pronounced no-ZAY) has run the store at 97 Third Avenue for the past five years. Before that, she had a clothing store, Air Market, in the same space for 15 years.
Originally from Tokyo, Nose has lived in New York City for three decades, now calling Greenpoint home. She just returned from a month-long scouting and buying trip in Japan. As to why she switched from selling clothing to objets d'art, she said: "I got bored."
"I always like mixing things," Nose told Off the Grid. "I wanted to mix contemporary and antiques." The Japanese use antiques as part of everyday life more than Americans do, she said. The oldest item she has ever carried in the store was from the 12th century.
Dressed all in black, with fingernails painted yellow, Nose is softspoken but engaging, and seems to be a natural at business. She has also had other shops in the East Village and SoHo selling gadgets and other goods.
Of her immediate area in what's been dubbed "the northwest East Village," Nose says she's seen it change from dirty, with some empty storefronts, to more glossy and expensive.
"I feel a little sad because many small stores are gone. They couldn't keep the store because the rent is too high," she said. "My landlord is very nice. That's why I can stay here so long."
The store's name, Makari, doesn't really mean anything, she says with a laugh. It's part of a regional Japanese expression, makari mahen, or "no negotiation."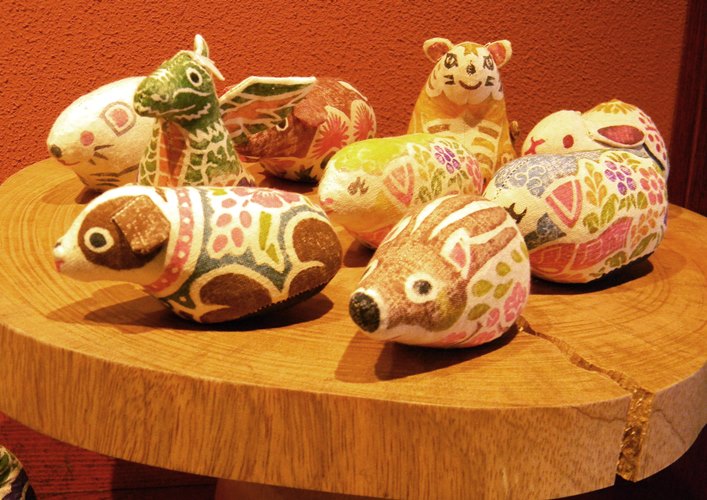 Upon opening – not long after the economic crash of 2008 – it took a while for the store to become known and find its customers, who come mostly from uptown, she said. Although her trove of Japanese goods is a stone's throw from the East Village's Japantown of numerous restaurants, bars and stores, she doesn't think that impacts her business.
Hopefully this unique and appealing store will stay here for a long time. "I'm not bored yet," Nose says.

What special small business would you like to see featured next? Just click here to fill out a brief form. Thank you!