← Back
Business of the Month: Sullivan Street Tea & Spice Company
Your input is needed! Today we feature our second "Business of the Month" — the first one selected by YOUR votes! Now tell us which independent store you love in Greenwich Village, the East Village or NoHo: just click here to vote for your favorite.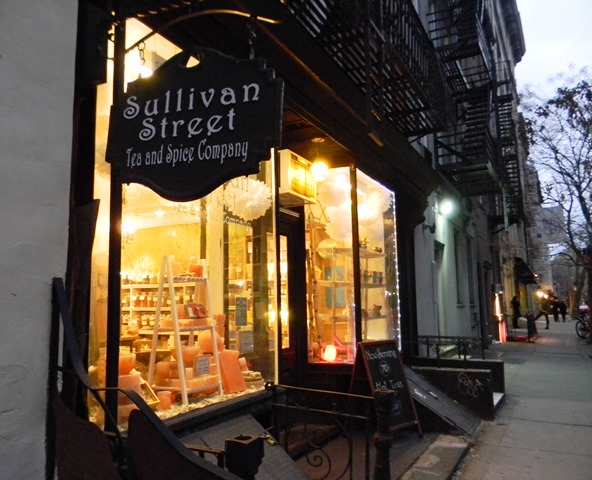 No. 208 Sullivan Street used to be a place where it was clearly marked that "Members Only" were welcome. In the 1980s and 90s, the address was home to the Triangle Civic Association Social Club, where Genovese crime family boss Vincente "Chin" Gigante conducted business on the inside, while feigning mental disability on the outside in order to avoid trial for murder and racketeering.
Today, it's hard not to enter this enticing antique storefront, which has been transformed into the Sullivan Street Tea & Spice Company. Opened in March 2011, the shop attracts both locals and tourists – with some customers making regular pilgrimages from other boroughs – for its broad supply of high-quality and hard-to-find teas and spices. The packed shelves also contain herbs, honey, soap, candles and more. Dozens of brewed teas are available every day to take out in to-go cups as well. And especially at this time of year, the store does a lively online mail-order business.
Mark Greenberg was inspired to open the shop by demand for the teas sold at Grounded, the Jane Street coffeehouse that he and his sister, Jen Greenberg, have run since 2004. Both shops place an emphasis on organic, fair-trade products coming from trusted small producers. With Sullivan Street, Greenberg said he "wanted to do something positive and simple." He's also chosen to preserve much of the store interior that he inherited as the first tenant after Triangle: the historic storefront, tin ceiling, tiled floor, and a painted mural signed "Helen Meyer 2/65."
One year ago the immediate area was designated the South Village Historic District, and you can read about the building in the designation report (p. 183). The Landmarks Preservation Commission took this action following years of advocacy by GVSHP, and we remain committed to seeing a third section of the South Village brought under landmarks protection as well.
In nominating Sullivan Street Tea & Spice Company for Business of the Month, a customer wrote: "There is NOTHING like this in the neighborhood, in terms of both teas (mainly their own blends, beautiful, fragrant, flavorful) and their extraordinary selection of spices…as well as all sorts of other things to delight the senses…It is, besides, one of the most delightfully charming, cozy venues in the South Village. [Also] a great, good neighbor: it is a special pleasure to shop here, not least because of the friendliness and helpfulness of owner and staff."
What special small business would you like to see featured next? Just click here to fill out a brief form. Thank you!