That's the name of Tim McDarrah's new walking tours. The tours are based on the photographs his late father, Village Voice photojournalist Fred W. McDarrah, took of people and places in the Village starting in the mid-1950s. I joined Tim and a group of 8 others recently for an amazing 90-minute journey through the neighborhood we work so hard to save.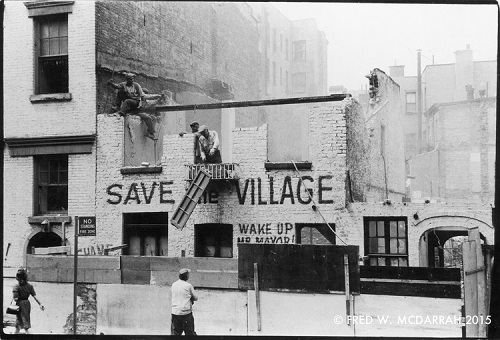 Tim told us the story of his father and how he just loved to take pictures. Fred and his brother grew up unlike the rest of us. Andy Warhol would call the house just as the McDarrah family was sitting down to dinner, and Fred would grab his camera and be off for the latest photo op.
Our group met at Christopher Park, and Tim handed each tour attendee a packet of postcards of some of his father's photographs. Tim talked about the building on the corner of 7th Avenue South and Christopher Street, which is now the Duplex, but once was the Village Voice headquarters. In 1968, Fred took a photo of Andy Warhol (taking a photo of Fred) just outside on the sidewalk.
A few doors away is the site of the Stonewall Inn. And Fred was there taking photos in late June, 1969. I don't need to tell you what was happening then. Then we walked around the corner to the legendary Julius' Bar, where some argue the gay rights movement really began, recorded in a photo by Fred McDarrah.
And so we wandered around the neighborhood, stopping at places where Fred had taken photos. One of Dustin Hoffman, one of Bob Dylan, one of Jimi Hendrix, one of the Rolling Stones (performing Brown Sugar in 1975 on a flatbed truck outside 24 5th Avenue.) Were any of you there for that? I want to hear from you.
We finished our tour in Washington Square Park. In 1959 Fred took a photo of the park from the bell tower of the Judson Memorial Church. That photo shows the roadway that went under the Washington Square Arch, when the park was used as a turnaround for the 5th Avenue bus.
Tim offers 3 other tours: East Village/St. Marks Place; Artists*; and Literary/Beats, as well as private tours. Tours are $25 but Tim gives GVSHP members a discount price of $15.
*Fred McDarrah took a lot of photos of artists who lived and worked in the Village in the 60s and 70s. Most were photos of the artists at work in their studios. The Steven Kasher Gallery in Chelsea recently exhibited a collection of these photos, which Fred and his wife Gloria had put together in a book, The Artist's World in Pictures. GVSHP members were treated to a private tour of this exhibit back in June, led by Gloria and Tim.