← Back
GVSHP South Village Oral History: Peter Longo
On Monday, the Greenwich Village Society for Historic Preservation hosted a program on the oral histories of the East Village, highlighting our commitment to the stories of our neighborhood and our initiatives to preserve them. This week, GVSHP has made twenty new oral histories available through our website. Each of these histories highlights the experiences and insights of long-time residents in both the East and South Villages. We are excited to share these new histories with the public and hope they will shed more insight on what makes Greenwich Village such a unique and vibrant neighborhood.
Peter Longo is the owner of Porto Rico Importing Company and a long-time resident of the South Village. His family has been operating their business in the neighborhood for over three decades. Mr. Longo's grandfather bought the building at 201 Bleecker Street, where the first Porto Rico was started and still remains, and describes what it was like growing up in the South Village in the 1950's and 60's. Our oral history from Mr. Longo covers much about his family and upbringing, life in the South Village, and how he got involved in the coffee business. Below are some excerpts from his interview:
Discussing the building on Bleecker Street:
"Yes, my father's family lived here at 201, and when my father met my mother, she was living at 190 Bleecker, which is across the street, off of MacDougal. Before my grandfather bought this building, he worked for a baker in 190 Bleecker, and the oven was in the basement. Like 1905, he purchased this building for five thousand dollars, and the office we're sitting in used to be the oven. It was a brick oven face, and the inside was all sand. Then fire brick inside, like Zito's old oven. It was a very traditional Italian oven with a boiler that injected steam into the oven to put the crust on the bread. The kids and my grandparents lived upstairs, and then they had some people who rented." (Longo p. 10)
On running deliveries for his parents:
"On MacDougal Street were all these cafes. I was little! If they ordered five pounds of espresso, it was my job to deliver it. I would go, and of course, I didn't want to work, so I would take an hour instead of fifteen minutes and get balled out by my parents because I took so long to get there. We used to supply all the cafes, and I would meet these folks. I didn't think anything of it, and it was a lot of fun. You met a lot of interesting characters and whatnot. I was probably eleven." (Longo p.19)
Why he left the South Village:
"Back years ago in the Village, I was considered the 'Longo boy' by neighborhood people like Mrs. Raffetto—and her sons, too, you know. That's one of the reasons I moved out of the Village because I had no privacy here. You walk down the street, you meet customers, you meet local Villagers, you're the 'Longo boy.' All your behavior, all your private life, is on public display. It's one of the reasons we moved to Battery Park City, which was a tremendous relief, because nobody knew me, and that's fine." (Longo p. 57)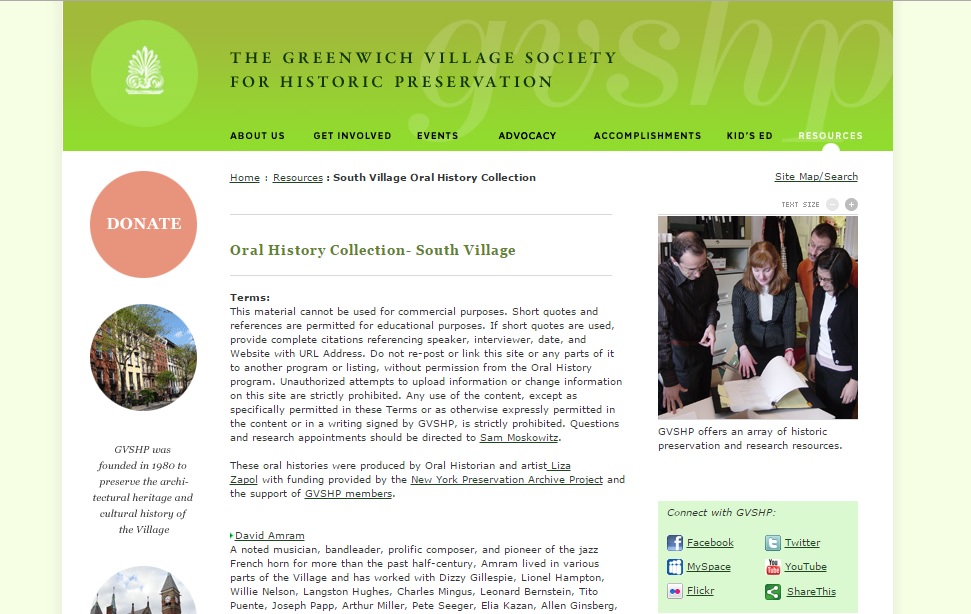 To learn more about our oral history project, listen to some interview, and read the interview transcripts, be sure to visit our website's Resources page. Also, be sure to stay tuned as we interview more village individuals and upload more oral histories to our website.