← Back
'Zoning for Quality & Affordability': Debunking the Myths and Misinformation
Want to help? Attend the City Council public hearings at City Hall on Tuesday February 9 or Wednesday February 10 starting at 9:30 am, and send letters to city officials in opposition here (letters can also be used as sample testimony; testimony must be no more than four minutes, but 20 copies of written testimony of any length can be submitted). More information on how to testify, track when you will be called to speak etc. can be found here and here.
More than 50 community boards across the city and every Borough President have now voted against 'Zoning for Quality & Affordability' (ZQA). There is broad opposition to this deeply problematic, one-size-fits-all, citywide rezoning proposal, but the Mayor is pushing ahead with ZQA. The City Council will, however, have the final say over the measure.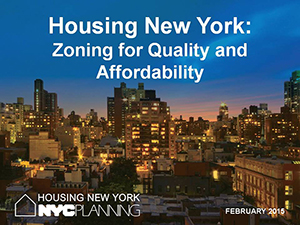 To help fight ZQA, GVSHP has set up an automated email page where with a few clicks you can send a letter opposing the measure to every member of the City Council, every Borough President, the Public Advocate, the Mayor, and the City Planning Chair, all of whom will vote on it. Send those letters here; you can personalize them or change the text. Please share.
To also help, we have outlined below some talking points about ZQA which debunk some of the falsehoods and misconceptions about the measure being spread by the Department of City Planning, which you can use in conversations with elected officials, community boards, etc.
By lifting height limits in inclusionary zones, ZQA will produce more affordable

Community Boards, elected officials, and community groups rallied in the rain against ZQA in March in front of City Hall.

units. There is no real evidence to support this, and much evidence to indicate exactly the opposite. For example, in Community Board #3M, about half of new developments in inclusionary zones have opted to include 20% affordable units, while half have not, within the existing height limits. In most cases, those developments that have not included affordable housing had more than enough room to include the affordable units within the existing height limits, but have simply chosen not to, because the program is voluntary. This shows that lifting the height limits are unlikely to result in any additional affordable housing being produced, but may simply result in developments we would have gotten anyway being taller and larger.

The Citizen's Housing Planning Council report "The Building Envelope Conundrum" shows that current height limits prevent use of full allowable floor area, keeping affordable housing from being built – a problem ZQA would solve. The CHPC report did show that in less than half their 17 cases studies, projects used less than their full allowable floor area because of the restrictions of height limits and building envelopes. But what they don't tell you is that the study looked exclusively at 100% affordable housing developments, which are NOT governed by ZQA rules. 100% affordable developments have very different layouts and needs than the 80% market rate/20% affordable ('80/20') developments governed by ZQA, and what might be needed to accommodate 100% affordable developments might be completely unnecessary for 80/20's. Additionally, accommodations which might be appropriate and supportable for 100% affordable developments, such as increased allowable heights, are not necessarily appropriate and supportable for 80/20 developments. Finally, the report makes clear that in many cases the issue preventing full floor area utilization was irregularly-shaped lots. Applying standard zoning rules to irregularly-shaped lots has always been a challenge; if this is truly an impediment in a very small number of cases of the maximum amount of affordable housing being built, relief is already available in the form of variances, or much more targeted zoning changes could be proposed than the sweeping across-the-board changes ZQA would apply to very different types of developments which do not need such generous accommodations.
Department of City Planning (DCP) analysis shows its difficult or impossible to include the required floor area to allow affordable units to get built in inclusionary zones with existing height limits, which is why they must be lifted. Actually, that analysis is done exclusively on narrow street, interior lot sites, which are the most restricted in terms of how floor area can be used, making this hardly a representative cross-section. Worse, in most of Manhattan and much of the other boroughs as well, inclusionary zones are mapped largely or exclusively on wide streets, not the narrow streets used in the DCP analysis, which are less restrictive in terms of how floor area can be used, and many of those sites are also corner lots, which are even less restricted. So the DCP analysis is not just unrepresentative, but in by far the majority of cases it is actually inapplicable.
The proposed significant increases in allowable bulk and height are necessary to accommodate affordable housing for seniors. What DCP does not make clear is that the developments which would receive these generous bonuses would be largely market rate developments with just 20% of units reserved for 'senior affordable housing,' which would only be required to stay senior affordable housing for 30 years.
The proposed increases in height in contextual zones are not very significant, and would not be noticeable. In fact, ZQA calls for height increases of up to 25 feet or more, which in R7-A and R7-A equivalent zones amounts to a 31% increase in allowable height – a far from insignificant amount. For example, on most avenues in the East Village where the height limit increases would apply, the existing building stock typically ranges between 30 and 55 feet in height. Under the new height limits, new construction would be roughly double to more than triple that height.
For market-rate developments, the proposed height limit increases are almost always only 5 feet. This ignores ZQA's proposed increases in height limits for "Quality Housing" construction in non-contextual zones; in those cases, the increase would be up to 20 feet.
The height increases for market-rate buildings will only be allowed when raising the height of ground floors to make them more pedestrian-friendly, improve retail environments, or increase residential privacy. This is simply false, and is based upon DCP's twin premises that a) existing height limits prevent new buildings from having ground floors of 13.5 feet without sacrificing full allowable FAR, and b) that 13.5 foot tall ground floors are inherently better than 10 or 11 foot tall ground floors. First, we have found many examples of new construction with 13.5 foot ground floors under the existing height limits, with full allowable FAR. Under ZQA, such construction would still get the 5-20 foot height increases for providing the ground floor heights they would have anyway. But secondly, we have also seen many examples of successful ground floors in old as well as new buildings with 10 or 11 foot heights; in some cases, a more modest ground floor height is more desirable and in keeping with the surrounding context. Regardless, the 2.5 to 3.5 foot difference does not justify a 5-20 foot proposed increase in overall allowable height.
ZQA is not an upzoning, and will not result in any increase in market-rate square footage being built. This is false, and contradict DCP's own statements. DCP claims ZQA is needed because developers cannot currently build their full allowable FAR while abiding by the current height limits, for both purely market-rate and 80/20 developments. While we question this assertion, if it is true, then lifting the height limits as proposed will in fact result in additional FAR being built that would not or could not be built under the existing rules. DCP claims that this will mostly be the case for 80/20 developments, as opposed to purely market-rate developments. But even so, when a developer includes 20% affordable units, they also get an increase in the allowable market rate FAR, so even under these circumstances the amount of market-rate square footage built would increase under ZQA. Thus ZQA is in effect an upzoning, and would increase the amount of market-rate square footage which can be built.

Each of these new buildings in contextual zones in the East Village, a few blocks apart, debunk DCP's claims about the need for ZQA. Eleven 2nd Avenue (l.) was built within the existing height limits with full FAR, generous ground floor and floor to ceiling heights, and the maximum allowable affordable housing (20%). Under ZQA it would have no additional affordable housing, but might have been 25 feet taller. 128 E. 12th Street (r.) was also built to full FAR under existing height limits, also with generous ground floor and floor-to-ceiling heights, but they chose not to include affordable housing, although the current height limits left plenty of room to do so. Under ZQA, therefore, it is unlikely any affordable housing would be included. But the height limit for the building would have been lifted by 5 feet anyway, even though it already has the ground floor heights ZQA calls for.

ZQA would not result in any incursions into rear yards where they are not currently allowed. This is untrue. While some rear yard incursions (i.e. allowing construction on the rear yard of a residential building which is normally required to be left open) are allowed under current rules, ZQA would expand those allowances to include any market-rate development which reserves 20% of their units for affordable or "senior affordable" housing (the latter for just a period of 30 years). Such allowances currently do not exist.
Want to help? Attend the City Council public hearings at City Hall on Tuesday February 9 or Wednesday February 10 starting at 9:30 am, and send letters to city officials in opposition here (letters can also be used as sample testimony; testimony must be no more than four minutes, but 20 copies of written testimony of any length can be submitted). More information on how to testify, track when you will be called to speak etc. can be found here and here.