← Back
Downtown Underground: Tom Otterness' Life Underground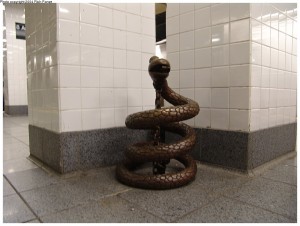 In 1985 the MTA founded what was then called Arts for Transit and Urban Design (now called Arts & Design) as part of an ambitious capital improvement program meant to reverse years of subway system decline. At that time, MTA leadership determined that original and engaging art was a vital part of the rebuilding effort, one that would lead to a more pleasurable experience for subway riders. The Arts & Design program occurred as both the historic preservation and public art movements began to influence public policy and as cities nationwide began their own rebuilding programs. Arts & Design's work continues to flourish today.
Last time we looked Lee Brozgol's The Greenwich Village Murals at the Christopher Street-Sheridan Square station. The next stop on our tour of subway art in the Village brings us to the 14th Street station at 8th Avenue where one of the most popular pieces of subway art lies.
Installed in 2000, Tom Otterness' Life Underground features over 130 bronze sculptures emerging from the floors and playing along the ceilings of the station. Though the work took several years to install at the 14th Street Avenue Station due to disputes with bureaucrats, parts of the installation appeared all over the city during the long process – popping up in Central Park, Battery Park City, and Pratt Institute.
Life Underground contains a series of whimsical miniature bronze sculptures depicting cartoon like characters showing people and animals in various situations, as well as additional abstract sculptures dispersed throughout the station platforms and passageways. Otterness points to the "impossibility of understanding life in New York" as his inspiration and the theme of the work. The artist was also inspired by the construction of the subway system during the 19th century and urban myths familiar to New Yorkers. Some of the characters carry oversize versions of tools used to build the subway, while others appear to be caught in the process of breaking into it, waiting for it, or being subsumed by a giant alligator emerging from a manhole cover. Many of the figures have moneybag heads, to which Otterness credits 19th century political cartoonist Thomas Nast's depiction of Boss Tweed and the corruption of Tammany Hall.
Every day, more than 30,000 people walk through the 14th Street and 8th Avenue subway station, passing by Otterness' bronze sculptures. If you're one of them, don't forget to look up, down and all around to catch these imaginative characters.
Click here to take a virtual tour of Life Underground.