← Back
Happy 47th Birthday, St. Mark's Historic District
Forty-seven years ago, on January 14th 1969, the Landmarks Preservation Commission concluded that,
"On the basis of a careful consideration of the history, the architecture and other features of this area, the Landmarks Preservation Commission finds that the St. Mark's Historic District contains buildings and other improvements which have a special character and special historical and aesthetic interest and value and which represent one or more periods or styles of architecture typical of one or more eras in the history of New York City and which cause this area, by reason of these factors, to constitute a distinct section of the City."
The LPC added an extension to the district in 1984.
This part of Manhattan was once part of the farm of Peter Stuyvesant, who was Director-General of the Dutch colony of New Netherland, before it became the English colony New York in 1664. One of my favorite streets, Stuyvesant Street, runs on a true east-west course, and was first surveyed and laid out in 1787, for Stuyvesant's great-grandson, who often used the Latin form of his name, Petrus.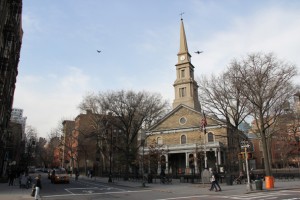 The most significant structure in the district is the historic St. Mark's Church-in-the-Bowery. The church was designated an individual landmark earlier, in 1966. At the time, the LPC wrote:
"As seen today, Saint Marks-in-the-Bowery is a church which represents construction over a considerable period of time. The main body of the church, with its fieldstone walls and handsomely trimmed round arched windows, belongs to the late Georgian tradition. The steeple is pure Greek Revival and is beautifully although simply detailed. The handsome porch is of cast-iron and belongs to the Italianate tradition of the mid-Nineteenth Century. What is most remarkable, in the case of this church, is the fact that elements of such diverse periods should harmonize so well, achieving a singularly attractive whole."
Moving south to what, on the grid, is 8th Street, we find St. Mark's Place, which is not part of the historic district. I've seen "St. Mark's Place" with and without the period, and with and without the apostrophe. And I've seen St. Marks Place as a bustling street full of people shopping and eating, but I've also seen St. Marks Place as a place with some remarkable architecture. Many buildings here were built by German immigrants in the 1800s when the neighborhood was known as Kleindeutschland, or Little Germany.
On Monday, January 25th GVSHP will present a free public program with author Ada Calhoun and her new book, St. Marks is Dead. Of course, St. Marks is not dead, and that is her whole point. Over the years many have said "St. Marks is Dead" but it keeps reinventing itself. If you would like to attend this program, at Theatre 80 on St. Mark's Place, please make a reservation here.