← Back
Pete Seeger Anniversary
Today marks the two year passing of folk music legend Pete Seeger. Seeger was an influential singer, songwriter, and civil rights and anti-war activist. Seeger also founded a nonprofit environmental organization in 1969, Hudson River Sloop Clearwater, to advocate for the environmental clean up of the Hudson River.
Like many artists, Seeger had a strong connection to the Village.
Although Seeger was born in NYC, his family moved away when he was young. By 1940, Seeger moved back to NYC and lived with his brother at 118 East 11th Street, a five story old law tenement built in 1891. His first gig with Lee Hays was a lunch for refugees of the Spanish Civil War held in 1941 at the Jade Mountain Chinese Restaurant at 197 Second Avenue between 12th and 13th Street. The Jade Mountain Restaurant opened in 1931 until it closed in 2007. 197 Second Avenue is now Shoolbred's, a bar & lounge.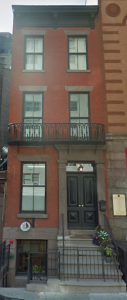 After forming The Almanac Singers, Seeger moved with a group of artists to 70 East 12th Street, which came to be known as the "Almanac House". This property no longer stands, giving way to a modern building in 1986. Following 70 East 12th Street, the Almanac House group then moved to 130 West 10th Street, which is located in the Greenwich Village Historic District. The designation report does not mention this property is one of the former locations of the Almanac House, simply noting: "This remarkable little house, built in 1862 for George Starr, a butcher, is – if we may judge by the ironwork and cornice – a late example of the Italianate style. The handsome outer doorway with pilasters could almost belong to the Greek Revival period but the paneled double doors and the round-arched cast iron railings at the stoop and areaway, and repeated at the second floor balcony, all reflect the later influence. The cornice is carried on three vertically placed console brackets of foliate design." Read more about the building's history as a location of the Almanac House here, as part of the Municipal Arts Society Place Matters project.
Seeger performed at Village venues including The Bitter End (where Seeger made his Peter, Paul, and Mary debut), Village Gate, Village Vanguard, Gerde's Folk City, The Gaslight Cafe, and others. He could often be found playing or hanging out with other folk musicians in Washington Square Park.
Seeger was inducted into the Rock and Roll Hall of Fame in the category of early influences. According to his Rock and Roll Hall of Fame bio, "Pete Seeger's contribution to folk music, both in terms of its revival and survival, cannot be overstated. With the possible exception of Woody Guthrie, Seeger is the greatest influence on folk music of the last century."
Seeger was also inducted into the Songwriters Hall of Fame, won five Grammy Awards including a lifetime Grammy Award, a Kennedy Center Honor, the National Medal of Arts, and at least a dozen other awards recognizing his contributions to his peace activism and human rights efforts.
Off The Grid mentions Seeger's role in Village and music history in several previous posts including a Peter, Paul and Mary post, in a Pete Seeger post in our series Village People: A Who's Who of Greenwich Village, throughout our series Folk Music in Greenwich Village: 1940's-1953, 1953-1961, 1961-1970's, and Remembering Pete Seeger, following his death two years ago.