← Back
This Day in 1984: The Pope of Greenwich Village
On this day in 1984, the movie The Pope of Greenwich Village was released in theaters. It starred Mickey Rourke and Eric Roberts as Charlie and Paulie, cousins and would-be gangsters who attempt to make some fast money with an ill-conceived scam. In the backrooms of downtown bars and restaurants, the two characters fumble their way through negotiations with New York's criminal underworld. And in the meantime, we get some nice peeks at the Greenwich Village of the mid-1980s.
The Pope of Greenwich Village began as a book, published in 1979 and written by Vincent Patrick. A couple different covers were printed, but my favorite I found was this one, which prominently features the Washington Square Arch. I watched the movie a few months ago, and I honestly can't remember if the arch, or the park, actually makes an appearance in the movie. But it's clear from this cover that thirty years ago, the Washington Square Arch was just as iconic a symbol of the neighborhood as it is today (although the book cover's arch also bears some graffiti, which you're not likely to see these days).
Like that graffiti connotes, The Pope of Greenwich Village portrays a neighborhood that, while not necessarily blighted, is certainly working class and rough around the edges. But the movie's neighborhood borderlines are a little murky. In spite of bearing the Greenwich Village name in its title, the movie actually centers on what GVSHP refers to as the South Village – specifically an area below Houston Street, between 6th Avenue and West Broadway, that many people now consider part of SoHo. Historically, this neighborhood was predominantly Italian and part of the larger Greenwich Village neighborhood. But in the 1940s, Houston Street was widened to build the IND subway line, effectively creating a barrier between the southern and northern sections. You can read about the widening of Houston in an earlier Off the Grid post which also references St. Anthony of Padua, a church that appears several times in The Pope of Greenwich Village movie. Eventually that widening caused the southern portion to be seen as its own separate area. The 1960s rise of the artsy, loft-living "SoHo" brand only strengthened that separation.
Just like in 1940, New York neighborhoods are constantly shifting in response to surrounding development. GVSHP has been working hard to achieve landmark and zoning protections for this historic South Village neighborhood, which is currently unprotected from inappropriate development or out-of-scale projects. But you can help! Learn more about our efforts and send a letter to the mayor showing your support for landmarking this important piece of Village culture.
Our Pope of Greenwich Village characters spend a great deal of time skulking around this South Village neighborhood, and the setting is dominated by gritty streets and local businesses that seem practically foreign to the neighborhood today. But luckily enough for us, a few of these businesses are actually still around! One place Charlie and Paulie visit is a neighborhood meat market, shown in the background here:
You can see the glass storefront's old-fashioned painted letters behind the actors. This site is indeed in Greenwich Village, at 149 Sullivan Street. And not only is the business still thriving, but it's one of GVSHP's favorites! Pino Prime Meats has operated out of that Sullivan Street location for over a century – they're the very definition of a Village staple. GVSHP gave Pino a Village Award in 2014, and the store even successfully fought a prohibitive rent increase in 2012. Overwhelming support from the neighborhood convinced Pino's landlords to allow another five years on their current lease. It was huge victory in 2012, but it also means that another battle could be coming for Pino in 2017.
Charlie and Paulie also visit Mulberry Street Bar, which is still in business today at 176 Mulberry Street. It's been a bar since 1908, and they're proud of their heritage and notoriety in the neighborhood – it's also been a location in Donnie Brasco, The Sopranos, and Law & Order. The historic wooden bar features inset mirrors lining the top of the ornate structure, and the site also boasts subway tile flooring and historic pressed tin ceilings.
But of course, we've lost some locales featured in the movie, too, like this historic storefront with painted lettering:
This business, at 152 Sullivan (you can even see the address number painted on the glass in the above image), is the home of Zampieri Brothers Bakery. This Sullivan storefront became the home of Canepa Brothers Bakery in the late-19th century, and after one Canepa sister married a Zampieri, the name of the bakery changed. The Canepa/Zampieri Bakery was famous in the neighborhood and had a shop on Cornelia Street as well as on Sullivan. I wasn't able to pinpoint exactly when Zampieri's closed, but I do know that both the Sullivan and Cornelia locations are no longer with us.
Another intriguing storefront in the movie is a "members only" club that serves as the headquarters for the neighborhood mafia.
I just love the look of this old storefront – and it's certainly not something you're likely to see around New York these days. I wasn't able to find much about this 1984 business (googling "members only" bar doesn't get you very far) but On The Set of NY (a special thanks to that blog for much of the location information in this post!) lists the location as 51 Spring Street. Two separate storefronts are listed at that address, and one of them looked familiar to me:
A lot has changed, but I think this is indeed the same storefront. My biggest hint? The pressed tin pilasters on each side of the glass windows. They're painted green in The Pope of Greenwich Village, and they're a brownish color these days. In this current photo, you can also see a piece of the stoop for the next address, painted red and protruding from the building's facade. And if you look at the below image from the movie, I believe you see that same stoop element behind Mickey Rourke, but painted a cream color rather than red.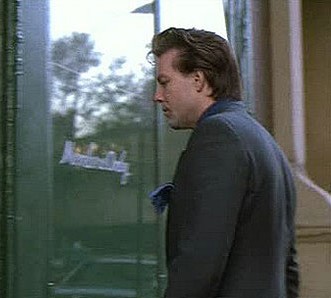 I'd love to know more about this "members only" situation at 51 Spring. If you have any tips or recollections about this old business, please share! Or maybe you remember one of the other businesses featured in the movie?  Either way, I recommend taking some time this weekend to celebrate its anniversary and watch The Pope of Greenwich Village. It's a fun movie, and a nice way to time travel to the old neighborhood.