← Back
This Day in 1979: The Talking Heads' 'Life During Wartime' is released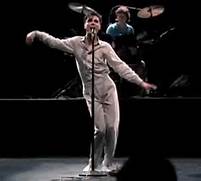 On this day in 1979, The Talking Heads released their single 'Life During Wartime' from the album Fear of Music. The song not only went on the be a classic of the band's, the era, and the genre, but perhaps no song better captured the anarchic, chaotic, and ultimately creative feeling of the East Village/Lower East Side scene of which the Talking Heads were such an important part.
The Talking Heads were a New York City-based band formed by four friends, David Byrne, Tina Weymouth, Chris Franz, and Jerry Harrison, who were former students at the Rhode Island School of Design. Inspired by the East Village punk scene in the early 1970's, the Talking Heads pioneered the genre of new wave music by integrating elements of punk, art rock, funk, dance, pop and world music with art school sensibilities and the tension-filled stage persona of lead singer and guitarist David Byrne.
The lyrics describe a post-apocalyptic landscape where a revolutionary hides out in a deserted cemetery, surviving on peanut butter. 'I wrote this in my loft on Seventh and Avenue A,' David later said, 'I was thinking about Baader-Meinhof. Patty Hearst. Tompkins Square. This a song about living in Alphabet City."
The song is also performed in the 1984 film Stop Making Sense, which captures a Talking Heads concert. The Stop Making Sense live version of the track is featured in the film's accompanying soundtrack album. Its official title as a single, "Life During Wartime (This Ain't No Party… This Ain't No Disco… This Ain't No Foolin' Around)", makes it one of the longest-titled singles.
The line "This ain't no Mudd Club or CBGB" refers to two iconic East Village music venues where the band both hung out and performed.
"The line 'This ain't no disco' sure stuck!" remarks Byrne in the liner notes of Once in a Lifetime: The Best of Talking Heads. "Remember when they would build bonfires of Donna Summer records? Well, we liked some disco music! It's called 'dance music' now. Some of it was radical, camp, silly, transcendent and disposable. So it was funny that we were sometimes seen as the flag-bearers of the anti-disco movement."
Sadly, on October 15, 2011, CBGB's, the legendary rock venue o
n Bleecker and Bowery, closed for good. Opened in 1973, its full name, CBGB's & OMFUG, stood for "Country Bluegrass Blues and Other Music for Uplifting Gormandizers." The club was an incubator for underground groups in the punk and rock scene, giving starts to such acts as The Ramones, Blondie, Patti Smith, and of course, the Talking Heads. Today, designer John Varvatos has a retail store in the former CBGB's space.