← Back
Business of the Month: Katinka, 303 East 9th Street
Your input is needed! Today we feature our latest Business of the Month — help us to select the next. Tell us which independent store you love in Greenwich Village, the East Village or NoHo: click here to nominate your favorite. Want to help support small businesses? Share this post with friends.
You may have seen them sweeping the sidewalk in front of this incredibly narrow storefront on East 9th Street just east of 2nd Avenue. The small riot of colors and flowing fabrics outside and glittering impressive baubles in the window certainly commands your attention. And then there is the low but noble cornice, or waft of incense that can make you stop. Go in, it is Katinka, our January Business of the Month!
Proprietors Jane and Billy, like other of our Business of the Month awardees, show again that the bohemian spirit can live on in today's NYC. They offer a variety of amazing items, with hand-made pieces that are one of a kind. Shirts, vests, bags, quilts and rugs, all made and imported from India. They are closely aligned with the Laksh Foundation, that includes a farm, a free school and a women's sewing cooperative. Sometimes women from different villages, Muslim and Hindu, work on the same articles.
An important element in the fabric of the community, Jane and Billy opened Katinka in this spot which is actually between two buildings in 1979, and live upstairs. Previously Jane had another location on East 9th Street in the "flower power era", as she called it. She made the clothes and jewelry herself then, knitting and crocheting when she could. . This was back when Doc Holiday's bar was a drug store and rock and rollers would get their clothes and feathers from the many vintage stores in the neighborhood and then perform at the Fillmore East (where we unveiled a historic plaque). You could rent an apartment for$40 on the "other side of Tompkins Square Park".
Jane first visited India in 1976, on a trip with a large company where she worked as a designer at the time. Now the shop has Khanta embroidered pieces, gorgeous dress coats and cozy quilts. And Jane and Billy know all about what they carry, the fabric, the source, where it was made, even who made it. Billy pulled out a well worn copy of a book by Ghandi explaining how it is not just a cloth, it is a movement that promoted a socio-cultural aesthetic, the idea that Indians could be self-reliant on cotton and be free from British imperial imports.
But businesses come and go, so to what do they attribute their longevity? They both answered similarly. Of course it take serious commitment, but they are also in it for the love, want to help people, and are not in it for the "grand commercial thing." Not long ago a sales rep had called Jane asking her questions about her point of sale and such, she didn't know it meant where the cash register is. Billy added that when you are doing the right thing in the right way you "don't have to worry about no competition."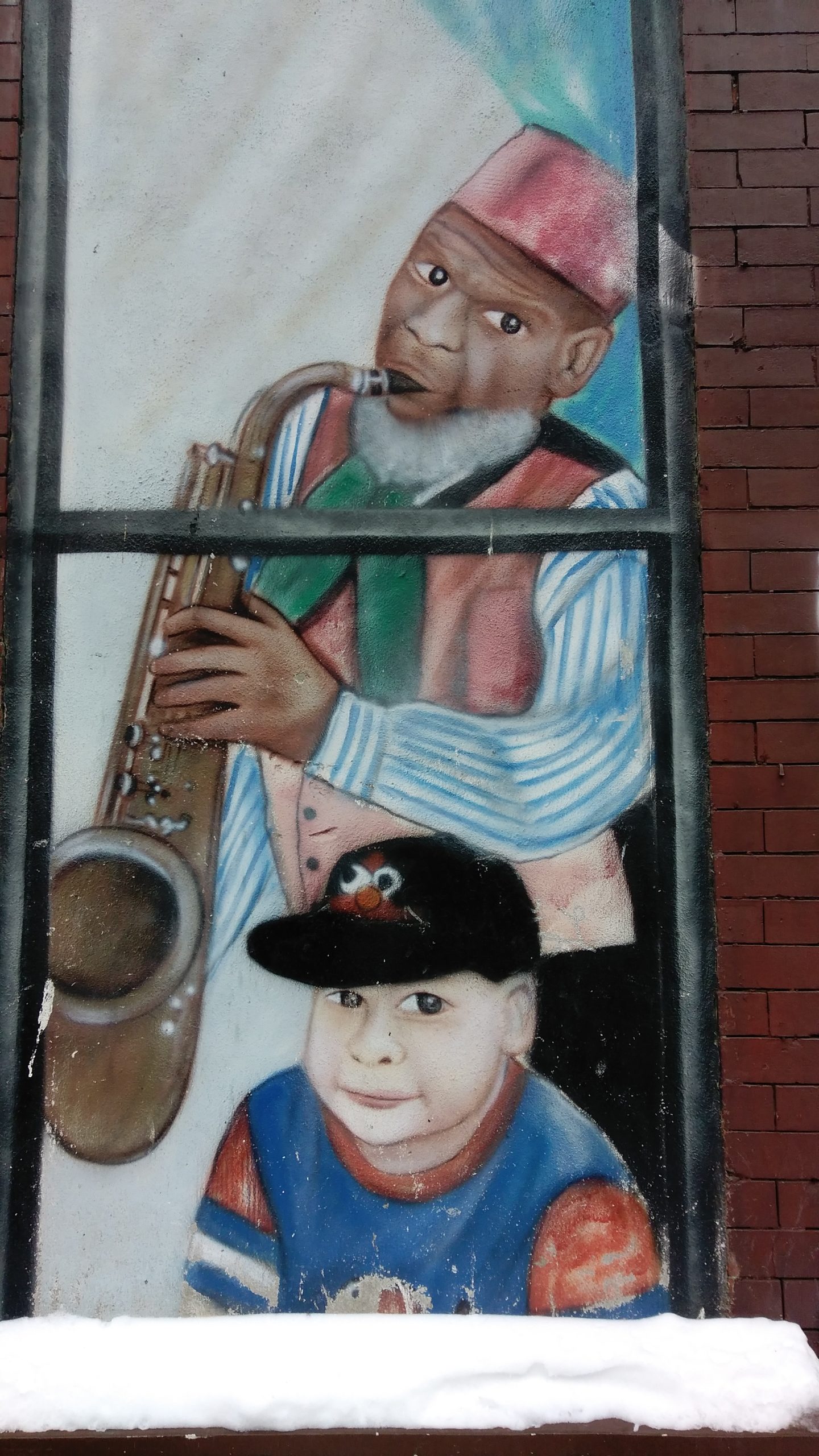 Billy has five or six brooms. One for inside the store, one for outside, one for the sidewalk, one for the gutter and some specialty ones. They do not just clean physically, they help set the tone for the store and the block. They open at 4 pm. Outside one evening, Katherine, a regular patron and resident of 9th Street and former bartender, was looking long at the window. She wanted to make sure she was focused before she went in, because it was all so compelling and she already had a bunch of Katinka items and garments at home.
And all kinds of people go inside. As jazzy philosopher Billy observed, "They say when the student is ready the teacher will appear. When people are ready, that is when they come in." Billy is a musical virtuoso who plays classical flute with the New Horizons, Third Street School's concert band of musicians 50+, in addition to guitar, saxophone and keyboards. He used to have a piano in the back of the shop. The major thing he loves about the East Village is that "People here really do try to get along. It is a neighborhood still where people stop and say hello."
Both of them showered complements on some of the other shop owners on the block. Local denizens like Pam at Dinosaur Hill, on the south side of the street, and Delanee of Cobblestones, another one of our Business of the Month awardees and "queen of vintage", as Jane called her, were singled out for attention. And she sings when she sweeps. The pancakes at Veselka were duly noted.
There is a bountiful array of kaleidoscopic items arranged neatly in the well stocked narrow shop. Billy notes that every color has a job. Even black; magicians and judges wear black. At Katinka you will find a very chromatic selection of clothes, all seemingly celebratory. If all of that is not yet for you, you can find a delicious scarf for just the right pop of color. And out front is a gateway of lower cost items to inevitably lure you in.
There is nowhere else in all of NYC to get such a mix of philosophy and jazz, jutti shoes and windsock lantern decorations that can help celebrate the victory of good over evil, hanging right over an elephant made in Rajastan.
That is why Katinka on East 9th Street in the East village is our first Business of the Month in 2017.
What special small business would you like to see featured next? Just click here to nominate our next one. Thank you! #shoplocalnyc #businessofthemonth

And here is a handy map of all our Business of the Month shops: