← Back
Business of the Month: La Sirena, 27 East 3rd Street
Your input is needed! Today we feature our latest Business of the Month — help us to select the next. Tell us which independent store you love in Greenwich Village, the East Village or NoHo: click here to nominate your favorite. Want to help support small businesses? Share this post with friends.
Some small shops pack so much energy they seem to flow out onto the sidewalk, into the street, and across the neighborhood and beyond. On East 3rd Street is one such place where year-round holiday lights adorn an A-frame sidewalk sign with mercados (market bags) and papel picados (paper confetti flowers) hanging out front, and a wall of colorful shirts and vestidos (dresses) beckon you to enter. Located in the East Village/ Lower East Side Historic District at 27 East 3rd Street (just west of 2nd Avenue) is La Sirena opened over 17 years ago, and this Cinco de Mayo is our latest Business of the Month.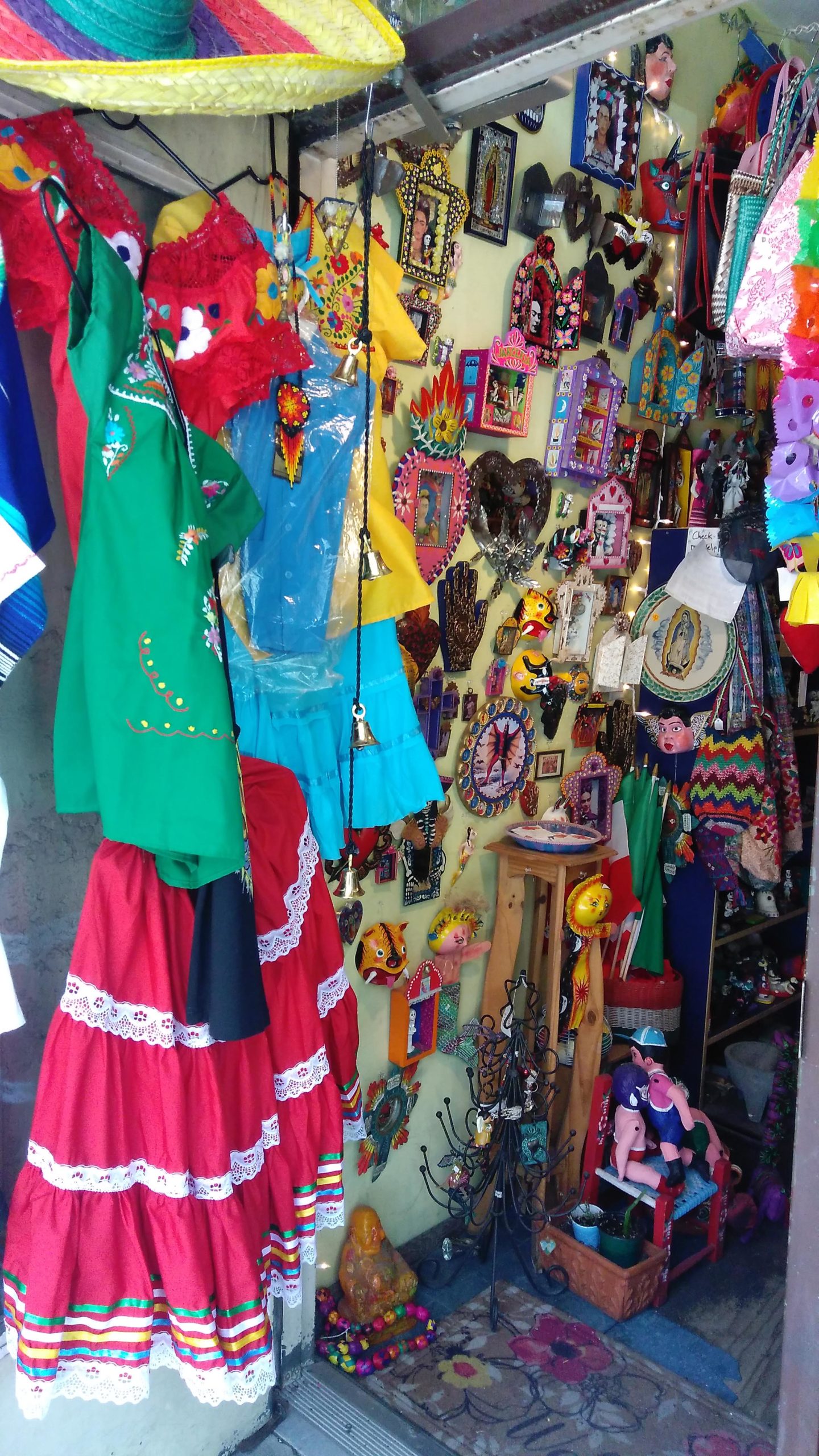 Longtime local East Village resident Dina Leor is the proprietor who first opened her shop for a few months on Avenue B. A former art teacher at Bellevue, she was already selling items on St. Marks Place and promoting her at-home daycare business when a partially vacant storefront inspired her to open her own shop. Her love for Mexican art, culture and folklore has continued to deepen over almost two decades and her well-curated shop reveals this passion. She is also a card-carrying member of the NYC District Council of Carpenters, having plied that trade for a number of years some time ago.
The store is a jam-packed with items of all colors and sizes and tastes. From Guadalupe candles to sombreros, aprons to bracelets, you'll also find plates and box art and t-shirts and a few beaded iguanas still available. Frida Kahlo can be seen on metal hearts or in box diorama art. A light air of sage wafts through the shop. La Sirena marries kitsch and seriousness with a deft balance.

All kinds of people visit La Sirena, which means mermaid in Spanish. Dina's love for the ocean accounts for the melodic name. Local residents and customers with a list of names to buy gifts for, restaurant owners and families having a fiesta all shop there.
Some come straight from the airport. One woman, wearing mostly beige when she entered the store, spent some time shopping and by the end of her visit was wearing a cape and a Luche Libre mask of the sort wrestlers don in the ring. Many New York City locals of Mexican heritage come for select items especially around holiday times, from Día de los Muertos to Cinco de Mayo. Dion has seen some folks come in and weep upon seeing the array of items brought from various parts of Mexico; for many, to be able to buy something familiar for their family or loved ones, especially if they have not been able to go home for many years, is an emotional and rewarding experience.
Dina usually visits Mexico every year and has personal relationships with many of the artisans whose work she carries. One such woman is Josefina Aguilar from Ocotlán, in the state of Oaxaca, who makes ceramic ensemble figure pieces.
Like many small shop owners, it is Dina's passion that has allowed her to survive and thrive for almost two decades. She is dedicated to doing what she can to draw attention to the traditions of Mexican Folkloric art. Plus she doesn't spend much money; most of it goes to more art and crafts. Often she cannot see it, however, because her inventory accumulates bit by bit. But when repeat shoppers come some months later, she has heard them say "O my goodness, you have so much more stuff!" Her items range form $2 to $500 with something for everyone of every age range.
But don't expect to buy a pinata with the visage of anyone famous; that type of energy is not what this store is about. But everyone is welcome, whether it's Cinco de May like today, or any other day. And since May is Lower East Side History Month, it is a perfect time to visit La Sirena.
What special small business would you like to see featured next? Just click here to nominate our next one. #shoplocalnyc Each month we will pick one person who sent in a nomination to win a book from our collection. So nominate a favorite local business today!

And here is a handy map of all our Businesses of the Month: