← Back
GVSHP Oral History: Otis Kidwell Burger
The Greenwich Village Society for Historic Preservation recently released two new oral histories. Today, we dive into Otis Kidwell Burger's.
For 58 years, Burger has lived on Bethune Street. During that time, her life has intertwined with some of the most intriguing and important figures in the Village. Not only did she rent a room to Jane Jacobs in the 50's (when she was writing The Death and Life of Great American Cities), but Burger also partied with twentieth century literary luminaries, including the likes of Norman Mailer.
Burger was born on November 9th, 1923. Raised in Short Hills, NJ, Burger has always had a connection to Greenwich Village and its radical and political roots. She is the great-granddaughter of Sidney Howard Gay, the Editor of The Anti-Slavery Standard (who is sometimes thought to be the namesake of Gay Street). By the time she graduated from Cornell University, she and her husband moved to the city, and around to various neighborhoods.  But they always considered the Village their home. During her early years in the Village, Burger was part of the burgeoning crafts scene, selling some ceramic pieces she made here or there.
"Oh, [the Village] felt like home! It felt like the place where we all belonged, and my great-grandfather had been here. My other great-grandfather, I think he roomed here and went home on the weekends, back to Staten Island. So we've been around, I think. I sold all my wares at lots of little shops around. I knew other people who did the same sort of thing. It was a very different mix." (Burger, p. 20)
In her time in the Village, Burger has seen many things change — for better or worse — and she muses on the different ways people had experienced the spaces and the landscape of the Village in the past. For example, at one point she even goes on to talk about Westbeth and the trains, pre-High Line, and how the river and ferries changed both the aural and transportation experiences within the far West Village.
"It was still the telephone company [Westbeth]. And the train that went screeching through Westbeth, it's now become the Highline. And of course there were ships. You could always hear them coming and going. It was pretty noisy out here. On New Year's, all the ships would let loose, and celebrate. Sometimes you could watch the Queen Mary, with an escort of tugs moving out. It was great. And of course we had the ferries. You could ride the ferry, and that was an ocean voyage, and it used to take a lot longer. It used to be quite an experience, to be on the ferry."(Burger p. 23)
With all these changes that have taken place, Burger sees the dangers that hyper-gentrification and enormous wealth has had in reshaping the identity of the Village. However, in true Village fashion she hopes to continue to stand against the power brokers of our time and refuses to yield to the demands of the moneyed in order to help the neighborhood maintain the character that has made it a world-renowned destination.
"It's changed so enormously. It was a great mix of interesting people and things and coffee houses and jazz and Chumley's and a whole lot of things that have gone. It's become the billionaires chasing out the millionaires. It's become much more bland. [sighs] Thank god there are still some interesting people around. I'm glad I have this house, but it seems that the whole world has changed outside, and I'm sure that every elderly person of every age has been saying that. So, but, no, I'm afraid of what will happen.
Realtors keep asking me to sell the house to them. I know what would happen. It would be changed back into a single family house for a billionaire. Jane Jacobs helped save this neighborhood once from Zeckendorf. I'm not about to do it. So, does that answer any questions?"(Burger p. 29)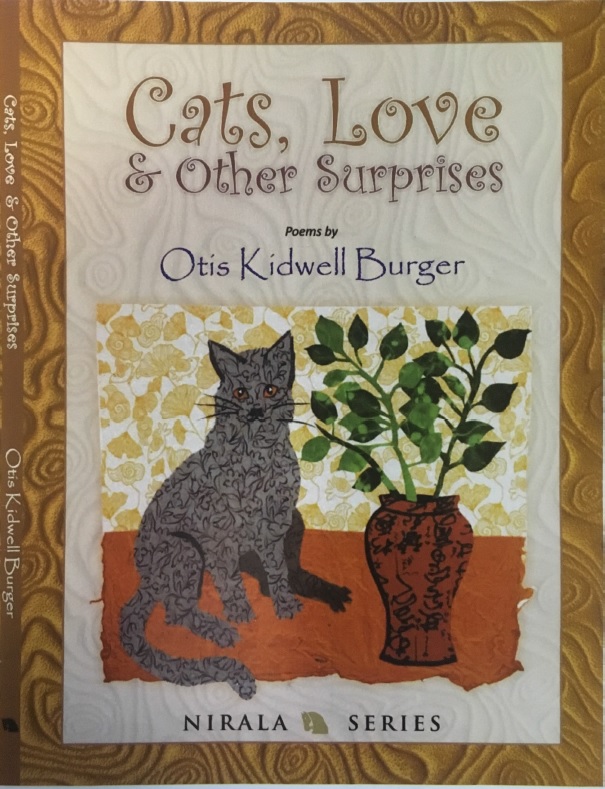 Burger was part of a GVSHP program in February of 2016 about a new book called "Secret Lives of the Underground Railroad in New York City, Sydney Howard Gay, Louis Napoleon and the Record of Fugitives" about her famous great-grandfather, his role in abolition, and the Greenwich Village connection. She has also recently released her own book of poems called "Cats, Love, & Other Surprises." Through her decades in the neighborhood, Burger has seen the physical aspects evolve and change, but through her exemplary character of community and creativity she shows that the spirit of the neighborhood continues to live on.