← Back
Happy Birthday, Debbie Harry
Deborah Harry, lead singer of the seminal punk and new wave band Blondie, was born July 1, 1945. Both she as an artist and the group Blondie grew out of the ferment of the downtown scene of the Village and East Village in the 1970's. From modest beginnings, they would go on to leave an indelible mark in Rock and Roll history by bringing New Wave to the mainstream of the music industry. According to the Rock & Roll Hall of Fame on the occassion of their induction:
No other New Wave group had that many chart-topping singles. Striking a balance between edginess and catchiness, Blondie enjoyed hit records and artistic credibility — a best-of-both-worlds situation that few others (the Police, the Cars and Talking Heads come to mind) pulled off in that era.
Born in Miami Angela Tremble, and raised in Hawthorne, New Jersey from the age of three months by adoptive parents who renamed her Deborah Ann Harry, Harry moved to New York City at the age of twenty in 1965. Once in New York the music she heard profoundly affected her, including live performances by The Doors at the Filmore, Lou Reed at the Electric Circus, and Janis Joplin with Big Brother and the Holding Company at the Anderson Theater. During the late 1960's, Harry worked with a few local bands and as a waitress at Max's Kansas City. She also worked as a Playboy Bunny for nine months.
She left New York briefly, but soon returned and in 1972 formed the band the Stillettoes. Later, Chris Stein would join the group, thus beginning the personal and professional relationship between him and Harry that would form the foundation of what would become Blondie.
In the beginning of their relationship, Stein and Harry lived separately but not far apart in the East and South Villages, respectively. In fact, their daily walks to one another's homes through the redolent landscape of Lower Manhattan in the early 1970s shaped and inspired much of their early work. As described by Harry in Making Tracks, The Rise of Blondie by Harry, Stein and Victor Bockris:
I've always felt the environment one lives in has an effect on what one does, and this certainly was proved true in the initial stages of my collaboration with Chris. While I lived on Thompson Street he had that apartment at the beginning of First Avenue. The walk we took along Houston Street between the two apartments gave spontaneous birth to the first songs we wrote together.
In the book Harry also described another environment which proved inspirational to her music writing: the inside of her '67 Camaro while waiting for a parking spot due to alternate side of the street parking rules (something many New Yorkers can appreciate!). It was these elements of downtown life and old pieces of American popular culture which were the basis of many early songs she and Stein produced.
During this time the Stillettoes played locally, including at CBGB's, which Harry describes as a biker bar at that time. Not long after though in 1974 the group broke up, and Stein and Harry were on their own. By this time they were sharing the apartment on Thompson Street, and Stein sublet his apartment to Tommy Ramone, who they knew from CBGB's. During this period, Harry and Stein played with different musicians, and eventually adopted the name 'Blondie' for their newly formed group. Harry describes the band at this time:
We were a dance band, but to tell the truth, we were so bad that to call us a garage band, to call us a band, was a great compliment. We were a gutter band – a sewer band's a closer description. We weren't getting any reviews, didn't have any support from any record company, didn't know anybody in the business, Chris's guitar cost $40, he didn't even have an amplifier, and our drummer couldn't make up his mind whether he wanted to be a drummer or a doctor.

That drummer did in fact choose to become a doctor, and Clem Burke was recruited as his replacement. This was followed by Gary Valentine joining the band on bass and Jimmy Destri on keyboard. They played at CBGB's along with the Talking Heads, Television, The Heartbreakers, and The Ramones.
Shunning what they saw as a more well-to-do crowd moving into SoHo, Harry and Stein took up residence at 266 Bowery, just below Houston Street and just a block south of CBGB's, which would become Blondie central. It was here that they lived and rehearsed as the band took shape. The Bowery building was on a desolate stretch surrounded by missions, flophouses and shooting dens; it frequently lacked heat and electricity, but was rich in burst pipes and filth, according to Harry. She also claimed it was haunted.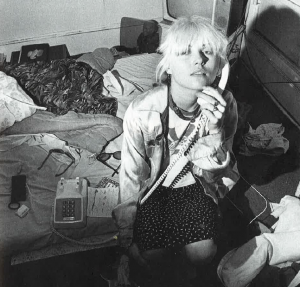 Within a relatively short period of time the band was starting to receive some notice, and they recorded a couple of singles on the Instant Record Label. They recorded their first album, Blondie, in 1976 at the Plaza Sound Studio in Radio City Music Hall, and it was released at the end of the year (and later re-released by Chrysalis Records, with the single "In the Flesh" added, in 1977). Thrift stores provided the group with their mod look, and in 1977 the group toured with Iggy Pop and David Bowie. From there, they toured in the UK, would record Plastic Letters, and then embark on a world tour from October, 1977 to February, 1978.
Harry and Blondie enjoyed more popularity abroad than in the United States, where the music industry was wary of punk and the emerging New Wave. That would all change with the release of their third album, Parallel Lines. This was the beginning of a string of eight Top 40 hits, including four that went to number one: "Heart of Glass," "Call Me," "The Tide is High" and "Rapture."
Even as they went on to international stardom, Harry and Blondie never forgot their downtown roots. The video for "Rapture" is set in a a surreal space which is a virtual mash up of downtown figures, including a young Jean-Michel Basquiat (for more stories of 1980's music video's shot in our neighborhoods, click HERE and HERE). Over the years Harry frequently came back to perform in Wigstock and at Gay Pride Festivals in Union Square or on Pier 54, and whenever the group tours they frequently do shows in their old stomping grounds.