← Back
Happy Birthday, Madonna!
Madonna Louise Ciccione, known simply as Madonna, was born on this day in 1958 in Bay City, Michigan. The singer, songwriter, record producer, actress, film director, author and businesswoman has won more awards and earned more accolades than could possibly be listed here over the course of her thirty five-plus year career. And although she now makes her home on the Upper East Side, when her career was just beginning its meteoric rise, she called a tenement in much more humble surroundings on East 4th Street near Avenue B her home.
Madonna moved to New York seeking fame and fortune in the late 1970's. Initially she pursued dance but then shifted her attention to music. She would carry her demo tape with her when she went to clubs with friends and try and convince DJ's to play it. One DJ who obliged was future record producer Mark Kamins. Kamins introduced Madonna to Seymour Stein of Sire Records, who signed Madonna, giving her her first record deal in 1982. Kamis produced her first single 'Everybody'. At this time she also left her 'home' at the Star Motel and moved into the apartment at 230-232 East 4th Street.
Madonna was filmed in 1998 re-visiting her former home in the East Village in the VH1 series Madonna Rising. As stated in her own words:
This is the stoop that I kind of got discovered on. I was sitting out here with two of the kids that lived in the building and it was a hot summer day and this photographer comes walking down the street and asks if he could take our photograph and we said yeah and he asked me for my phone number as well and I gave it to him. And the next day, like a couple of days later he rang me up. He said that his mother wanted to meet me. Turns out that his mother was a casting director and she worked with Martin Scorsese and she was really good friends with Barbara Streisand so that's how I got into the whole acting thing. That's what led to my audition for 'Desperately Seeking Susan' and then the rest is history. Yeah so this is the stoop, this is the apartment building and this is the street where it all happened.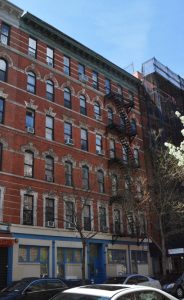 The photographer that she spoke of was Richard Corman, who took a series of photographs of Madonna in and around her building in the East Village in 1983. Over his long career, Corman has photographed numerous actors, sports figures, artists, musicians and intellectuals. Richard Corman's mother, Cis Corman, asked Richard to seek out Madonna and photograph her in preparation for a film she was looking to produce. The film was to be called 'Cinde Rella,' a modern day treatment of the fairy tale Cinderella set in New York City with Madonna as the lead. Richard photographed Madonna over the course of a day, coiffed and dressed in the way we remember her from the '80's with torn jeans, tousled bleached hair and spiky belts and bracelets. She is juxtaposed against a more gritty East Village than we see today and the combination of subject and setting is both provocative and harmonious at the same time. Sadly, the film was never made, but this relationship between Madonna and Cis Corman would lead to the start of her film career.
Shortly after these pictures were taken, Madonna's debut album, 'Madonna' was released. She would be launched into international stardom soon after that with the release of the 'Like a Virgin' album in November of 1984. And as she said, the rest is history.
Instagram @richardcorman