← Back
Eleventh Street Methodist Episcopal Chapel Landmark Designation
On this day in 2010, the Eleventh Street Methodist Episcopal Chapel (545-547 E. 11th Street) was designated a New York City landmark.
The chapel is located between Avenue A and Avenue B, one block north of Tompkins Square Park. The building itself, which has many characteristics of Gothic Revival, a style particularly popular for church architecture, was constructed in 1867-68 to the design of prominent architects William Field and Son, a firm best known as the architects of affordable apartment houses. This is one of the few known houses of worship they designed.
In 1900-01, architects Jallade and Barber altered the front facade of the church by moving the entrance from the center bay to the western bay, and the new entrance was designed with a then-fashionable Colonial Revival style door. In 1901, the mission reopened with the new name of People's Home Church and Settlement. The Methodist Episcopal Church closed the church in 1930 and sold the building to the Russian Ukrainian Polish Pentecostal Church, the first Slavic Pentecostal church in the country, in 1941. Its successor, The Father's Heart Church, still occupies the premises.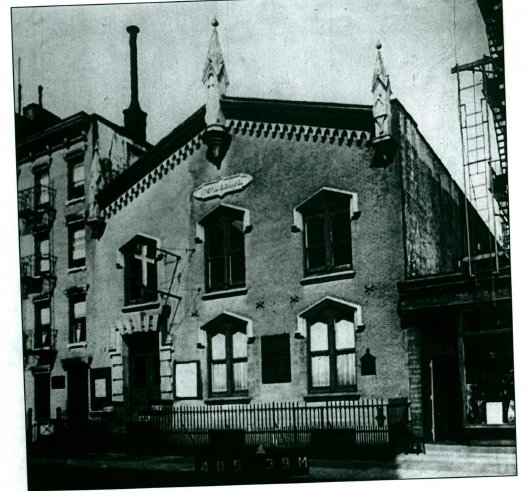 Mission churches such as the Eleventh Street Methodist Episcopal Chapel provided social services in addition to religious evangelical work. In the densely populated East Village/Lower East Side, the church was able to serve as a dispensary and provide kindergarten, day nursery, fresh air programs, gymnasiums, baths, industrial classes, music instruction, a reading room, a penny provident society, and numerous clubs. Additionally, the church had an extensive mission that catered to Italian immigrants and even offered services, meetings, and bible classes in Italian.
You can read more about the Church, it's history, and mission by checking out its designation report.