← Back
Touring Bleecker Street's Diverse History
Last week I took a break from my normal duties as GVSHP's Director of Research and Preservation and led about forty people on a tour of Bleecker Street as part of the #ShopBleecker initiative of the Greenwich Village Chelsea Chamber of Commerce. I confess that I was a bit nervous as this role of tour guide is a bit outside of my normal bailiwick. It ended up being a lot of fun mostly because of the very diverse history of this very old New York City thoroughfare (not-to-mention that we had an enthusiastic group on the tour!)
We started at West 10th Street and Bleecker Street, right in the heart of the Greenwich Village Historic District. In total, we traversed four New York City historic districts including the Greenwich Village Historic District Extension II, the South Village Historic District, the NoHo Historic District, and the aforementioned Greenwich Village Historic District. A few things stood out about Bleecker Street when I reviewed its history in preparation for the tour. First, Federal Houses (1790-1835) are seen throughout, which speaks to the early development of the street. Second, Bleecker Street has a long tradition of stores located on the first floor of its houses, especially in the Greenwich Village section of the street, in contrast to other streets in the area which were traditionally only residential. Finally, Bleecker Street's twentieth-century cultural history is multi-layered and somtimes seedy, making for good fodder for discussion on walking tours! Here are some of the highlights, including historic photos on the Urban Archive app, available for free and compatible with Apple iPhones.
The western section of Bleecker Street was originally named George Street. By 1818 the name changed to Herring Street, possibly for a local landowner named Herring. In 1829 the name was changed again to Bleecker Street, to connect it to the existing Bleecker Street, which at that time only ran East-West below Washington Square and east of present-day 6th Avenue. This street was named for the Bleecker family, whose farm was located in the area. Federal style row houses were quickly built along the street at the beginning of the nineteenth century, accommodating the area's burgeoning population. Some of these houses have survived to this day, although their uses may have changed over the years as the neighborhood has changed. They serve as reminders of the beginnings of Bleecker Street's development.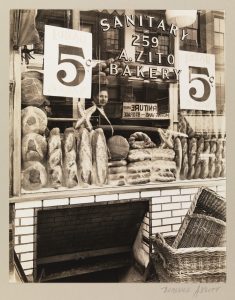 Bleecker Street has a long commercial history as well as residential. The stretch of Bleecker Street just west of Sixth Avenue has been traditionally known for its wonderful array of culinary delights. As described by Village chronicler Edmund T. Delaney: "…for many years (Bleecker Street) has been the center of one of the most exciting food shopping districts in New York, dominated by a bewildering assortment of pastas, cheeses, sausages, fruits and vegetables, to say nothing of some of the tastiest breads and pastries to be found in the city." A few of the originals still remain today such as Murray's Cheese, originally at 257 Bleecker and now at 250-258 Bleecker (at Leroy St), and John's Pizza at 278 Bleecker Street (at Morton St) since 1929.
Clubs and cafes have a long tradition on Bleecker Street, including the San Remo Cafe, formerly at 93 MacDougal Street at the northeast corner at Bleecker Street (in 2013 GVSHP placed a plaque at this location honoring the San Remo as an iconic Village institution). Among its regulars were Alan Ginsburg, Jack Kerouac, Jackson Pollock, Willem de Kooning, Franz Kline and Dylan Thomas. Other clubs included Cafe Au Go Go at 152 Bleecker Street (at Thompson St), The Bitter End at 147 Bleecker Street (between Thompson St and LaGuardia Pl; Birthplace of Dylan's Rolling Thunder Revue concert tour), and the Village Gate at Mills House No. 1 (156-158 Bleecker, between Sullivan St and Thompson St) where Bob Dylan wrote "A Hard Rains A-Gonna Fall". The Black Rabbit was at 183 Bleecker Street (between MacDougal St and Sullivan St) which in the 1890's offered live sex shows as part of its draw. This club, along with the Slide at 157 Bleecker Street, represent the earliest known sites of commercial LGBTQ activity in New York in the nineteenth century.
We finished the tour at one of my all-time favorite buildings in New York City, the Bayard Condict Building at 65 Bleecker Street in the NoHo historic district between Lafayette St and Broadway. Designed by Chicago architect Louis Sullivan and built in 1897-99, this early skyscraper demonstrates Sullivan's radical approach to skyscraper design which rejected the use of traditional styles and instead used ornament to express both the structure and the program of the building, making the ornament an integral part of the building, not just overlay.
Federal houses, early skyscrapers, culinary delights and cutting-edge cafes and clubs — Bleecker Street had, and still has, it all. To find out more about #ShopBleecker and supporting businesses on Bleecker Street, click here.