← Back
My Favorite Things: Holiday Lights Edition
This is the latest installment of Off the Grid's series, "My Favorite Things," in which we showcase some of our very favorite spots around the neighborhood, highlighting the incredible architecture, history, people, and businesses of the Village, East Village, and NoHo; read more HERE.
Holiday lights are one of my favorite things ANYWHERE they may be. But fortunately some of the most festive lights can be found right here is our very own neighborhoods.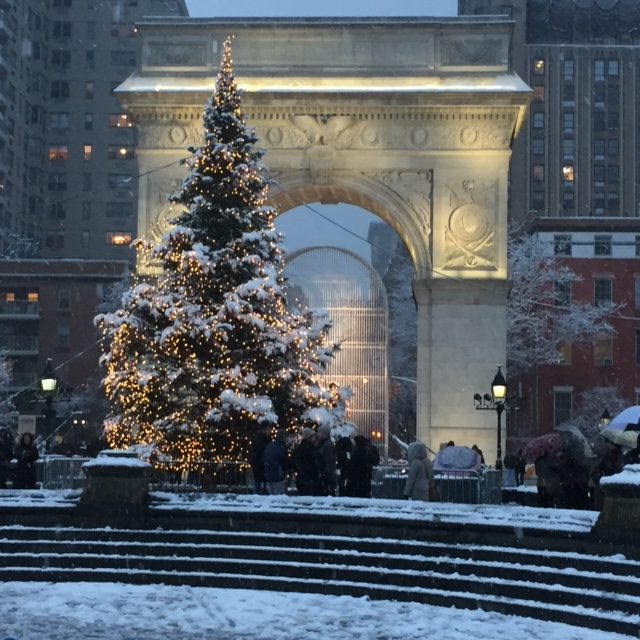 Did you know that Thomas Edison was the originator of the outdoor holiday light tradition? In 1882 Edison ditched an original electric Christmas tree idea in favor of commerce. Instead of promoting an electric tree (replacing the age-old and dangerous tradition of lit candles on the tree), he strung lights around his Menlo Park lab, hoping to capture the attention of New York decision makers to gain a contract providing electricity to all of Manhattan. Meanwhile, Edward H. Johnson, the vice president of Edison's Electric Light Company and Edison's friend, decorated his indoor tree with 80 specially made red, white, and blue bulbs that he displayed in the window of his Fifth Avenue home. Thus, Johnson earned the title of "Father of the Electric Christmas Tree."
We are ALWAYS fascinated by the history, but we will dispense with more of that for today. Instead, what we have in store for you is some Village "eye candy!" I toured the neighborhoods last night and took some photos of some Village delights. I hope you enjoy them!
This is my favorite East Village haunt, by the way! 7B
And maybe my favorite spot of all, Jackson Square!