On January 16, 2004, Jodie Lane was walking her dogs in the East Village, where they began to act erratically around the corner of 11th Street and 1st Avenue (about a block away from GVSHP's offices).  When Jodie went down to investigate, she received a fatal dose of electricity coming from a metal ConEd junction box that had shorted in the sidewalk.  The event shocked people all over New York City and led many to believe that the incident could have been prevented had Con Ed taken stricter safety measures. Soon the Jodie S. Lane Public Safety Foundation was created, a "non-profit, 501(c)(3) organization with a mission to improve pedestrian safety and prevent people and pets from being electrocuted, shocked or injured as a result of stray voltage."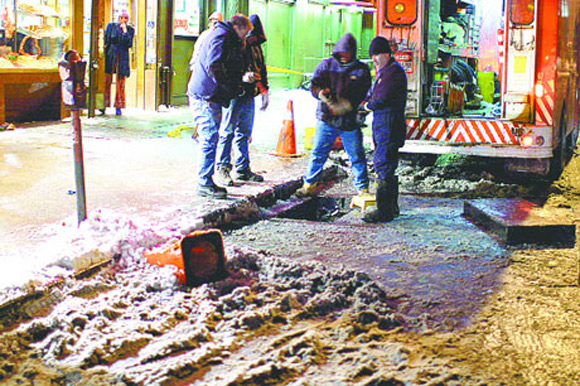 In memory of Jodie and this unfortunate incident, her fiancé Alex Wilbourne gathered over 3,000 signatures and enough community support to have the block renamed for Jodi.  In May of 2005, Wilbourne's dream came true when the new street sign for Jodie Lane Place was revealed.  The Villager described his journey:
He said when he'd gone before Community Board 3 — by chance on her birthday — to make his pitch for their support for the street co-naming, he realized it was an "unorthodox naming." Jodie Lane wasn't the sort of person who usually gets a street sign: she wasn't a hero in the usual sense — like a police officer or firefighter who fell in the line of duty — or a poet or a musician. But the outpouring of support was tremendous.
Losing your pet or your life is a terrible tragedy, regardless of the time of year.  Given the extra risk of encountering electrified patches of street and sidewalk due to the salt and snow, we encourage everyone to be cognizant of where they and their pets step, in the Village or anywhere else in NYC.