← Back
An Unusual Resident for An Unusual House: Richard Harding Davis and 108 Waverly Place
In the course of our research about buildings and events in our neighborhood, we often come upon some unusual characters and stories. One which certainly qualifies is Richard Harding Davis, an American journalist and writer of fiction and drama born on April 18th, 1864, andthe house he lived in, 108 Waverly Place (between Washington Square and Sixth Avenue), which was a boarding house in the 1890's when he was a resident.
Davis was a reporter who served as a war correspondent during the Spanish American War. Perhaps more enduringly, he is credited with popularizing the clean-shaven look for men at that time, eschewing the pronounced facial hair so popular with men in the late 19th century. His work supported American interventionism and deployed simplistic stereotypes unfortunately common at the time. In addition to covering the Spanish American War, he also corresponded on the Second Boer War, the First World War, and his writing greatly assisted the political career of Theodore Roosevelt. He also played a major role in the evolution of the American magazine.
108 Waverly Place is as unusual as its residents. The building is one of a few that remain of nine rowhouses built around 1826, but extensively altered over the years. The facade of No. 108, with its cut masonry and crenelated cornices simulating a castle, dates to 1906, and was designed by Charles C. Haight. The arched window on the ground floor is a 1927 alteration that replaced a former garage entrance. From the Greenwich Village Historic District Designation Report of 1969:
This group (108-114 Waverly Place), in its present appearance, is unique to Greenwich Village. These four houses are all that remain of a row of nine built in 1826 for Thomas R. Mercein. He was president of the New York Equitable Fire Insurance Company, and had also served as City comptroller. In No. 108, we see a love for the picturesque as this new front is a granite-faced, rough ashlar facade with crenelated cornice, simulating a small castle. It was designed in 1906 by Charles C. Haight for Miss Grace Wilkes. At that time the stable and coachman's apartment were combined, and the roof over the attic floor was raised, and it now has a steeply sloping studio window. The present two-centered arched window at ground floor that replaces the former garage entrance is a further alteration in 1927 when the entire building was converted into a dwelling.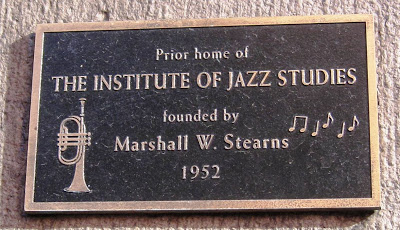 Additionally, the building has a marker affixed to it that reads, "Prior Home of The Institute of The Jazz Studies founded by Marshall W. Stearns 1952." Marshall W. Stearns played drums in his youth and studied medieval English at Yale University, obtaining a Ph.D. He taught English at a number of colleges, and during this time frequently wrote about jazz music for magazines. He received a Guggenheim Fellowship in 1950 and used the proceeds to finish his seminal 1956 work The Story of Jazz, a popular introduction to jazz. He taught jazz at New York University and the New School, and in 1952 he founded the Institute of Jazz Studies at 108 Waverly Place, which he also directed.