← Back
The Greenwich Village Building With a Starring Role in Hitchcock's Rear Window
It's not often that a building plays a starring role in a major motion picture.  But in In Alfred Hitchcock's Rear Window, which premiered on August 1st, 1954, that is exactly the case.  Most people know that Hitchcock set the film in Greenwich Village, but did you know that the location he used as a reference for the setting actually exists?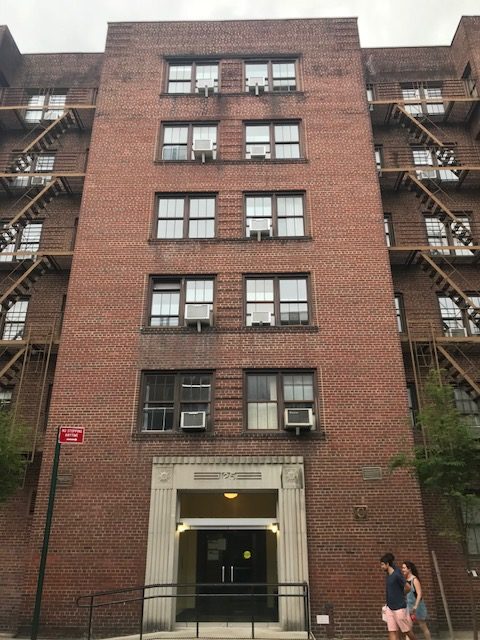 The multi-dwelling apartment building and complex of next door buildings that share a common courtyard at the corner of Christopher Street and Hudson Street is the  the object of Jimmy Stewart's obsession and where the murder in the lauded Hitchcock film takes place. Movies most often create fictitious addresses when referring to particular buildings. It was no different in Rear Window, however the fake address they used was very close to reality.  The address that is referred to in the film is 125 West 9th Street.  While there is no such thing as 125 West 9th Street, 125 Christopher Street, does indeed exist.
As an aside, you may have learned in my recent series, They Dwelt on West 9th Street, that West 9th Street is a very rarefied block.    Originally there was no West 9th, just 9th Street, numbered east from 6th Avenue; it was split east-west at 5th Avenue only in the 1860s. Since then, West 9th  exists only only for one block, between 5th Avenue and 6th Avenue.  To the east of 5th, it is, of course, East 9th.  To the west of 6th, it becomes Christopher Street. The numbers on West 9th Street only range into the 60s.
L. B. Jeffries, Stewart's photographer character who is fixated on the goings on of the inner life of the inner courtyard visible from the back of his apartment, must have lived at either 250 West 10th Street or its neighbor at 246, both of which are beautiful Federal townhouses that still stand.
Architecture was critical to Hitchcock. Noted cinema studies professor John Belton goes as far as to say that the building in Rear Window was more central to the film's success than either James Stewart or Grace Kelly. The set altogether is said to have cost 25% of the budget compared to 12% for the actors, which certainly highlights its significance and importance to the director.
Hitchcock once wrote in an essay that  "an art director must have a wide knowledge and understanding of architecture." For the purposes of making the film, Hitchcock sent out a bevy of photographers into the Village to scout and photograph locations from all angles in all types of light.   The apartment complex that Hitchcock chose to reference was ultimately completely reconstructed on the Paramount Studios lot, reportedly costing an "unprecedented" $9,000 to design and $72,000 to build. The structure included seven apartment buildings and three other buildings on the other side of the street. It boasted a total of 31 apartments, although only a handful were fully furnished.
As New Yorkers, we can all identify with the temptation to peer into others' lives.  We live "cheek by jowl" in this burg and our neighbors are more often than not altogether too close and their lives too visible.  Rear Window is a cinematic voyeuristic venture into that forbidden territory we dare not enter ourselves.