← Back
Lou Reed and the Velvet Underground's Last Show and Album at Max's
The Village's misfits, we know quite well, are very dedicated, special kinds of misfits. Lou Reed and the Velvet Underground certainly fall into this category. Everyone remembers when they were unknown, fighting for their unusual sounds and visions, giving voice to the fringes of NYC culture. That's where Lou Reed could be found. August 23rd, 1970 found Lou Reed on stage at Max's Kansas City, a block north of Union Square, playing his last ever show with the Velvet Underground. This show would become not only the band's last performance, but also their last album – and in some ways the first authorized bootleg.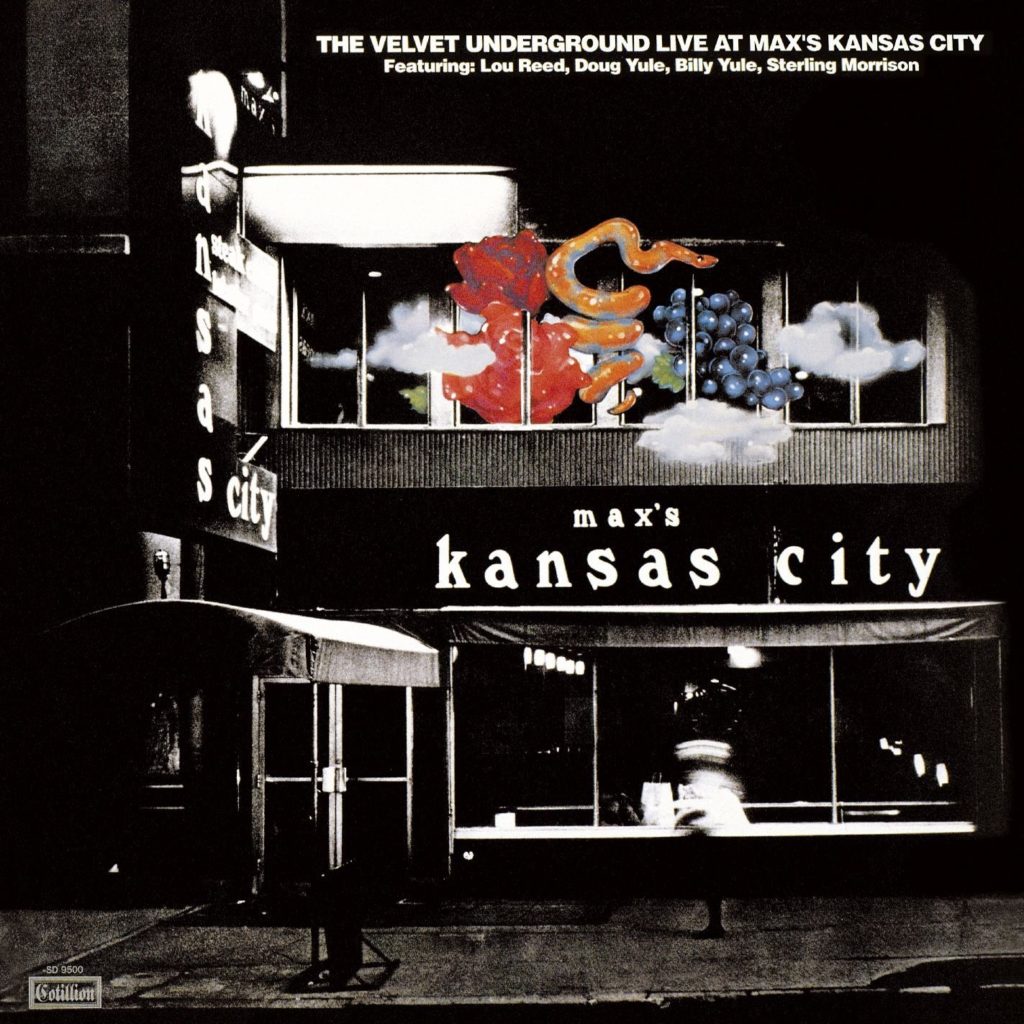 The Velvet Underground and Lou Reed
Guitarist Brian Eno famously said that while only a handful of people bought Velvet Underground albums, every one of those people was inspired to start their own rock band. Many musicians have affirmed Eno's characterization, including Patti Smith, U2, the Talking Heads, the Sex Pistols, R.E.M., and so many more. With an unusual sound, and strange, often droned, storytelling lyrics, the Velvet Underground wasn't immediately set up for success. Like many artists in the Village in the 1960s and 70s, Andy Warhol played a key role. Warhol discovered Lou Reed and his collaborator John Cale playing a gig in the Village. Warhol connected them with co-vocalist Nico, who had starred in Warhol's movie Chelsea Girls. That famous "Warhol boost" brought the Velvet Underground into New York City's avant-garde music world.

A GVSHP colleague wrote: Reed, who lived for a time in the Village, was also quintessentially a New York force, as the Chicago Sun-Times notes, Reed was "known for his cold stare and gaunt features, he was a cynic and a seeker who seemed to embody downtown Manhattan culture of the 1960s and '70s… Reed's New York was a jaded city of drag queens, drug addicts, and violence, but it was also wondrous… with so many of Reed's songs explorations of right and wrong and quests for transcendence." Classics such as "Walk on the Wild Side" and "Halloween Parade" exemplify this combination of world-weariness and wonder that Reed reflected back in his songs.
Live at Max's

August 23rd was the last night of a summer-long gig at Max's, described by Rolling Stone as a gathering spot for artists like William S. Burroughs and Roy Lichtenstein, poets, hustlers, queens and princes as well as musicians like Bruce Springsteen, David Bowie, Bob Marley, and Jimi Hendrix. The sets at Max's were a select collection of old classics and newer songs.
One of those wild community members was also very clever – Brigid Polk, a socialite, member of Warhol's circle, and scene-chronicler recorded both the early and late shows on cassette tapes. She played the tapes for someone at Atlantic Records, and they decided to make them into the band's last album. In this way, the bootleg recording became "legitimate," even with the sounds of the tape and audience in the recording. The album opens with Reed inviting the audience to dance. Then, he introduces a "tender folk ballad of love between man and subway," and begins playing "Waiting For The Man."
Lou Reed helped to edit the songs with the help of Atlantic records into one album, combining both sets and changing the order of the songs. Live at Max's Kansas City, which was released in 1972. It is an artifact of the Velvet Underground just before Lou Reed struck out for his solo career.
Re-issue, and Lou Reed's Legacy
In 2004, Rhino Records released a deluxe edition of both sets in their entirety in the original order. Lou Reed's fame had reached new heights after the album was originally released. He's quoted saying:
"I just keep thinking that when The Velvet Underground first came out with songs like 'Heroin', we were so savaged for it. Here it is a few decades later, and I have those lyrics published in a book, and I'm giving readings at art museums. We wanted to make records that would stick around like great novels or movies, and we believed in what we were doing, even if nobody else did."
Before he died, Lou Reed generously donated a short piece to GVSHP's book, Greenwich Village Stories. In it, he talks about looking out on the Hudson River and the inspiration and peace it continued to provide for him.
Live at Max's is on Spotify, Google music, and YouTube. Enjoy it!