← Back
Business of the Month: Village Tannery, 173 Bleecker Street
Your input is needed! Today we feature our latest Business of the Month — help us to select the next.  Tell us which independent store you love in Greenwich Village, the East Village or NoHo: click here to nominate your favorite.  Want to help support small businesses?  Share this post with friends.
Need a bag of any kind? Or a wallet, pouch or belt?  One business on Bleecker Street surely has just what you need, or they will custom make what you want.  And with a name like Village Tannery, you won't be surprised to know their method of work is still very "primitive," as partner/owner Semih Tokat says from behind the counter. Located at 173 Bleecker Street, at Sullivan Street, they are our November Business of the Month.
In the small atelier or workshop in the back of their sleek "museum" of a shop, you'll notice they don't use computer drafting or design.  Instead, they have a library of various of cardboard blank forms for their unique products, that they use to guide their cuts.  All the work is done by hand, including scraping the edge of the leather so it is a bit thinner for the needle to go through, then applying the glue, and then the stitching.  All of the leather they work with is domestically sourced, with some of it coming from upstate New York.
While others will sometimes use different, lesser materials for the sections of a leather product that are not visible, the folks at Village Tannery often use one whole piece of leather to maintain a high standard no matter what part of the bag it is on — even if no one else will see it. That craftsmanship and attention to detail are what has kept them in business for over 44 years.
Amazingly in this day and age, they do not sell online. They insist on the need for the customer to see and feel such a unique material as the leathers they work with and to directly communicate their needs and expectations. They are patient and listen, let you know very clearly how the type of leather being considered will age in terms of shape, texture, and color.  They will also speak with you on the phone.
They make backpacks and briefcases, duffel bags and purses, as well as wallets and belts.  All the items they make have a lifetime guarantee.  Semih showed me two versions of the same bag — one new, one made twenty-five years ago — and how it holds up over time. They keep it to show customers how it will look and feel over the course of years, and have said no to a $2,000 dollar offer for the sample aged bag.
All kinds of people come to Village Tannery — families, students, and professionals coming back for their doctor or lawyer bag.  A family from Canada had recently stopped in because they had one of the Tannery bags for over 20 years and came to get one to give as a gift to friends.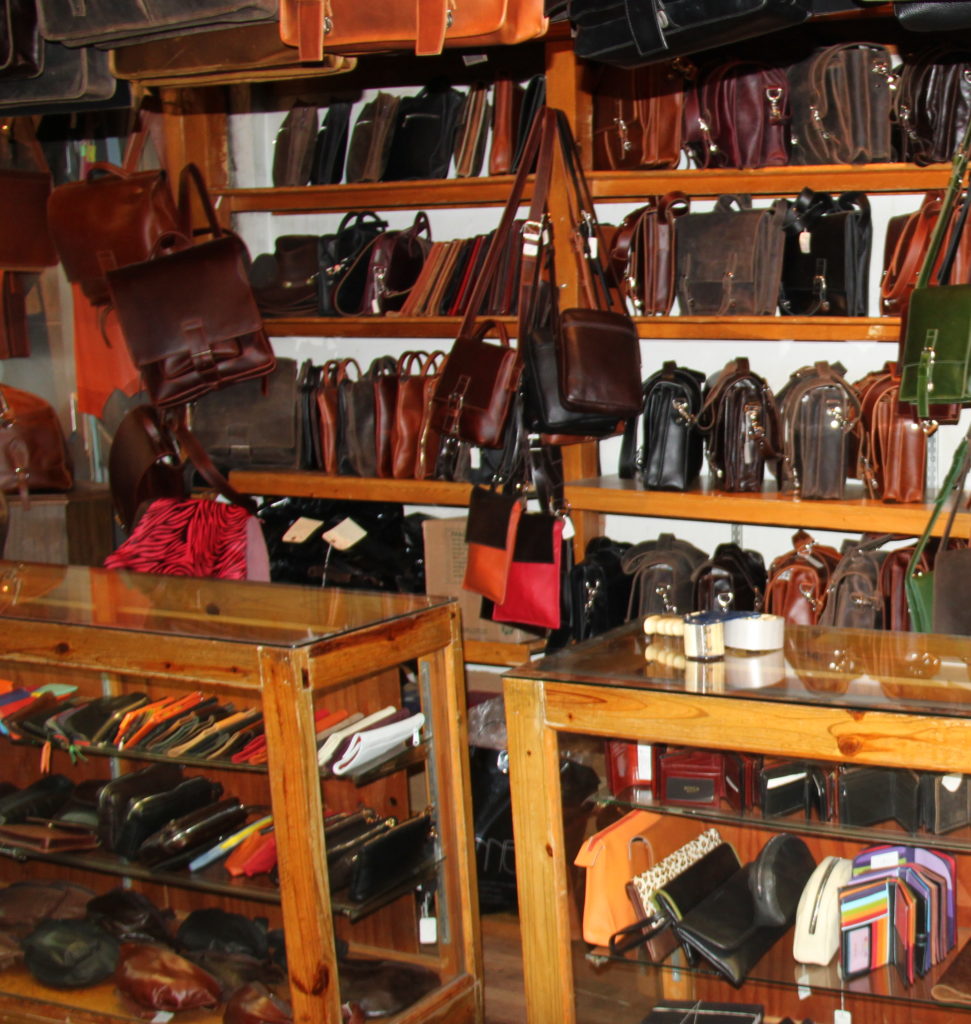 Like so many, higher rent has changed business for Village Tannery, who had a second store on Great Jones Street in NoHo, until they had to close that one.  But they are well ensconced in their Bleecker Street home, and this December will mark forty-five years in business!
Village Tannery has so many kinds of bags and styles they even have a sign in the window that says "Bag Museum."  You will experience where the hand-made magic occurs, with designs by Severett, the in-house renowned artist.  See her, Semih, Memo and T.J. at Village Tannery at 173 Bleecker Street for Shop Bleecker month and support a local business that has been around since 1973!
For the month of November, Bleecker Street will be unmissable with the second annual #ShopBleecker initiative organized by the Greenwich Village Chelsea Chamber of Commerce. #ShopBleecker is a month-long initiative seeking to revitalize businesses on and adjacent to Bleecker Street.  Throughout the month, there will be exclusive deals, events, raffles and more! GVSHP is hosting a Bleecker Street walking tour here.   Use the #ShopBleecker hashtag on your social media accounts and go to Bleecker to take advantage of some amazing deals.
Show your support for all the businesses in this historic neighborhood and reinvest in the city we call home. Visit during "ShopBleecker" month. And see the map below of all of our Business of the Month honorees, including four others on Bleecker Street: bookbook, Matt Umanov Guitars (sadly closed), Li-Lac Chocolates, and Village Music World, with a few more just off this famous corridor, like  The Chess Forum. Any day is good, but remember November 24th is Small Business Saturday, a perfect opportunity to show your love for small businesses around the Village. Make sure to get a Village Access Card to take advantage of over eighty exclusive deals and incentives at local shops and restaurants!
What special small business would you like to see featured next? Just click here to nominate our next one. Thank you! #shoplocalnyc
And here is a handy map of all of our Businesses of the Month: