← Back
New Historic Images- Astor Place, 10th Street, Village Community School, and more.
GVSHP just added 29 new historic images to our archive taken from current public applications to the Landmarks Preservation Commission (LPC) for significant changes to landmarked buildings in our neighborhoods. Historic photos are typically included in applications to provide explanation or context for proposed changes in historic districts or to individually landmarked structures, and GVSHP tracks and provides access to every one of these applications on our website. Today we will look at a few of the new images and their stories.
We recently wrote about the history of Wanamaker's department store at 770 Broadway. Now home to K Mart, Facebook, and several other companies, this full block building was built in two stages in 1903-07 and 1924-25.
This photo came from an application to change K Mart's signage on the ground floor, making it less prominent. Community Board 2's Landmark Committee and the full Community Board 2 recommended approval of this application at their October 2018 meeting. The LPC has not yet scheduled a hearing on this application. Click here for more information.
310 East 10th Street
The next image is a 1940 tax photo of 301 East 10th Street, part of the East 10th Street Historic District. Constructed in 1834-44, this building was originally 2½ stories. The upper story was raised in 1886. In 1937, the stoop was removed and the primary entrance moved to the basement. This photo came from an application to rebuild the rear wall of the rear extension, extending it six feet out and one-story up. The current wall is structurally unsound and is under violation from the DOB. Community Board 3's Landmark's Committee recommended this application be approved with the following conditions: that the applicant salvage and reuse as much of the original rear cornice and rear masonry as possible, that the applicant retain as much of the historic fenestration as possible, and that the applicant make an effort to minimize cutting into the historic open space in the East 10th Street Historic District "donut," particularly the space between 301 East 10th Street and 303 East 10th Street. The LPC public hearing will be held on Tuesday, December 4th.
Village Community School (VCS)
The following images were submitted as part of the VCS's plans to demolish a garage and build an addition on their playground located on the corner of West 10th Street and Greenwich Street. The addition would be attached to their main building at 272 West 10th Street.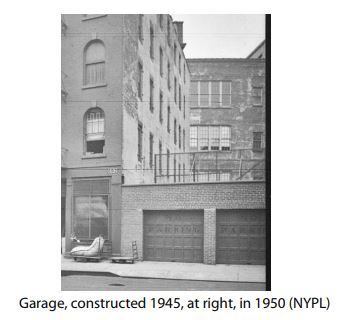 According to a NY Times article from 1911, there has been a school on this site continuously since a one-room wooden schoolhouse in the 1820s. The neo-Grec style building that anchors VCS was constructed in 1885-86 as Primary School No. 7 and redesignated as Public School 107 in 1897. Following demographic changes, the school was closed in June 1930 and was acquired by the New York Central Railroad. The railroad then exchanged this property for another property located at No. 626 Washington Street, which was then the parochial school of St. Veronica's R.C. Church. That property was needed by the railroad to build an elevated freight line. Almost a century later, much of the elevated train line ended up as the High Line, but the section at 626 Washington was demolished and eventually replaced by the West Village Houses. The former P.S. 107 was dedicated as St. Veronica's parochial school in May 1932, a use which lasted until June 1963. The school building remained vacant from 1963 until June 1970, when it was converted into VCS.
The LPC hearing to review this application on October 30th, 2018, drew a large crowd. GVSHP testified that we do not object to construction on the playground or the demolition of the garage structure, but recommended some changes to the facade to make it more contextual to the Greenwich Village Historic District Extension. We opposed the glass connector, which seemed out of place with no contextual reference, and noted the connector between the original building and 2003 addition (see below) is quite successful and could serve as a reference for the design of the new connector.
Click here to read more about historic images added from applications to changes to landmarked properties.
To see all the new images we've added to our archive, click here.
To see all current applications for changes to landmarked buildings in our neighborhoods, as well as those dating back to 2011, click here.