← Back
How Much is that Plaster in the Window? Claes Oldenburg's 'The Store'
You don't need a map to know that the East Village has long been a haven for artists.  But it can certainly help illuminate the spots in our neighborhood with legendary artistic pasts.  GVSHP's new online tool East Village Building Blocks contains information about every building in the East Village, many of which were the studios and residences of some of history's most celebrated artists. One such place is 107 East 2nd Street, where Claes Oldenburg sold his peculiar wares at The Store.
From Sweden to NYC
Claes Oldenburg was born in Stockholm in 1929, came of age in Chicago, and attended Yale University before moving to New York in 1953. He's widely recognized for his monumental public works and large, soft sculptures of mundane objects. Oldenburg playfully explored our understanding of the things we routinely overlook – kitchen appliances, toilets, lipstick, spoons, office supplies, and the like. In the 1960s Pop world where artists challenged the true definitions of "art", Oldenburg found long-lasting success with his bold, theatrical projects.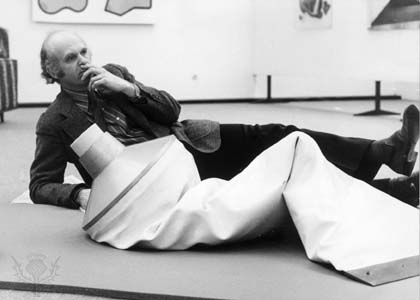 The Store
At 107 East 2nd Street, Oldenburg ran The Store, his studio and showroom. The artist produced his pieces in the back of the space and sold them to customers in the front. On display were drippy replicas of items you'd find "in store windows of the city" like shoes and sweets, at prices "ranging from $21.79 to $899.95". Drawing from the neighboring dime stores, and selling his peculiar objects to all who came in, his "streetside experiment" candidly questioned the whole act. Where's the line between fine art and plain old stuff? Why a gallery and not a bodega? How about a bowl of ice cream that won't melt because it's made of plaster? As critic Clement Greenberg described (skeptical of Pop Art, as many were and perhaps still are), Oldenburg and his Pop contemporaries "deliberately used academic means to illustrate unconventional things. With the Pop artist is the trick of saying 'I'm going to make it look just the way the cheapest art looks, but with…a twist.'"
Oldenburg's Village Presence
As we see in Building Blocks, Oldenburg had his store here on East 2nd Street and, by clicking on his tag, also lived nearby at 404 East 14th Street and had a store at 207 East 4th Street. (He also appears to have found his first studio in the late 1950s on East 4th Street between Avenues C and D). 404 East 14th Street has been home to an impressive lineup of creatives. Oldenburg may not have lived there as early as 1961, but did spend plenty of time in the Village from then until the late 1960s. Even earlier than this, he was staging Happenings at Judson Memorial Church.
With Building Blocks' thorough research, we can discover the extraordinary stories behind what might look like not-so-extraordinary buildings. Artist's residences and studios, architects' amazing creations, or specific eras in the neighborhood's history – find them all on Building Blocks!
Take a look at all the other ways to explore our neighborhood through Building Blocks, or just start clicking around for yourself!