← Back
An Intersectional Black History Month Roundup
Black History is Village history, and while many are celebrating Black Futures Month, as a historic preservation organization, we're glad to amplify a history that often goes unnoticed in the Village. These histories live in the context of the other movements that have their roots in our neighborhoods. So many of these stories are intersectional, tied up with movements in religion, feminism and the LGBTQ world, education, and the arts. These pasts certainly inspire our futures, and show us Village legacies to celebrate and continue.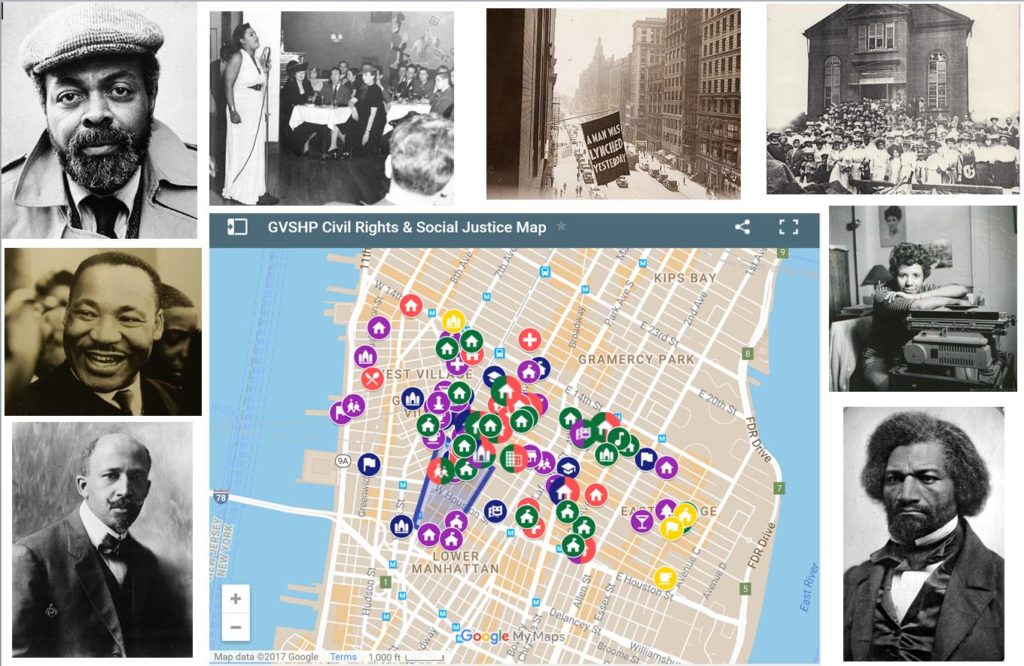 Religion
When the Village was considered "uptown" and hosted the largest black urban population in the country, houses of worship that are now all over New York City and which have become national movements like the AME churches were once located here. James Varick was a Villager who had been formerly enslaved, and later founded the Zion African Methodist Episcopal (AME) Church, which has become an international movement and force for abolition and civil rights since the late 18th century. This was the first black church in New York City and its second home, before it eventually moved to its current home in Harlem, was in the heart of Greenwich Village at the corner of West 10th Street and Bleecker Street. Its building no longer stands.
The Spring Street Presbyterian Church was built in 1810 on the corner of Spring and Varick Streets (this building also no longer exists), and was deeply involved with abolitionist movements and bringing together the diverse community of the Village at the time. These churches and more are profiled on our blog and in our Civil Rights and Social Justice Map, marking the spots of Black spirituality and community work.
Education
When New York State abolished slavery in 1827, the number of African Free Schools expanded to seven to accommodate their children. The Third African Free School was established in 1831 on MacDougal and Amity Streets (the building no longer stands; it is now 120 West Third St). The streets surrounding Washington Square were hardly the exclusive neighborhood it is now, but the school was welcomed by the predominately black community.
Fast forward to 1945, and W.E.B. Du Bois was teaching New York's first classes in African American History at The New School at 66 West 12th Street. Du Bois's idea was to look at American history and stories through the lens of the Black experience. Since American history was told by white people who, he argued, would never include this perspective, it was important to tell this story separately, with the ultimate goal of bringing the stories together to be told as inseparably as he understood them to be.
Ten years later, the writer Alex Haley was working in the Village, writing Roots: The Saga of an American Family and The Autobiography of Malcolm X, Haley rented a studio in the back of 92 Grove Street, which still exists.  It was here that he conducted dozens of interviews with Malcolm X which were the foundation of that groundbreaking autobiography — Haley's first book, and an enormous part of the legacy and perception of Malcolm X more than a half-century after his death.
These institutions, lessons, and works were pioneering in the landscape of educational and social movements far beyond the reach of Black history and social movements.
LGBTQ Movements  
Well before the Stonewall Riots kicked off the modern LGBT rights movement, the Village was the place to be for the LGBTQ community. The Village was home to LGBTQ artists like James Baldwin and Lorraine Hansberry (more on them later).  
To me, the star (or STAR) of LGBTQ life in the Village was Marsha P. Johnson, along with her compatriots Miss Major and Sylvia Rivera, all of whom were involved in the Stonewall Riots and movements in the Village to care for LGBTQ folks who were living on the margins. Sylvia Rivera recalled the Stonewall Riots, saying that "this was started by the street queens of that era, which I was part of, Marsha P. Johnson, and many others that are not here."

Marsha and Sylvia went on to form the Street Transvestite Action Revolutionaries (STAR) in 1970.  They organized homeless and/or runaway trans people to build a community and live together. STAR was a way that Marsha and Silvia were able to keep homeless gay and transgender youth off the street, where they might face the threat of violence.  Marsha referred to anyone brought into the house off the street as "children" or "youth," while she bore the title "Queen Mother."
Feminism
Lorraine Hansberry was a feminist activist, though she is also a truly intersectional person, from winning accolades as the first Black woman playwright to have a show put up on Broadway – that's her A Raisin in the Sun – to her many anonymous columns for The Ladder, an early lesbian publication. Hansberry had an unflinching commitment to social justice, which brought her under FBI surveillance when she was barely in her twenties.
After the success of A Raisin in the Sun, Hansberry used her prominence in myriad ways: challenging President Kennedy and his brother to take bolder stances on civil rights, supporting African anti-colonial leaders, and confronting the romantic racism of the Beat poets and Village hipsters. Though she married a man for a while, she later apparently personally identified as lesbian, and secretly joined one of the nation's first lesbian organizations. Hansberry associated with many activists, writers, and musicians, including Malcolm X, Langston Hughes, Duke Ellington, Paul Robeson, W.E.B. Du Bois, among others.
Hansberry's first apartment was at 337 Bleecker Street (her apartment is above what is now a hat shop), where she lived from 1953 to 1960, before she bought and moved to 112 Waverly Place in 1960. GVSHP unveiled a historic plaque at 112 Waverly Place in celebration of Hansberry's time there (you can learn more about our historic plaque program here).
The Arts
The Black Arts Movement had its home in the Village. It was an American literary movement to advance "social engagement" as a sine qua non of its aesthetic.  Here is a good piece "Rethinking the Black Power Movement" by Komozi Woodard of Sarah Lawrence College that situates the Black Arts Movement in a larger context. This group included Ishmael Reed, Amiri Baraka, Jayne Cortez, and Nikki Giovanni, among many others. 
James Baldwin – a gay Black man – is known internationally for his expansive writing and activism. He wrote novels and stories, but I think of him as a poet, for how outspoken, honest and lyrical he was about race and sensuality in a way that was rare in the 1950s, 60s, and 70s – indeed, that still is. Baldwin seems to be cited more than ever today – including the recent film adaptation of his novella "If Beale Street Could Talk," much of which takes place in the West Village. Because we are still mixed up about race and sex, because we still seek justice, we still need his eloquence and courage.
Taking writing into the public realm happened regularly and in truly groundbreaking ways at the Provincetown Playhouse, now a part of NYU at 133 Macdougal Street, where actor Paul Robeson cut his teeth on the Greenwich Village theater circuit and fully embraced the bohemian, progressive, and activist lifestyle that made the neighborhood so famous. A college football star, lawyer, actor, and activist, Robeson was even the subject of a great sculpture by Antonio Salemme, for which he posed in the artists' studio overlooking Washington Square.
Black History Month is a time to highlight Black History, as well as a time to see the myriad ways that Black History is a part of every nook and cranny of our neighborhoods, movements, schools, and artistic pursuits.