← Back
Tompkins Square Park Through the Years
Over the years, Off the Grid has featured many posts about Tompkins Square Park, including The Young Lords Start in Tompkins Square Park, The Tompkins Square Park Riots of 1988, and Get your Fruit, Veggies, and Milk in Tompkins Square Park. We even had a quiz to test your knowledge of the park and the landmarks that surround it. The park is also featured in GVSHP's East Village Building Blocks, an online web tool which provides invaluable information about over 2,200 properties in the East Village, including each building's date of construction, original architect, original use, and more.
Today we thought we would look at the history of this green oasis in the heart of the East Village, and its changes over time.
Originally located on land belonging to Petrus Stuyvesant, this site was eventually acquired by Daniel D. Tompkins (1774-1825), who served as Governor of New York from 1807 to 1817 and as Vice President of the United States under James Monroe from 1817 to 1825. The park is named for Tompkins. The land was bought by the City in 1834, at which point it was drained, planted, and turned into a public square. The park served as a parade ground for several decades, and in 1878 The New York State Legislature designated the square as a public park. It was redesigned the following year by Parks Department architect Julius Munckwitz with open lawn, shade trees, and curving paths. Approximately 450 trees were planted and many remain in the park to this day.
Further additions to the park followed, including the Temperance Memorial Fountain (1888), the Samuel S. Cox monument (1891), the Slocum Memorial Fountain (1906), several memorial plaques, and the Ukrainian-American Flagstaff (1942), which was donated by the Ukrainian Production Unit of the American Red Cross. A playground for girls was built in 1904, and in 1911, 10,000 people came here to witness the City's first inter-park athletic championships. During the 1930s, Parks Commissioner Robert Moses (1888–1981) made improvements (what? He didn't want to put a highway through it?!), including adding handball courts and swing sets. A bandshell was completed in 1966 in time for frequent concerts and rallies, which characterized that period in history.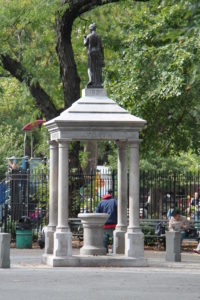 The latest large-scale renovation took place in the 1990s, and included the removal of the bandshell, construction of a dog run and new playgrounds, the conservation of several monuments, and the replacement of turf and sidewalks. Today it is a bucolic respite for the surrounding East Village neighborhood.