← Back
GVHD50 Partner Roundup: Restaurant Edition
This is one in a series of posts marking the 50th anniversary of the designation of the Greenwich Village Historic District. Click here to check out our year-long activities and celebrations.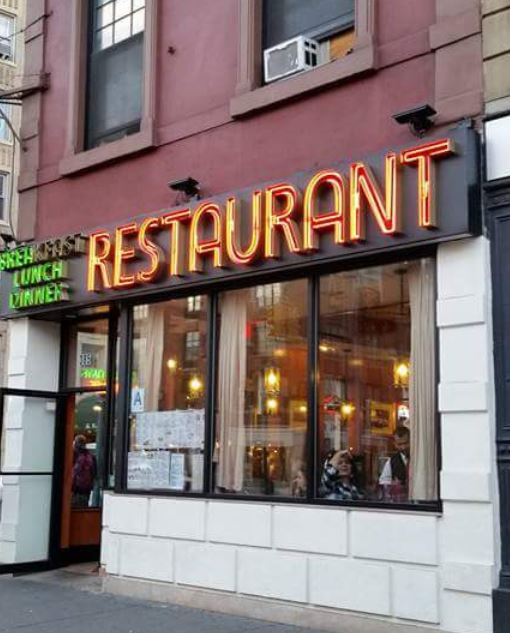 Friends; we have such great friends!  Last year, as we set our sights on celebrating the extraordinary milestone of the 50th anniversary of the designation of the Greenwich Village Historic District (GVHD50), we began to reach out to the array of amazing businesses and institutions that thrive in the district to inquire if they would be interested in joining us in the year-long celebrations.  We were overwhelmed by the response.  The outpouring of support was truly a welcome response, and is one of many reasons why this weekend's Greenwich Village Historic District Open House is going to be such a special and unmissable experience (click here for the full schedule and list of deals and offers; click here for the map needed for access to many of the sites, events, and offers, and for notifications about future #GVHD50 events).
So, in thanks to those who so enthusiastically embraced the idea, we want to reciprocate by hailing the businesses who so graciously signed up to be a part of the party — the restaurants and boites that make the Greenwich Village Historic District such an extraordinary destination for tourists as well as a place that residents love and cherish.
Ancolie
58 West 8th Street

Born in Paris, Chloe Vichot moved to New York 13 years ago and took the Finance industry by storm. Yet in 2015, she decided to follow her true life's passion and pursue a career in the culinary world. She gained two diplomas in French and Italian Culinary Techniques, a Culinary Management Degree, and worked at Michelin-starred Eleven Madison Park before opening Ancolie in 2016. Chloe finds her inspiration in the simplicity and beauty of nature: Ancolie is a wildflower from the French Alps. Her dream was to provide wholesome and delicious home cooked meals that were convenient, and sustainable for the planet. On April 13th & 14th, enjoy a special perk:  If you buy one food item, you'll get one free food item!
Bus Stop Café
597 Hudson Street

Established in 1995, this family-owned cafe has been serving fresh dishes and friendly service in their historic West Village location for more than a few decades now. The building was reportedly a speakeasy during Prohibition, but these days it's a place where the community can sit down for a meal with the artists, families, and people that make the Village so special.
Chumley's
86 Bedford Street

Chumley's is a historic pub and former speakeasy at 86 Bedford Street between Grove and Barrow Streets in the West Village.  It was established in 1922 by the socialist activist Leland Stanford Chumley, who converted a former blacksmith's shop near the corner of Bedford and Barrow Streets into a Prohibition-era drinking establishment. The speakeasy became a favorite spot for influential writers, poets, playwrights, journalists, and activists, including members of the Lost Generation and the Beats.
Corner Bistro
331 West 4th Street

Corner Bistro, arguably one of the last of the bohemian bars in the West Village, has been serving customers since 1961. The original ambiance is pretty much unchanged, and they like to keep it that way.  It boasts a fabulous burger! On April 13th & 14th, enjoy a special perk: You'll receive a free draft beer or soda with purchase of sandwich and fries!
Julius' Bar
159 West 10th Street

According to bar lore (and the resident bar historian, Tom Bernardin), Julius' Bar was established around 1867.  Vintage photos of racing horses, boxers, and actors are on the wall include drawings of burlesque girls, as well as an image signed by Walter Winchell saying that he loves Julius.  The bar became a popular watering hole in the 1930s and 1940s due to its proximity to the jazz club Nick's in the Village.
By the late 1950s, it was attracting gay patrons. At the time the New York State Liquor Authority had a rule that ordered bars not to serve liquor to the disorderly, and homosexuals per se were considered "disorderly." Bartenders would often evict known homosexuals or order them not to face other customers in order to avoid cruising.  Despite this, gay men continued to be a large part of the clientele into the early 1960s, and the management of Julius, steadfastly unwilling for it to become a gay bar, continued to harass them.
The "Sip-In"
On April 21, 1966 members of the New York Chapter of the Mattachine Society staged a "Sip-In" at the bar which was to change the legal landscape. Dick Leitsch and Craig Rodwell, the society's president and vice president respectively, and another society activist, John Timmons, planned to draw attention to the practice by identifying themselves as homosexuals before ordering a drink in order to bring court scrutiny to the regulation. The three were going to read from Mattachine stationary "We are homosexuals. We are orderly, we intend to remain orderly, and we are asking for service."
The three first targeted the Ukrainian-American Village Restaurant at St. Mark's Place and Third Avenue in the East Village which had a sign that said, "If you are gay, please go away." The three showed up after a New York Times reporter had asked a manager about the protest and the manager had closed the restaurant for the day.  They then targeted a Howard Johnson's and a bar called Waikiki where they were served in spite of the note with a bartender saying later, "How do I know they're homosexual? They ain't doing nothing homosexual."
Frustrated, they then went to Julius', where a clergyman had been arrested a few days earlier for soliciting sex. A sign in the window read, "This is a raided premises." The bartender initially started preparing them a drink but then put his hand over the glass which was photographed. The New York Times ran a headline the next day "3 Deviates Invite Exclusion by Bars."
The Mattachines then challenged the liquor rule in court and the courts ruled that gays had a right to peacefully assemble, which undercut the previous SLA contention that the presence of gay clientele automatically was grounds for charges of operating a "disorderly" premise. With this right established a new era of licensed, legally operating gay bars began. The bar now holds a monthly party called Mattachine.  Julius's Bar also has a wonderful burger!!!  Tell them Village Preservation sent you!
Li-Lac Chocolates
40 8th Avenue

Claims to be Manhattan's Oldest Chocolate House!  Right here in the Village, they have been preserving the heritage and traditions of old-school, hand-crafted chocolate for almost 100 years. Using original recipes and old-world cooking methods from the 1920s, Li-Lac Chocolates are still made by hand in small batches  This writer can atest:  THEY ARE DELICIOUS. On April 13th & 14th, enjoy a special perk: You'll receive one free chocolate bar with a $25 purchase.
The Little Owl
90 Bedford Street

Is a corner gem with a big porkchop and a big heart. Celebrating 10 years in Greenwich Village, Little Owl offers Mediterranean cuisine with friendly service that epitomizes Village dining.
Menus flow with the seasons featuring both daily specials and classics. Seafood from chef Joey Campanaro's fishing trips and local varietals make appearances as well as treasured dishes from his childhood cooking alongside his grandmother.   Some Villagers call it their home away from home.
Merriweather Coffee & Kitchen
428 Hudson Street

The name Merriweather is inspired by the Australian beach that is also the hometown of Pete, the founder.
Each morning, Merewether Beach is filled with surfers, swimmers, and joggers of all ages enjoying nature before their day at work starts. As part of their ritual, they go to their local café to grab a delicious cup of coffee and something healthy and tasty to eat, crafted by someone who cares. Merriweather, serves the healthy and tasty food of the Middle East, Southeast Asia, and the Mediterranean. Australian café culture mixes the best of these cuisines into innovative breakfasts and lunches.
Oscar's Place
466 Hudson Street

"The West Village was missing a Classic English Breakfast and a good Fish and Chips", partner Neil Smith explains in his English accent. So Oscar's Place filled the gap.
The lovely open kitchen gives you the chance to watch the chef prepare your meal and let him know you want the sautéed veggies instead of the fresh mash of the day.  Best part?  The outside cafe has a view of St Luke's Garden, and for a moment you might swear you were not in New York.
The Spaniard
190 West 4th Street

The Spaniard is located on the corner of West 4th Street and Barrow in the West Village. Designed by Home Studios, the aesthetic has a feel of the old, iconic New York (think Keens and P.J. Clarke's). The horseshoe bar is divided in two, with the front more welcoming for a happy-hour crowd, while the back is more intimate, with charming green leather booths. Enjoy a drink from the extensive whiskey selection while sitting on comfortable custom barstools, which feature upholstery in the pinks and mauves that are true to old Irish pubs
Wilfie & Nell
228 West 4th Street

This rustic pub traffics in Irish comfort foods like fries with malt vinegar and sausage-wrapped Scotch eggs, or, what Ricky Gervais calls "a delicious and nutritious path to cardiac arrest." There's also a solid chicken-liver pâté with onion jam, Berkshire-pork sliders, and an elevated grilled cheese made with McClure's pickles and pullman loaf. You can eat these fine Irish tapas at the bar or hunched over a rough communal table or beneath a bare-bulb lamp in an odd chair that looks like it might have belonged to Edith Bunker.
Ty's Bar
114 Christopher Street

One of New York's first gay bars to open after the Stonewall Riots of 1969, Ty's has been gay owned and operated since opening in 1972. Ty's is well known for its no-attitude policy, friendly helpful staff, and great drinks at great prices. Tourists from around the world feel as welcome here as the locals who call it home. They proudly sponsor many community events and charities. Ty's is the official bar of Fireflag/EMS and the Empire City Motorcycle Club, and it's the home of the 'Ballbreakers' softball team.
Washington Square Hotel
103 Waverly Place

The Washinton Square Hotel has been a haven for writers and artists for more than a century. Built in 1902 as a residential hotel named the Hotel Earle after its first owner, Earle S. L'Amoureux, the hotel occupied a single, eight-story, red brick building on Waverly Place, in the heart of Greenwich Village. In 1908, L'Amoureux built an identical connecting building to create a grand apartment hotel, complete with reading rooms, restaurant and banquet facilities. Four years later, he added a ninth floor and, in 1917, he acquired an adjoining three-story building, bringing the hotel to MacDougal Street, at the northwest corner of picturesque Washington Square.  In the 1930s, Knott Hotels, one of the nation's first hotel chains, owned and managed the Earle and advertised:
American Plan* from $3.50 single, $7.00 double
European Plan* from $2.00 single, $3.50 double
The 1950s saw great change in the Village which was swiftly becoming the center of New York's bohemian counterculture, reflected by the Beat generation who gravitated to the coffee houses and jazz clubs. The once-grand hotel began to deteriorate into a shabby apartment hotel, making it an affordable location for struggling artists, actors, writers, and musicians. Ernest Hemingway stayed at there for a few weeks in 1914, just before he went off to serve in World War I. Joan Baez, Bob Dylan, Barbra Streisand, the B-52's, Maynard Ferguson and Bo Diddley have all been guests at the hotel.
Dylan Thomas and his wife Caitlin were evicted from the Beekman Hotel after, legend has it, the management got tired of his partying and excessive demands on room service. Seeking residence close to one of his favorite bars in the Village, the Minetta Tavern, Dylan checked into the Hotel Earle.
He wrote a letter to his parents in May 1950 in which he described the Earle as "right in Washington Square, a beautiful Square, which is right in the middle of Greenwich Village, the artists' quarter of New York."
In recent years, Judy Paul and her husband Marc Garrett have renovated it to become a charming, beautiful boutique hotel.
The restaurant has large picture windows overlooking Washington Square Park which bathe the room with sunlight.  The restaurant serves breakfast, lunch, and dinner. On Sunday afternoons, they do a jazz brunch. A few years back, one of the breakfast waitresses asked if they'd let her perform. She gave them a demo CD to listen to. The Pauls were impressed and gave her the green light. She went on to win five Grammy Awards. That waitress was Norah Jones.
Waverly Diner
385 6th Avenue

On the corner of Sixth Avenue and Waverly Place, a neon sign beckons patrons inside Waverly Diner. The scene is inviting, and outsiders are welcome. A warm glow illuminates the diner's interior, where the hum of conversation and the clamor of utensils ring out.
Located in a landmark building, the Waverly was founded by Nicholas (Nick) Serafis some 40-plus years ago. He purchased the space when it was a modest café, expanded it and transformed it into a classic Greek diner. By his calculations, approximately 90 percent of the diner's customer base consists of regulars who live in the Village, a significant number of whom have been returning to the diner since the 1970s.
Day or night, the Waverly is abuzz. "The nighttime is happier," Serafis said. "More energetic." The Waverly's after-hours customer base has always consisted of late-night workers gathering for a meal at the close of their shift. They still flock to the diner – it's always open, and going there is practically a ritual – though nowadays, the wee hours also find there a younger set of patrons: a sprinkling of NYU students, a smattering of bar-hoppers. Otherwise, according to Serafis, not much has changed.
So now go out and take a Foodie's Tour of the 'Hood!!!