← Back
Artists Homes of the Greenwich Village Historic District
This is one in a series of posts marking the 50th anniversary of the designation of the Greenwich Village Historic District. Click here to check out our year-long activities and celebrations.
This year marks the 50th anniversary of the designation of The Greenwich Village Historic District (GVHD). The GVHD contains a treasure-trove of important history, architecture, and culture spanning more than two hundred years. It's been fertile ground for creative minds since at least the beginning of the 19th Century.
Today we're taking a look at six of the homes and/or studios of some of the many visual artists who have lived and worked in the Greenwich Village Historic District.  These are but a few of my personal favorites.
Berenice Abbott

From 1935 to 1965, photographer Berenice Abbott (1898-1991) and art critic Elizabeth McCausland (1899-1965) lived and worked in two flats they shared on the fourth floor of this loft building at 50 Commerce Street.
Around the time of her move here, Abbott received funding from the Federal Art Project (a division of the Works Progress Administration) for her "Changing New York" series, which she had informally begun in 1929 to document the ever-changing city around her. For the next three years, she took hundreds of photographs of city life and architecture in all five boroughs. Abbott printed over 300 images for the finished project, the now-classic book Changing New York (1939).
Abbott was also a sought-after portraitist. Among her subjects were New Yorker writer Janet Flanner, writer Djuna Barnes, founders of the avant-garde literary magazine Little Review Jane Heap and Margaret Anderson, and poet  Edna St. Vincent Millay. Abbott's A Guide to Better Photography (1941), The View Camera Made Simple (1948), and Greenwich Village, Today & Yesterday (1949; with text by Henry Wysham Lanier) were also published while she lived here.
10th Street Studio
The Tenth Street Studio Building 51 West 10th Street, constructed in 1857, was the first modern facility designed solely to serve the needs of artists. It became the center of the New York art world for the remainder of the 19th century.
The building was commissioned by James Boorman Johnston and designed by Richard Morris Hunt. Twenty-five studios, from 300 to 600 square feet each, were arranged around a central double-height communal exhibition hall, 30 by 40 feet, with a large glass ceiling and gas lighting. The domed central gallery, from which interconnected rooms radiated. Hunt's studio within the building is reported to have housed the first architectural school in the United States.
Artists from all over the country came to Greenwich Village to work, exhibit, and sell their art in this remarkable space. In its initial years, Winslow Homer took a studio there as well as many of the artists of the Hudson River School, including Frederic Church, Lockwood de Forest, and Albert Bierstadt.  In 1879 William Merritt Chase moved into the main gallery of the building.
In 1920, the building was purchased by a group of artists in order to forestall a commercial takeover. From that time forward, a number of New York City artists rented studio space in the building.
In 1942, the building's basement became the meeting place for the Bombshell Artists Group, an alliance of 60 modernist painters and sculptors, a number of whom had studios in the building.
In 1956, thirteen years shy of the designation of the Greenwich Village Historic District which would have preserved it, the Tenth Street Studio Building was razed to make way for an apartment building.
Marcel Duchamp
Greenwich Village was a good match for Marcel Duchamp's unconventional stance and eclectic persona, but the neighborhood's unique vibe was not his main reason for moving here in the 1950s from 210 West 14th Street, where he had lived since 1942. The artist moved to 28 West 10th Street to be near the famed marshal Chess Club, located at 23 West 10th Street.
Duchamp had a lifelong passion for chess, even giving up his art career from 1926 to 1934 to play competitively, and traveling to places like Buenos Aires throughout his life to devote time to his hobby. In the 1960s, Duchamp moved to 80 East 11th Street.
William Glackens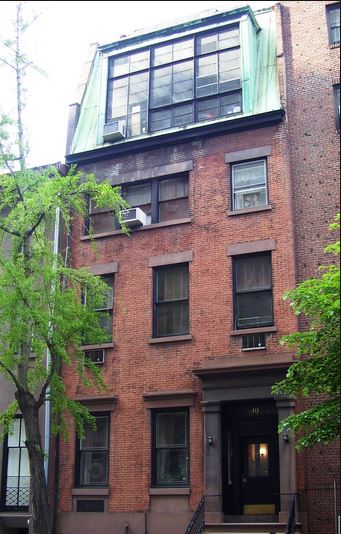 William Glackens (1870-1938) was an American Painter whose work is associated with the Ashcan School.  He began his career as a newspaper and magazine illustrator, and his roots in that field led him to an aesthetic as a painter that was keenly observational in nature and often focused on his immediate surroundings: the Greenwich Village/Washington Square neighborhood.
Glackens owned the 1841 townhouse at 10 West 9th Street, where he lived and worked from 1910 until his death in 1938.  The location offered him easy access to Washington Square, where he often painted.  Glackens added a mansard roof to the townhouse, which gave its top floor 17-foot ceilings and incredible natural light for use as his studio.
Gertrude Vanderbilt Whitney and Juliana Force were admirers and purchased works for the collection of the Whitney Museum of American Art.
Edward Hopper
When Edward Hopper was 31 years old, he moved into the small Greenwich Village space at 3 Washington Square North where he would both work and live until his death at age 84. With a skylight providing the rich natural light he adored and both a roof and window looking out onto Washington Square Park, the setting was ideal for both his work and that of his wife, the painter Jo Hopper, who worked alongside him.
It's easy to feel you are seeing the space much as Hopper did. Though the bedroom and bathrooms have been converted, the studio space still houses Hopper's handmade easel and a printing press, the spokes of which he used as a hat rack, as seen in Berenice Abbott's 1948 photo of him in the studio.
Also still there are the large skylights that pour light into the space, and the double windows looking out onto the park.  A portrait of Edward by Jo can also now be found there. If the area feels spartan, that's much in keeping with the way Hopper lived and worked. "It's not like he was a beatnik and having all of his buddies over and they were talking about art. He was a very introverted, very private painter," says Jennifer Patton, executive director at the Edward Hopper House in Nyack, New York. "Obviously he painted looking out the window. There are several drawings and paintings that are of Washington Square Park, and obviously, those would have been very significant in his development as an artist, just in terms of having an interesting still life right outside his front window." Among these works are Skylights and Roofs of Washington Square.
Gertrude Vanderbilt Whitney
Gertrude Vanderbilt Whitney was a prominent and passionate art collector. She was born into the Vanderbilt family and married into the Whitney family.
After visiting Europe in the early 1900s, she became fascinated with the 'bohemian' art world of Paris and was encouraged to pursue her own creativity. When she returned to New York, she studied sculpture at the Art Students League. Inspired to support young emerging artists, she focused her efforts here, in the Village, just as its own 'bohemian' culture was forming in the 1900s.
She purchased a small studio space at 19 MacDougal Alley in 1907, which hosted a series of exhibitions for five years. Eventually, a wall was knocked down, and an adjacent space at 8 West 8th Street was purchased. (This space would become the Whitney Studio.) In 1918, American artist and friend Robert Winthrop Chanler was commissioned to redesign the interior of the 8th street property, adding an allegorical bas-relief ceiling, a 20-foot-high plaster and bronze fireplace, elaborate stained glass windows and decorative screen.
In 1914, she opened the Whitney Studio Club at 147 West 4th Street, intended as a venue where local artists could socialize, study, and do business. In 1931, Whitney offered to contribute her collection of modern art, which had been growing for twenty-five years, to the Metropolitan Museum of Art. They turned her down. In response, Whitney annexed two more buildings on West 8th Street and renamed the combined space the Whitney Museum of Art. The Museum would remain here until 1954. Together, she and Juliana Force (her former Studio Club assistant, now founding director of the museum) ensured that only living American artists were collected, and held Annual and Biennial exhibitions as a way to continue acquiring works by emerging artists.
The museum relocated twice between 1954 and 1966, both times within Greenwich Village. In 1966, however, it finally moved uptown. And then in 2015, the museum took up its current residence in the Meatpacking district.
We hope you will send us addresses of your own favorite visual artists of Greenwich Village! There is always more to explore!