← Back
GVHD50 and Stonewall50 – LGBTQ Sites of the Greenwich Village Historic District
This is one in a series of posts marking the 50th anniversary of the designation of the Greenwich Village Historic District. Click here to check out our year-long activities and celebrations.
Rounding up each person, place, and moment in the Greenwich Village Historic District's LGBTQ history would take longer than it does to line up for, march in, and party after the Pride March itself. Village Preservation is happily highlighting LGBTQ history in the Greenwich Village Historic District as the entire world comes together to celebrate the 50th anniversary of the Stonewall Riots, which took place in 1969, the same year that the historic district was designated. At a bar which is – very proudly – quite centrally located in the district. But Stonewall can't have the whole spotlight; the Greenwich Village Historic District is home to so many essential spots, figures, and moments in LGBTQ history. Explore within: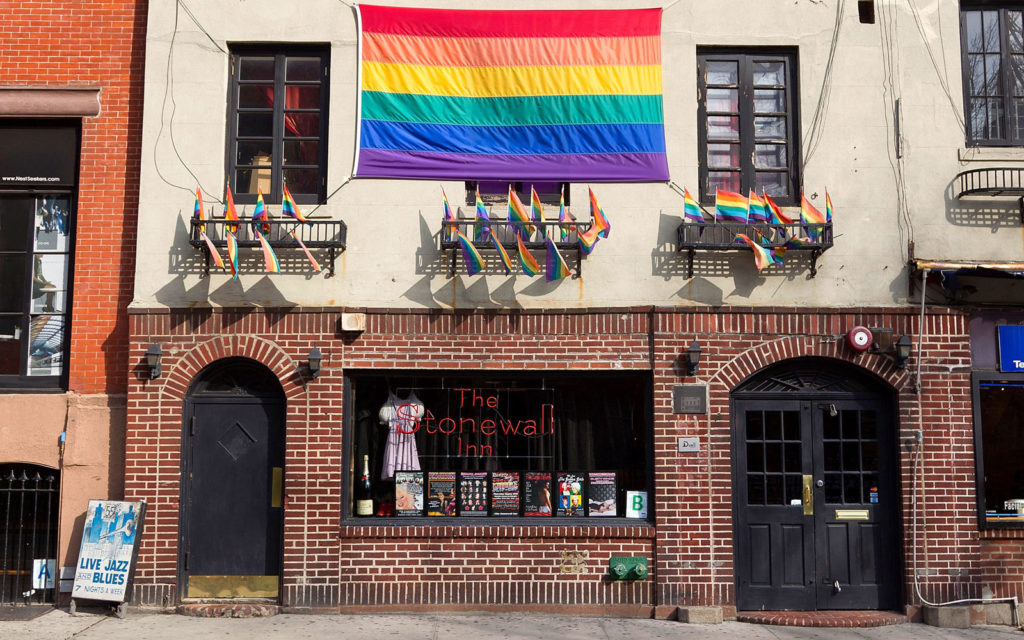 The Bars in the Historic District
The Stonewall Inn is now a landmark, a state and national register listed site, and the first national monument and park devoted to a site for its significance to LGBTQ history. Countless stories have been told about the Stonewall, which remains a gay bar and hangout spot. The 1969 riots, started by the bar's regulars, Village activists including Marsha P. Johnson and Sylvia Rivera, was in direct protest to the police's treatment of LGBTQ patrons and residents.
Next is Village Award winner Julius's bar, which Village Preservation continues to work to protect. As background, by 1864 the row house on West 10th Street housed a bar, making it one of the oldest continuously operating bars in New York City. By the 1950s, the bar had begun to attract gay customers, and in 1966, the Mattachine Society, one of the oldest gay organizations in the country, organized a "Sip In" to protest the State Liquor Authority (SLA), whose rules at the time prohibited bars from serving gay people. After they were refused service, the men filed a complaint with the city's Commission on Human Rights. This led to a 1967 state court ruling that declared the SLA needed "substantial evidence" of indecent behavior to close a bar or refuse service. The decision was a landmark case that reversed years of discrimination and became a key catalyst in the eventual gay rights movement beginning in 1969.
Café Society, which later became the Ridiculous Theatrical Company at 1 Sheridan Square, what has been billed as the Village's first integrated club, featured many of the jazz giants and singers of the day, including Billie Holiday and Sister Rosetta Tharpe, from 1938 to 1950. It also functioned as a political cabaret, modeled after those Josephson had seen in Europe. In 1960, the space was converted into the Ridiculous Theater Company, which put on Obie and Drama Desk Award winning productions. As a genre, "Ridiculous" theater stood in contrast to mid-20th century theater trends of employing naturalistic acting and realistic settings. Instead, it offered a very broad style of acting, often with surrealistic settings and props, and brought some elements of queer/camp performance to avant-garde theater. Cross-gender casting was common, with players often recruited from non-professional sources, such as drag queens or other "street stars." Charles Ludlam, the RTC's resident playwright, director and lead actor, would refine the Ridiculous genre over the next 20 years. Ludlam died of AIDS in 1987. The troupe continued under the leadership of Ludlam's partner and fellow actor Everett Quinton. The street in front of the theater was renamed "Charles Ludlam Lane" in 1988.
The Snake Pit was another gay bar on West 10th Street. Less than a year after the Stonewall riots, the police raided the Snake Pit and forced many of the patrons to be detained at the station house at 135 Charles Street. After one person attempted to escape and was impaled on a fence, the Gay Activists Alliance and Gay Liberation Front quickly assembled a protest march, the results of which demonstrated the strength of the recently formed gay rights organizations and inspired more people to become politically active.
Sites of Support and Care in the Historic District
Next is what was St. Vincent's Hospital and is now the NYC AIDS Memorial, a beautiful monument of sculpture, poetry, and a fountain, and also a Village Awardee. St. Vincent's Catholic Medical Center became an important fixture in NYC LGBT history following the outbreak of the AIDS epidemic. Founded in 1894 and named after St. Vincent de Paul, a seventeenth-century French priest, St. Vincent's became NYC's third oldest hospital. It was originally located on 11th St. between 7th Ave. and Greenwich. In the 1980's, St. Vincent's became one of the first institutions to respond to and treat HIV and AIDS, housing the first and largest AIDS ward on the east coast, and is often referred to as the "ground zero" of the epidemic. The hospital itself closed in 2010 following the financial crisis. In 2011 the buildings were sold to Rudin Management Company and several were completely demolished in 2013 to make way for a condo development, with others converted to residential use. The New York City AIDS Memorial was built at St. Vincent's Hospital Park, as a memorial to that legacy, and the Greenwich Village community whose lives were forever changed by that place.
Oscar Wilde Bookshop was founded in 1967 as the first bookstore devoted to gay and lesbian literature and books. Originally located at 291 Mercer Street, it moved in 1973 to Christopher and Gay St., a short distance from the Stonewall. Craig Rodwell, the original owner and founder of the bookstore, worked to stock his shelves with literature by gay and lesbian authors, refusing to stock any pornography despite having a limited selection of materials. The bookstore also became a meeting place for the LGBT community and served as the location for the organizing meetings of the first Pride Parade in the 1970s.
In 1972, friends Leonard Ebreo and Alice Bloch co-founded Liberation House, an early post-Stonewall volunteer run community center that provided health services to the LGBT community. Ebreo and Bloch signed a cheap lease for the central storage area in the basement of this tenement at 247 West 11th Street and furnished it with folding chairs and a card table. (At the time, Bloch also served as an editor for The Lesbian Tide, the first national lesbian newspaper.) Liberation House hosted women's and men's groups, a coming out group, and an S & M group. One of those groups morphed into the Gay Men's Health Project, which in 1983 became part of the Callen-Lorde Community Health Center in Chelsea, which still operates.
LGBTQ Community Figures in the Historic District
Murray H. Hall (c. 1840-1901) was a Tammany politico who lived at 457 Sixth Avenue. Hall's gender was never questioned when he moved to New York and began an employment agency chiefly representing domestic help. Hall became a Tammany figure, playing "poker and pool with city and state officials and political leaders and was often able to secure appointments for friends." When he died, the New York Times reported that his "true sex" was discovered by doctors. As an early instance of a transgender man, this attracted worldwide attention. It reminds us, too, that if Hall hadn't been outed by doctors and the newspaper, we would not know to include Hall in our list of LGBTQ figures in Village history.
Marsha P. Johnson is known as one of the foundational grassroots activists and "Queen Mothers" of the Village's LGBTQ community. The P in her middle name allegedly stood for "Pay it no mind," a reference to her answer regarding public questioning on her gender identity. Marsha was at the Stonewall on June 28, 1969, and helped start and took part in the uprising. Sylvia Rivera, another trans-activist and a friend and contemporary of Marsha's, recalls that "this was started by the street queens of that era, which I was part of, Marsha P. Johnson, and many others that are not here." Marsha and Sylvia went on to form the Street Transvestite Action Revolutionaries (STAR) in 1970. They organized homeless and/or runaway trans people to build a community and live together. STAR was a way that Marsha and Silvia were able to keep homeless gay and transgender youth off the street, where they might face the threat of violence. Marsha referred to anyone brought into the house off the street as "children" or "youth," while she bore the title "Queen Mother." The New York Times released an obituary for Marsha P. Johnson as part of their 2018 collection of "Overlooked" obituaries.
Born in 1938, Diana Davies was raised in the northeastern United States. Her grandparents were union organizers, and she credits her own work as an activist to their early influence. She dropped out of high school at the age of sixteen and moved to Greenwich Village where she supported herself by working in coffeehouses. In the 1960s, she worked for Broadside magazine, and eventually other major media outlets such as the New York Times. Her photos of the early Gay Liberation Day marches captured the energy and joy of the post-Stonewall movement, with some styles and signs that might still be carried through to this year's 50th Pride march.
Learn more about the map of LGBTQ History in the Greenwich Village Historic District on Village Preservation's Civil Rights and Social Justice Map, and from the LGBT Historic Sites Project.
Village Preservation's Stonewall50 Programs lineup can be found online here.