← Back
East Village Building Blocks Tour: Dry Dock District
Alphabet City owes much of its initial development to shipbuilding, the industry that used to dominate the area. Known as the Dry Dock District, this area used to bustle with thousands of workers building waterborne vessels, as well as in supporting trades such as iron works and wood mills. Residences were built around the area as well, both to house the owners of the industries as well as the workers.  Though the remnants of those days in the easternmost blocks of the East Village are few and scattered, we've put them together in a new tour on our East Village Building Blocks website, which you can view here.
The New York Dry Dock Company received its charter and was granted banking privileges in 1825. It was a consortium of shipbuilders who pooled resources to make a major upgrade in the city's ship repair facilities. Immediately after its charter, the New York Dry Dock Company began to amass large swaths of land in the East Village, a largely uninhabited area known previously as Burnt Mill Point.  The company purchased this land from Nicholas Stuyvesant, a direct descendant of Petrus Stuyvesant, director-general of New Netherland from 1647 until 1664. Map evidence shows that by 1827, the eastern shoreline had been straightened out and extended several blocks east.
This new shoreline along the East River provided, among other things, the space for the New York Dry Dock Company's remarkable "marine railway." The first in America, it included a dock which was cut into the landfill to the east of Avenue D along Tenth Street. The marine railway began operation in 1826; it was significant because previously, in order to undertake repairs such as "coppering the bottom" of ships, it had been necessary to "heave" ships out of the water – a difficult process that often resulted in damage to the ships that were growing ever larger. The marine railway was a technologically-advanced mechanism, which allowed these larger ships to be removed from the water with a great deal more ease and safety. No longer was it necessary to send ships to Europe for repairs. During the 19th century, some of this country's most impressive and important ships would be produced and launched from the Dry Dock District.
New York Dry Dock Company Banking House: 143-145 Avenue D:
This five-story brick structure was originally constructed in 1827 as a four-story Federal-style structure purpose-built as a bank, only a block from the marine railway.  In 1854, the bank moved to 147 Avenue D, a building that was demolished in 1961 for the 1.5-acre Dry Dock Playground.  No. 143-145 served multiple purposes over the course of its history, including a laundry, a hospital for the indigent, and a cigar factory, before being converted into a residential building in 1999. Still evidencing its Federal style beginnings is the building's Flemish bond brickwork (alternating 'headers' and 'stretchers,' i.e.bricks laid with their long and short sides facing out). For more information on this building, click HERE.
Political Row: East 7th Street between Avenue C and Avenue D:
When this thoroughfare was settled during the 1840s, the inhabitants of these row houses were sea captains, merchants, factory men and carpenters employed in the major shipyards to the east known as the Dry Dock District.  It was given the name of 'Political Row' in an article about the street written in 1902 by the New York Times. It was here that, according to the Times, "more politicians of every party were born and brought up than on any other street in this city." Such men of influence began to leave the row in the 1880s, starting with William Henry Webb who, while not a politician, was a man of tremendous influence who had his shipyard on the East River between 5th and 7th Streets from 1840 to 1865. He built more than 130 ships and was renowned as the greatest shipbuilder of his time. His home at 247 East Seventh Street was built in 1844 and converted in 1893 to the Tammany-affiliated Jefferson Club by the architect Walter H.C. Hornum, after Webb retired from shipbuilding business and moved uptown, to Murray Hill.
Aldermen, judges, commissioners, controllers, congressmen, district leaders, and more, from both the Democratic and Republican parties, lived in the fine row houses along this quiet leafy enclave in the midst of the teeming Dry Dock District.  Still beautifully intact to their mid-19th-century construction are Nos. 258-262 East 7th Street. Even the graceful swirled stoop railings, which no doubt came from one of the iron works nearby, are intact.
St. Brigid's Roman Catholic Church and Rectory: 300-302 East 8th Street and 119 Avenue B
This church was built in 1848 to serve the growing number of Catholic workers and their families who had begun to crowd into the far eastern part of the East Village. It is said the church was built by Irish shipwrights who worked in the East River shipyards. St. Brigid was a fifth-century nun and one of the patron saints of Ireland as well as the patron saint of sailors. The architect for the church was Patrick Charles Keely, who came to America in 1842.  St. Brigid's was his first of what would turn out to be many Roman Catholic Churches around the country. It was designed in the Gothic Revival style and over the course of its history has served several immigrant communities who made their home here including Irish, Slavic, Italian, and more recently, Spanish-speaking congregations.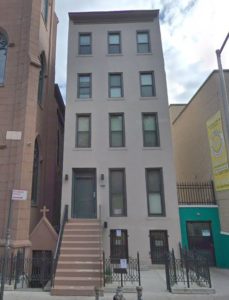 The Catholic Church bought this property in 1848 and built this row house as the rectory for St. Brigid's Church c. 1852.
326 & 328 East 4th Street
Altered in 2012, these Greek Revival style row houses were erected in 1841 by Fickett & Thomas, a shipbuilding company that built the first steamship to cross the Atlantic Ocean, and was part of a seven-house row constructed between 1837 and 1841. In the late 19th century this house was transformed from a home for successful merchants to a tenement. In the early 20th century, 326 and 328 East 4th Street were converted to house a Hungarian Synagogue and in the 1970s, they became the home of the Uranian Phalanstery, a self-described "anarchist utopian commune for practitioners of art and cosmology."
To see all of the buildings in the East Village Building Blocks online database, click HERE. To view the entire Dry Dock District Tour, click HERE.