← Back
The Bubble Man in Washington Square Park
This is one in a series of posts marking the 50th anniversary of the designation of the Greenwich Village Historic District. Click here to check out our year-long activities and celebrations.
It has been one month since our grand celebration for the Greenwich Village Historic District's 50th Anniversary in Washington Square Park. This free and open to the public event featured folk, jazz, and rock performers, with nods to the music that has been made and recorded over the years in Greenwich Village.  We celebrated that creative unique spirit and neighborhood character because it continues in the present and into the future.  One young local photographer's work of a Washington Square Park performer and artist is but one example of this creativity carrying on. Check out Jack Lichtenstein's photographs of artist Stephen Duncan, aka the Bubble Man.
Anyone who has walked through Washington Square Park and witnessed Mr. Duncan's work has got to be impressed, and usually made to smile.  Thanks to Mr. Lichenstein you can get a glimpse of the sublime magic of the park and bubbles and people together.  His striking photographs present the Bubble Man as a composer, conducting energy or transitory spheres of the world.  But the smiles seem permanent on the children and adults in awe of his performance. Jack Lichtenstein is a West Village resident that attends high school at Brooklyn Tech in Fort Greene and loves taking photographs on a variety of themes and subjects, you can see more of his work here.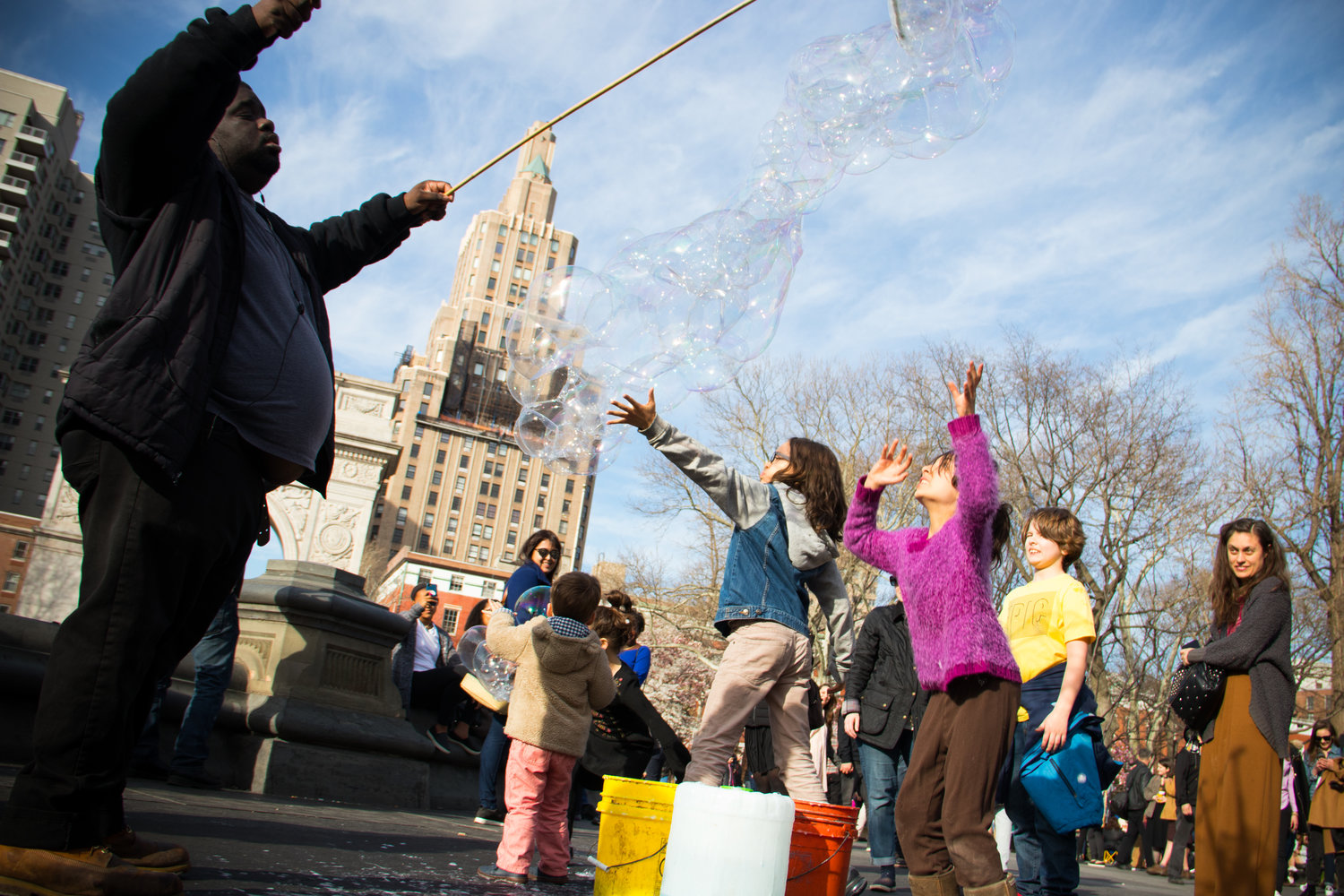 Mr. Duncan first became acquainted with his bubble craft over a decade ago, but like many, has had a deep-seated passion for bubbles since he was young. Born and raised in Harlem, Washington Square Park was one of the first places he began to ply his craft and perform.  The park always has with it a sense of nostalgia to him, for the long rich history and also because he used to hang out there when growing up.
In a phone call Mr. Duncan recalled how it was in the park where he really presented himself as the Bubble Guy, he said "it was where I got my take off". People liked what they saw and were encouraging.  He started about ten years ago and said it feels like yesterday when he "took a deep breath and here goes my thing."
"Making huge, free-floating soap bubbles is an awesome activity, but the one thing that makes it worthwhile is interacting with the public.  Putting on bubble shows in the park has not only allowed me to earn a decent income, it has helped bolster my confidence and networking skills.  I have also had the privilege of sharing my craft with a whole generation of people, both young and old from all nations, cultures and walks of life. "  He also has an online store where he sells his wands to customers across the country and worldwide.  And is available for parties and events here.
The Greenwich Village Historic District may be 50 years old, but the creative spirit remains youthful and eternal thanks to artists like Jack Lichenstein and Stephen Duncan.
If you are even more interested, check out the short documentary Mr. Lichenstein made of Stephen Duncan and his work: