← Back
Little Missionary's Day Nursery, a Tradition in Good Works
Since 1896, the Little Missionary Day Nursery has been serving the families of the Lower East Side and the East Village, providing care and education for the young children of this area. It was founded by Sara Curry, who dedicated her life to the care of the neighborhood's impoverished children and their families.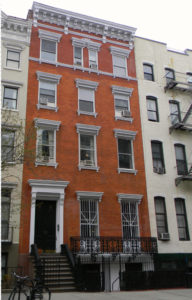 Sara Curry (c. 1863-1940) was known locally as The Little Missionary due to both her diminutive stature and her work with the impoverished families of the Lower East Side. She came to New York City from Utica New York in 1896. She started her nursery in two rooms she rented at 204 Avenue C, providing local working parents a place to bring their children where they would be fed and looked after. But her work wasn't restricted to just the nursery. She took it upon herself to go into people's homes and help residents improve their living quarters and aid those who were sick. By 1898 she had moved her nursery to 365 East 10th Street, and her work began to receive attention by the press. With that increased awareness by the public, financial assistance came by way of several wealthy philanthropists.
With the aid of these philanthropists, Sara was able to incorporate the school and purchase the house at 93 St. Mark's Place as a permanent home for the school. Additionally, one of the benefactors donated his home as a summer retreat for sick mothers and their children. An article in 1908 in Harper's Weekly described the scope of the work of the school and breadth of services:
Here are a few things done during 1907: children received at the Nursery. more than 28,000; poor families visited, 16,000; sick persons nursed, 10,000; families provided with Thanksgiving dinners, 624 (which amounted to 3800 individuals); children and sick mothers received at the summer home at Netherwood, New Jersey, 2423.
There were also nightly meetings for girls, boys, mothers, and fathers. All of these services were conducted with the aim to "restore dejected families to moral and physical health and teach them self-support and self-respect" as described in that same article in Harper's Weekly.
Sara retired from the school in 1940 and her adopted daughter, Anna Almasy, took over managing the school. Sara died that same year.
Well over a century after it's founding, the Little Missionary Day Nursery, still located at 93 St. Mark's Place, continues Sara's tradition of serving the community.