← Back
Richard Wright in Greenwich Village
This is one in a series of posts marking the 50th anniversary of the designation of the Greenwich Village Historic District. Click here to check out our year-long activities and celebrations.
Richard Wright (September 4, 1908 — November 28, 1960), novelist and short-story author, is considered among the most important figures of 20th-century American fiction.  He was one of the first African American authors to protest the treatment of black Americans by white Americans, and would greatly influence an entire generation of African American writers. Iconic works such as Native Son, Uncle Tom's Children, Black Boy, and The Outsider drew considerable attention to racism and the plight of African Americans in the mid-20th century, in both the North and South.
Like so many literary and artistic figures and social justice crusaders of the 20th century, Wright also lived in Greenwich Village.
The grandson of slaves, Wright was born on September 4, 1908, on Rucker's Plantation near Natchez, Mississippi. His father, a sharecropper, left home when Wright was a young child.  Wright was moved from relative to relative after his mother became partially paralyzed after suffering a stroke. Eventually, he came to live with his grandparents in Jackson, Mississippi. In 1924, Wright had his first story published in a three-part series in the Southern Register, "The Voodoo of Hell's Half-Acre." He dropped out of high school to find work but would continue to educate himself throughout his teens and early adulthood by reading the works of H. L. Mencken, Theodore Dreiser, Sinclair Lewis, Sherwood Anderson, and Frank Harris. Wright joined the northern migration of southern African Americans, ending up in Chicago in 1927 where he worked at several jobs. In 1932 he became involved with the John Reed Club, an intellectual arm of the Communist Party. He later found work with the Federal Negro Theater under the Federal Writers' Project in 1935.
In 1937 Wright moved to New York City, initially working at several publications, including The Daily Worker, where he was the Harlem editor. During this time he wrote some short stories and a novel, but they were not published until after his death. In 1940 his second novel, Native Son, was published and received international acclaim; it was the first bestselling novel by an African-American writer and the first Book-of-the-Month Club selection by an African-American writer. During 1940-1941 Wright collaborated with Paul Green to write a stage adaptation of Native Son. It ran on Broadway in the spring of 1941 and was produced by John Houseman and staged by Orson Welles.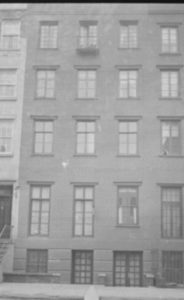 When Wright's daughter was born in 1942, he and his wife were living in Brooklyn, a place they considered to be fraught with racial tension. In an effort to escape this racism and to ensure better educational opportunities for their daughter, they purchased a house at 13 Charles Street in Greenwich Village using their lawyer as an intermediary to circumvent racial discrimination. While living in the Village, Wright was a patron of the famous Cafe Society nightclub, along with Walter White, Ralph Bunche, E. Franklin Frazier, Sterling Brown, Langston Hughes, and Paul Robeson. His autobiography, Black Boy was published in 1945 which also became a bestseller and included in the Book-of-the-Month Club.
In 1947 after a trip to France, Wright decided to move himself and his family to Paris permanently.  He found that Greenwich Village was not the refuge from racism that he and his wife sought. His home at 13 Charles Street was later demolished in the early 1960s to make way for the large apartment building now named 15 Charles Street (though located within the Greenwich Village Historic District, the demolition took place almost a decade before the district's designation, which would have likely prevented it).
Richard Wright is among many writers and notable African Americans on both Village Preservation's Civil Rights and Social Justice Map (click HERE) and our recently released Greenwich Village Historic District 50th Anniversary map (click HERE).