← Back
Historic Image Archive Mysteries Solved: Downtown Street Art of the 1980s/'Shadowman' Edition
There are so many gems in our vast 2,100+ image Historic Image Archive, sometimes it even takes us a while to realize what we have and identify some of our images. A recent example is our discovery that several images in our archive contained the work of a great 1980s street art star — one of many mysteries we have been able to solve in our Historic Image Archive. The images are from a fantastic group of photos taken by East Village resident Carole Teller (check out some of the great mentions the collection received in Gothamist, Curbed, Time Out, and Untapped Cities!). From the 1960s through the 1990s, Carole roamed downtown neighborhoods and captured the daily goings-on of New York streets during a particularly heady time in our city and neighborhoods' history.
Some of those images show "Shadowmen," which could be found on walls throughout Downtown neighborhoods like Greenwich Village and the East Village in the 1980s. The man behind these enigmatic silhouettes was Richard Hambleton, a peer of Jean-Michel Basquiat and Keith Haring who garnered extensive media coverage with his graffiti art at the time, but who has since been largely forgotten.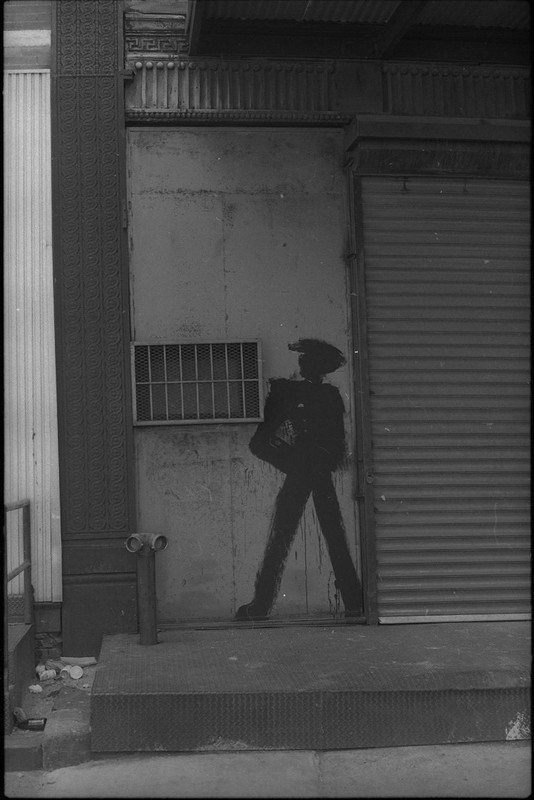 According to Matt Barone:
When one thinks about New York City's art scene in the early 1980s, Jean-Michel Basquiat is typically the first name that comes to mind. Back in those days, however, Richard Hambleton was just as notorious within the city's artistic genius circle. Not unlike today's Banksy, Hambleton created his singular paintings—black, ghost-like silhouettes plastered on Manhattan's buildings walls—out of plain sight, earning him a larger-than-life reputation. Just like that, though, Hambleton disappeared from the NYC art scene, succumbing to drug abuse and homelessness. Shadowman revisits Hambleton's bygone legacy, and finds him today, still painting and unrecognized among New York City's street art legends.
Anchored by a wealth of archival footage from 1980s New York, Shadowman recaptures a time when the city's exteriors were grittier, its mood more dangerous, and its culture was far less regulated. For all of its historical intrigue, director Oren Jacoby's riveting documentary is, first and foremost, the story of one man's redemption, as he struggles to preserve both his identity and creative gifts in the face of calamitous addictions and overwhelming personal demons.
Award-winning American director Oren Jacoby made the documentary Shadowman about Hambleton's life and work:
Aside from Carole's great photos, Village Preservation maintains a large archive of many historic neighborhood images from a variety of different photographers and historic sources. Visit our online archive to browse all of Carole's photos, as well as our entire Historic Image Archive collection. And we know how hard it is not to fall in love with these images, so we've made it possible for you to own prints of them! If you are interested in purchasing one of Carole's photos, click here.
Having grown up in the city and having spent a lot of time the East Village in the 1980s, I was thoroughly influenced by the music and street art scene. Here is a recent work by the author, still on display, inspired by the ghost-like figures of Richard Hambleton and the work of David Hammons.