← Back
Why Isn't This Landmarked?: 30 East 14th Street Artists' Loft
Part of our blog series Why Isn't This Landmarked?, where we look at buildings in our area we're fighting to protect that are worthy of landmark designation, but somehow aren't landmarked.
Around the end of 1940, twenty-five-year-old artist Virginia Admiral (February 4, 1915 – July 27, 2000) moved into a loft apartment that rented for $30 a month overlooking Union Square at 30 East 14th Street. Admiral was a young, talented woman hoping to learn the art of painting at the Hans Hofmann School of Fine Arts, just blocks away from her new home. She lived here first with friends and eventually with her sweetheart and husband Robert De Niro Sr. (and perhaps, for a short time, with their infant, the great movie actor Robert De Niro Jr.).
Admiral was just one of an almost-unrivaled list of artists who called 30 East 14th Street home in the 20th century. This stretch of 14th Street and the neighborhood immediately to the south played a formative role in making New York a center of political, industrial, and housing innovation. A hub of the publishing industry and a site of radical and progressive political activity, it also housed some of the great artists of the 19th and 20th centuries who drew the center of first the American and ultimately the global art world below Fourteenth Street. But amidst increasing development threats to this area south of Union Square, the city has failed to establish appropriate protections for – or even acknowledge the historic importance of – this and other nearby structures.
After earning her Bachelor's degree in English Literature from the University of California at Berkeley and working for a time on the Federal Arts Project in Oakland, Virginia Admiral borrowed money from her grandfather to move to New York City and get her masters degree in Art Education at the teacher training college at Columbia University. However, when the money ran out after her first semester, Admiral spent the summer of 1940 visiting her college friend, the poet Robert Duncan, in Woodstock, and then teaching at a summer camp in Maine. Upon returning to the city, she moved into the loft at 30 East 14th Street, where she lived with her friends Janet Thurman and artist Marjorie McKee. Admiral was visited often by Duncan and writer Anaïs Nin, both of whom memorialized her apartment in their respective journals.
In her diaries, Anaïs Nin describes Virginia's chilly, youthful home:
She lives in a loft on Fourteenth Street. The first floor houses a shop, a hamburger bar, a shoe shop and a synthetic orange juice bar. I climb a bare wooden stairway painted a dusty grey. The place is cold, but the hallways and lofts are big and high-ceilinged and the only place possible and available to a painter. There is space for easels, canvases of any size. There is a lavatory outside, running water and washstand inside, and that is all. On weekends the heat is turned off. The enormous windows which give on the deafening traffic noise of Fourteenth Street have to be kept closed. There are nails on the walls for clothes, a Sterno burner for making coffee. We drink sour wine out of paper cups. There Virginia and Janet [Thurman] paint, study acting and dancing, type when they need money […] The setting is fit for Crime and Punishment, but the buoyancy of Virginia and Janet and their friends, lovers, is deceptive. It has the semblance of youth and gaiety. They are in their twenties. They joke, laugh, but this hides deep anxieties, deep fears, deep paralysis…
Duncan's portrait, written just before the United States entered World War II at the end of 1941, deepens the image:
Virginia's studio opens out…We stand in the shadows above the lights of fourteenth street. The paintings move back into the walls like mirrors of our dreams – the dark stage of gathering forces. This is our last nursery – this is today's, 1941's projection of a Berkeley Paradise where we go over again drawings by Virginia, by Mary, by Lillian, by Cecily, by me from the golden age – where I sit reading to Virginia and her fellow students.
That fall, Admiral had received a scholarship to the Hofmann School, where she met and fell in love with the emerging abstract expressionist painter Robert De Niro Sr. (May 3, 1922 – May 3, 1993), who had recently left a full scholarship at Black Mountain College to return to Hofmann's school. The intense, dynamic artist was considered one of Hofmann's most promising students, and continued to be a highly respected talent and teacher throughout his life. The couple began sharing the loft on 14th Street, were married by January 1942, and gave birth to Robert De Niro Jr. on August 17, 1943. In the meantime, they had both exhibited at Peggy Guggenheim's Art of This Century, and moved to an apartment filling the top of a three-story building at 200 Bleecker Street, for which they paid $22 a month. It is possible, then, that the baby De Niro lived for a short time in the apartment on 14th Street. Throughout their relationship, Admiral and De Niro often hosted their friends Anaïs Nin, Robert Duncan, writer Henry Miller, and playwright Tennessee Williams, among others.
When the couple later split up, Admiral and her son lived at 521 Hudson Street (in the Greenwich Village Historic District), before moving to a more upscale top-floor studio at 219 West 14th Street, which cost $50 a month. Admiral stayed here until 1964, giving the studio to her son, who remained until the early 1970s. Admiral struggled to make a living as a single mother, eventually opening her own small typing/printing company called Academy (out of the 14th Street apartment and then 68 Seventh Avenue). Nonetheless, she continues to be known for her art, which was heavily influenced by her activism (particularly in the anti-war movement) and is part of the permanent collections of the Metropolitan Museum of Art, the Museum of Modern Art in New York, and the Peggy Guggenheim Collection in Venice.
Other notable artist residents of 30 East 14th Street include "Fourteenth Street School" painter and Art Students League teacher Kenneth Hayes Miller, who was known for his depictions of the sales girls and shoppers that filled the 14th Street and Union Square neighborhood.
By 1940, social realist painter Yasuo Kuniyoshi also had a studio at 30 East 14th Street.
After Admiral and DeNiro had come and gone from their apartment, modernist Howard Daum moved into Studio K on the second floor of the building at 30 East 14th Street in 1945, living and working here for the rest of his life and frequently painting from the rooftop. In the late 1960s, he added another room, Studio O, on the fifth floor.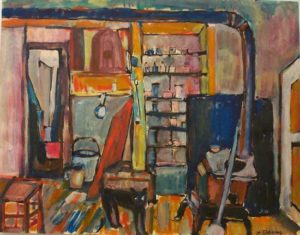 While Daum was here, painter Carl Ashby and painter, activist, and poet Helen DeMott – both of whom were close friends of Daum – had studios in the building. Painter, printmaker, and cartoonist Charles Keller had a studio at 30 East 14th Street from 1945 to 1953, formerly occupied by sculptor Arnold Blanch, which he shared with muralist and printmaker Harry Sternberg, who stayed here from 1945 to 1967. Realist and surrealist painter Andrée Ruellan and representational painter Edwin Dickinson had studios here as well.
While arguably 30 East 14th Street's golden age was the mid-to-late 20th century when this succession of artists called it home, the building's history goes much further back. It was originally constructed in 1880 for W. Jennings Demorest, the developer, businessman, and politician largely responsible for the late-19th century transformation of 14th Street from a high-end residential corridor to a center of commerce. Demorest altered fourteen private residences in this neighborhood into stores, most of which housed high-end specialty shops.
Sometime after 1940 but before 1980, the building's facade was altered and simplified, though the large windows facing Union Square which attracted so many artists remain.
The building sits within the area that would be affected by the City's recently proposed hotel special permit requirement, which, if adopted, would encourage the development of office towers, rather than hotels, in this area. Though packaged by the City as a response to community concerns regarding development pressures facing this neighborhood, it will only facilitate the continued expansion of what is being called "Midtown South" and "Silicon Alley."
To learn more about the research Village Preservation has uncovered about this area click here, here, here, and here. Please also send a letter to City officials urging that landmark protections be extended to this area.
Sources:
Untouchable: Robert De Niro: Unauthorized by Andy Dougan
Robert Duncan, The Ambassador from Venus: A Biography by Lisa Jarnot
The Diary of Anaïs Nin, 1939–1944 by Anais Nin