← Back
Beyond the Village and Back: 1083 Fifth Avenue Mansion and Our Lady of Lourdes Church in Harlem
In our series Beyond the Village and Back, we take a look at some great landmarks throughout New York City outside of Greenwich Village, the East Village, and NoHo, celebrate their special histories, and reveal their (sometimes hidden) connections to the Village.
In this series we usually explore the roots and history of a great New York City landmark and then look at how it's connected to our neighborhoods. But today we're looking at two great New York City landmarks: 1083 Fifth Avenue, a beautiful Second Empire–style mansion located in the Expanded Carnegie Hill Historic District (landmarked December 21, 1993) between 89th and 90th Streets on "Museum Mile," and Our Lady of Lourdes Church, a Venetian Gothic style Catholic Church located in West Harlem at 463 W 142nd Street that today serves a primarily immigrant congregation from Latin America and Africa, and when designated was called "one of the oddest buildings in New York." It was landmarked on July 22, 1975.
Both were built at the turn of the last century.  And both also bear strong connections to Greenwich Village in at least one surprisingly similar way.
1083 Fifth Avenue
Originally built in 1901-02 in the Beaux-Arts style for Archer Milton Huntington, 1083 Fifth Avenue was remodeled and enlarged for Huntington with the current French Second Empire details in 1913-15.  The renovation was done by architect Ogden Codman in conjunction with the addition of a wing at 3 East 89th Street. Archer Milton was the stepson (or possibly biological son) of railroad magnate and industrialist Collis P. Huntington. Known for his philanthropy, Archer Milton founded The Hispanic Society of America in New York City. He was also a generous benefactor to the American Geographical Society, the American Academy of Arts and Letters, the American Numismatic Society, Brookgreen Gardens sculpture center in South Carolina, and the Mariners' Museum in Virginia, which is one of the largest maritime museums in the world.
In 1940, he and his sculptor wife, Anna Hyatt Huntington, donated 1083 Fifth Avenue along with two adjoining townhouses and a fund for alterations to the National Academy of Design (NAD), which moved in two years later. NAD was the first institution in the United States established by and under the exclusive control of professional artists. Since its founding, NAD has pursued a simple yet powerful mission: to promote the fine arts in America through exhibition and education. The founders of NAD believed that the practice and exhibition of art and architecture could flourish outside of the aristocratic patronage system. Their new egalitarian institution aimed for the highest echelons of artistic expression with an inclusive philosophy, enriching and educating new generations of artists and architects while preserving and sharing their work with the public.
In 2018, after 78 years, NAD, citing financial pressures, sold its 15,000 sq. ft., six-story, five-bedroom headquarters at 1083 Fifth Avenue for $25 million.
Connecting 1083 Fifth Avenue and Our Lady of Lourdes Church
Before moving to 1083 Fifth Avenue, NAD had several previous locations. From 1865 to approximately 1901, it was located at 23rd Street and Park Avenue in a beautiful Victorian Gothic-style building. In 1894, NAD sold the building to the Metropolitan Life Insurance Company. NAD remained in the building until close to its demolition. According to Christopher Gray, "By this time the 23rd Street building had accrued such distinction, both from its architecture and its association with leading American artists, that there was agitation to reconstruct it in Central Park or some other location. The academy building was not demolished until 1901, when The Times recorded its "regrets" about the loss, saying in August that eight colored marble columns from the gallery "should be saved from the wreck and preserved."
At that time, the Rev. Joseph McMahon, a priest at St. Patrick's Cathedral, was in charge of putting up a new church, Our Lady of Lourdes at 463 West 142nd Street, which is now part of the Hamilton Heights Historic District Extension. He dreamed of a grand edifice, but could not accomplish his vision on his limited budget. In an arrangement almost inconceivable today, McMahan made salvage deals with several different building owners to incorporate parts of their old buildings into his new church.
He purchased the exterior stonework from A. T. Stewart's "Marble Palace" on Fifth Avenue and 34th Street. At that time, St. Patrick's Cathedral was undergoing a renovation project in which the Madison Avenue facade was being removed in order to make room for the new Lady Chapel.
Father McMahon secured windows from this Madison Avenue facade for the new Our Lady of Lourdes Church. And from the NAD building, he purchased the basement and main floor facades including distinctive contrasting stonework and Venetian arches.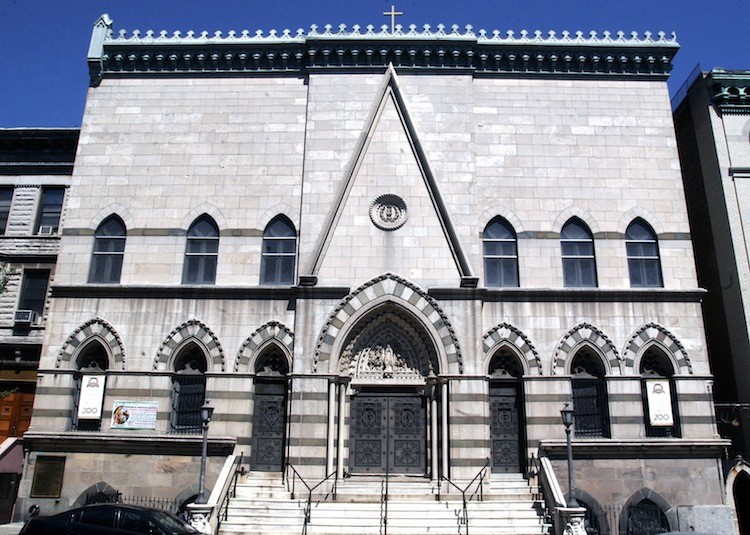 In spite of these disparate sources, Our Lady of Lourdes comes together as a coherent and powerful whole, and one of the earliest, and most unusual, examples of adaptive reuse. Constructed in 1902-04, the facade includes much of the beloved original Venetian Gothic architecture of the NAD's 23rd Street headquarters, while the elements from other buildings appear largely on the interior and rear.  It may be one of New York's "oddest" landmarks, but it's also one of its most striking and beautiful.
The Greenwich Village Connection
So the connection between these two buildings is clear — the National Academy of Design.  But what's the connection to the Village? Perhaps unsurprisingly, NAD's roots lie in Greenwich Village.  Founded in 1825 as the New York Drawing Association by Samuel Morse, Asher Durand, Thomas Cole, Martin E. Thompson, Charles Cushing Wright, Ithiel Town, and others "to promote the fine arts in America through instruction and exhibition," one of its first homes was 663 Broadway between Bond and Great Jones Street.
That building was demolished in 1911.  But NYC directories show NAD moved not long after to the still-extant building at 58 East 13th Street in 1854. Thomas Cummings also had his studio there during that time. He was the Vice President of the academy and ran the school starting in 1856.
While 58 East 13th Street was supposed to be a temporary home after they left their building at 663 Broadway, NAD remained there for over a decade, as records show they were still located there is 1865. They left their home on East 13th Street to move to their new legendary Venetian Gothic quarters at 23rd Street and Park Avenue South in 1865.  They remained until 1901 when their demolished home was integrated into Our Lady of Lourdes Church. After another stop at 109th and Amsterdam Avenue, they ended up at 1083 Fifth Avenue for nearly 80 years.
This is not the only link between these two great New York City landmarks and Greenwich Village.  No. 1083 shares the link that Anna Hyatt Huntington, whose studio was located in 1083 Fifth Avenue when she lived there with her husband Archer Milton Huntington who built the structure, and who along with her husband donated 1083 Fifth Avenue to NAD, had previously lived in Greenwich Village, and helped form the Woman's Art Club of NY on 10th Street.
As for Our Lady of Lourdes, all three of the buildings we discussed of which it was composed were connected to Greenwich Village.  In addition to the National Academy of Design connection, the St. Patrick's Cathedral elements that were integrated into the church were designed by Greenwich Villager James Renwick, who built many of the Village's great landmarks and lived on University Place and 10th Street.  And the third building integrated into the church, A.T. Stewart's "Marble Palace" of 34th Street and Fifth Avenue, was actually one of several such "Marble Palaces" he built around New York, one of which stood at Broadway and 10th Street, where The Stewart House apartment building now stands.