← Back
Saul Bellow and 17 Minetta Street
Minetta Street is one of the most charming and unique "corners" of Greenwich Village. I say corners, of course, because this one block-long street literally bends at nearly a 45-degree angle between Minetta Lane and the intersection of Sixth Avenue and Bleecker Street. This narrow street features small 19th century homes and 20th-century apartment buildings, and is surprisingly quiet in spite of its proximity to the hubbub of Sixth Avenue.  During the mid-20th century this charming little enclave was home to a number of notable writers, including the Pulitzer-, Nobel-, and National Medal of the Arts-winning author Saul Bellow.
Saul Bellow was born June 10, 1915 in Quebec to Jewish immigrant parents from Russia who arrived in North America with Bellow's older siblings in 1913. Later the family would move to Chicago where Saul attended the University of Chicago, later transferring to Northwestern, from which he graduated in 1937. After one graduate course in anthropology at the Univerity of Wisconsin, he dropped out, returning to Chicago and marrying his first wife (there would be five total). It was at this time that he began his career as a fiction writer and itinerant college teacher. Over the course of his career, Bellow would teach at the University of Minnesota, Yale, New York University, Princeton University, University of Puerto Rico, University of Chicago, Bard College and Boston University.
He published his first short story in 1941 in the Partisan Review. During World War II he served in the Merchant Marine and in 1944 finished his first novel, Dangling Man, about a young man from Chicago waiting to be drafted for the war. In the Partisan Review, Delmore Schwartz, whom Bellow would come to know later through their mutual Princeton association, said of Dangling Man, "Here, for the first time I think, the experience of a new generation has been seized."
In 1948, Bellow received a Guggenheim Fellowship and spent the next two years in Paris where he began his breakthrough work, The Adventures of Augie March. In 1952, while still working on Augie March, he moved into 17 Minetta Street which at that time was in the midst of somewhat of a writers' haven, although Bellow's actual writing studio was located somewhat further west on Hudson Street. When Bellows moved in, neighboring 15 Minetta Street was the headquarters for the Raven Poetry Society. Between 1942 and 1959, 1-3 Minetta Street was home to German poet Mascha Kaleko along with her composer and musical director husband, Chemjo Vinaver, and his son, writer and director Steven Vinaver. During this time, 12 Minetta Street was home to writer and producer for film and stage George Auerbach, who organized the American Creative Theater here.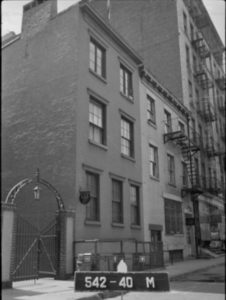 17 Minetta Street dates to about 1839, and in the mid-to-late 19th century was in the center of what was then known as "Little Africa," the largest African-American community in New York.  By the 1920s, however, most of Little Africa's residents had been pushed out or moved Uptown (the extension of Sixth Avenue south of West 3rd Street in 1926 demolished a large chunk of the neighborhood), and 17 Minetta Street along with 1, 3, and 5 Minetta Lane got a bit of a makeover and a communal backyard to attract the more 'bohemian' crowd which was being drawn to the neighborhood.
Saul Bellow would go on to write a number of novels, short stories, non-fiction, and even one play, before dying in 2005 at the age of 90. He also won numerous literary accolades including the Pulitzer Prize for Fiction (1976), the Nobel Prize in Literature (1976) and the National Medal of Arts (1988). Additionally, he is the only writer to receive the National Book Award three times in 1954, 1965 and 1971, and he received the National Book Foundation's lifetime Medal for Distinguished Contribution to American Letters in 1990.
In 2013, Village Preservation got all of Minetta Street and adjacent Minetta Lane landmarked as part of the South Village Historic District.