← Back
Off-Broadway Theater Update
I have been thinking a great deal about our theater artist community in these past few days. So I decided to check in with some of the Off-Broadway theaters in our neighborhood to see how they are doing during this period of pause and uncertainty. And, as always, I was overwhelmed with hope and inspiration at the creativity and ingenuity of our artist neighbors. While some have taken a pause in programming, their upcoming work is absolutely a shining beacon to look forward to. And then there are some who have taken the plunge and have taken their amazing creativity to the internet. Let's take a look at two of our beloved Off-Broadway theaters today, with more to come next week.
THE CHERRY LANE THEATRE
At the Cherry Lane Theatre, while they are definitely on pause for the moment, they are hard at work planning for "The Cherry Lane at 100," a celebration of the 100 years of the life of the theater that was born in 1923. More news on that soon!
Let's just take a brief look at the glorious history of this little Village gem.
In 1923, a group of theater artists led by Evelyn Vaughn, William Rainey, Reginald Travers and Edna St. Vincent Millay commissioned famed scenic designer Cleon Throckmorton to convert the box factory at 38 Commerce Street into the Cherry Lane Playhouse. It fueled some of the most ground-breaking experiments in the chronicles of the American Stage. The Downtown Theater movement, The Living Theatre, and Theatre of the Absurd all took root at the Playhouse, and it proved fertile ground for 20th century dramaturgy's seminal voices.
From this village jewel streamed a large succession of plays by nascent writers whose names have lent distinction to American and international literary and dramatic treasures, from F. Scott Fitzgerald, John Dos Passos, and Elmer Rice in the '20s to Eugene O'Neill, Sean O'Casey, Clifford Odets, W. H. Auden, Gertrude Stein, T.S. Eliot, and William Saroyan in the '40s and '50s, to Samuel Beckett, Edward Albee, Harold Pinter, Eugene Ionesco, and LeRoi Jones in the '60s, to Sam Shepard, Lanford Wilson, Jean-Claude van Itallie, Joe Orton, and David Mamet in the '70s and '80s.
When the theater reopens, Cherry Lane will showcase their new production of Esai's Table by Nathan Yungerberg, a former participant in the amazing Mentor Project.
Cherry Lane's marquee program is the Obie Award-winning new play series Mentor Project, dedicated to launching the next generation of American dramatists. Mentor Project engages leading playwrights in one-on-one mentoring relationships with early-career writers. Over the course of a season mentors guide their writers through the challenging process of new play development, from readings, rewrites, and casting through rehearsals and performance. The program culminates each spring in fully-staged workshop productions, following our core belief that there is no better teacher for a playwright than experiencing your play as it was intended: in living and luminous shape on stage, from your seat in the company of an audience.
For its 22nd anniversary season, Mentor Project 2020 joins with JAG Productions to present the rolling world premiere of Nathan Yungerberg's Esai's Table, first mentored in the 2017 season with Pulitzer Prize winner Stephen Adly Guirguis. Plus Mentor Project 2020 launches an all-new playwright-mentor team with (The Making of) How to Save the World in 90 Minutes created and composed by Shawn Randall, mentored by Diana Oh.
Established in 1998 by Angelina Fiordellisi, Mentor Project was inspired by Edward Albee's work at Cherry Lane in the 1960s creating what were then, and continue to be, rare production opportunities for emerging playwrights. Through this initiative early works by Sam Shepard, Amiri Baraka, A.R. Gurney, and Jean-Claude van Itallie all received their first productions on Cherry Lane's stage.
In 2020 Mentor Project celebrates its 22nd year, having launched new works by more than 60 emerging playwrights, from Anne Washburn, Katori Hall, Rajiv Joseph, and Sheila Callaghan – all of whom have since returned to the program to serve as mentors – to our most recent season in 2019, featuring works by Kareem M. Lucas, Matthew Paul Olmos, and C.A. Johnson, mentored by Craig 'muMs' Grant, Taylor Mac, and Martyna Majok.
In In Esai's Table, written by a former mentee, destiny meets eternity for three young black men atop an ancient magical table in a mythic tale of black lives, friendship, family, love and what it ultimately means to be human. We can't wait for the show to be up and running again!
RATTLESTICK PLAYWRIGHTS THEATER
"If you want to support a writer, produce the first five plays he (she) writes." – August Wilson
And that pretty much sums up the mission of Rattlestick Playwrights Theater. Its ambitious objective is to provide a positive, nurturing experience for emerging playwrights, to present diverse and challenging plays that otherwise might not be produced, and to foster the future voices of American theater. Rattlestick prides itself on focus, achievement, and the continuing support of a playwright from a play's inception to its final production.
The latest production from Rattlestick, The Siblings Play by Ren Dara Santiago, was set to open on Monday, March 23rd. Given the current set of circumstances in New York City, Artistic Director Daniella Topol was fast on her feet and decided that the play must go on! Just not in the way they had originally imagined. Instead of coming together as an audience and actors in a regular theatrical setting, The Siblings Play will be viewed from home. They have piloted a program whereby patrons who purchased tickets to the canceled performances, along with new View at Home ticket buyers, will be able to watch a recording of the production until midnight on Sunday, April 5.
The Siblings Play is set inside a rent-stabilized Harlem apartment in 2014, and looks at the ways three teenage siblings protect, love, fight, and diminish in the wake of their family history and the complexity of growing up with parents who were too young to be parents in the first place.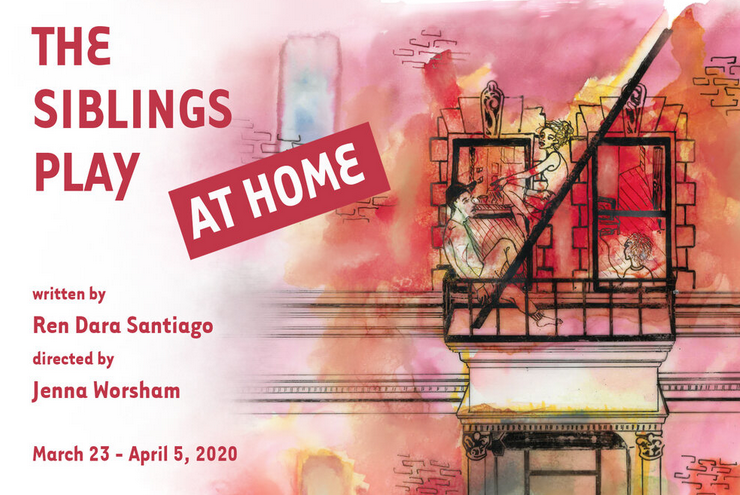 You can purchase tickets to The Siblings Play AT HOME here.
Virtual Salon Series
Village Preservation and Rattlestick Playwrights Theater have partnered to produce a innovative Virtual Salon Series. The objective of the series is to illuminate our times by putting a leading artist and a leading professional in various fields of civic engagement in conversation. We invite you to join us for a Salon on April 7th from 3-4pm with Actress Kathleen Chalfant and Medical Epidemiologist and Pandemic Preparedness Expert Steven Phillips. And then again on April 14th from 3-4pm with our very own Executive Director, Andrew Berman, in conversation with actor Zachary Quinto. Andrew and Zach will discuss the mass migration into the Greenwich area that took place during the 1822 epidemic of Yellow Fever that swept the streets of lower Manhattan, proving to be a crucial and surprisingly positive turning point in Greenwich Village history.
To register for the Virtual Salon, click here.
You may also remember that Village Preservation partnered with Rattlestick last summer to create the world premier of Novenas for a Lost Hospital, by renowned playwright Cusi Cram, and starring Kathleen Chalfant. The play was a communal experience to remember, honor, re-imagine and celebrate St. Vincent's Hospital. Inspired by the caretakers and patients of St. Vincent's Hospital, and guided by the character of Saint Elizabeth Ann Seton, this unique play/public art experience took a 60-person audience on a journey from an enclosed Village garden, to Rattlestick's intimate West Village theater, to the NYC AIDS Memorial Park ( a 2017 recipient of Village Preservation's Regina Kellerman Award). The piece travels backwards and forwards in time and explores the ramifications of both the cholera epidemic of 1849 and the AIDS epidemic.
Theater is alive and well in the Village. We hope you will use this time to explore the innovations that our creative minds have crafted for you while we weather through this particular storm. And when it is over, PLEASE go out and patronize your local theaters — we are all better for them!