← Back
Great Modernist Thinker and Critic Kenneth Burke Calls Ten Village Addresses Home
On January 6, 1918, a young Kenneth Burke (May 5, 1897 – November 19, 1993) wrote a letter to his friend, the emerging writer Malcolm Cowley. In the letter, Burke announced that he had decided to drop out of school at Columbia. The decision was motivated not by a desire to end his education, however; quite the opposite. Burke wanted to leave Columbia so that he could finally move to Greenwich Village. "From now on begins my academic career," Burke wrote. "The time has come for study…I shall get a room in New York and begin my existence as a Flaubert…I don't want to be a virtuoso, I want to be a-a-oh hell, why now? I want to be a-yes-a genius…I am in it for life and death this time. Words, words, mountains of words. If I can do that I am saved." Over the next dozen years, Burke would live and learn in New York City. He would become an integral part of the Greenwich Village literary and artistic scene, and one of the most prominent and influential modernists, critics, and theorists of the 20th century.
Jack Selzer's book Kenneth Burke in Greenwich Village illuminates Burke as a major contributor in the emergence of modernism. Selzer's effort to detail the life and writings of Burke from 1915 until 1931 is grounded in his understanding that the Village was essential to the conversations and collaborations that shaped Burke in these early years of his career. Modernist philosophies, in many ways, were rooted in Greenwich Village between World War I and the Depression. It was here that Burke encountered an expansive, spectacular network of thinkers who together explored radically new perspectives and developed the diverse, shifting ideologies that together became "modernism." These included the many individuals involved in the leftist publication The Masses (91 Greenwich Avenue – now demolished), the Provincetown Players located at the Provincetown Playhouse (133 MacDougal Street – now largely demolished), Alfred Stieglitz' art gallery "291," the "Others" poets, and the many literary magazines operating at this time.
While living in the Village, Burke worked at The Dial, the most prominent modernist magazine of the period, located at 152 West 13th Street. He wrote poetry, short fiction, critical essays, reviews, translations, social commentary, and maintained lengthy correspondences. He befriended, among many others, William Carlos Williams, Malcolm Cowley, Hart Crane, Marianne Moore (his boss at The Dial from 1925 until 1929), Eugene O'Neill, Alfred Stieglitz, Georgia O'Keeffe, Van Wyck Brooks, Edmund Wilson, Allen Tate, Jean Toomer, and Katherine Anne Porter.
Burke fell in love with Greenwich Village's literary and artistic scene when his family moved to Weehawken, New Jersey, in 1915. After studying for a time at Ohio State University and Columbia University, Burke moved to the Village in March of 1918 with his friends Jim Light and Sue Jenkins. Light and Jenkins had recently become involved in the Provincetown Players, a newly formed theater company housed in the Provincetown Playhouse, which would come to be called "the birthplace of modern drama."
The trio found a home at 86 Greenwich Avenue, in a now-demolished building situated where the AIDS Memorial (between Greenwich Avenue, Seventh Avenue, and West 12th Street) is currently located. The building was known as the "Clemenceau Cottage," and was a hub for many of those involved in the Provincetown Players. The theater's principals George Cram Cook, Susan Glaspell, and maybe even Eugene O'Neill resided at this address. Photographer Berenice Abbott, painter Charles Ellis, and writer Djuna Barnes – all of whom took part in the Players' productions – lived here as well. According to Selzer, by the time Burke moved to the Village, he had fully committed to becoming a writer, and was living on oatmeal and milk.
Over the course of the next thirteen years, Burke occupied ten residences in New York, carefully documented by Selzer. Remarkably, every single one of these addresses sits within the bounds of what is now the Greenwich Village Historic District.
By November of 1918, Burke had departed from Greenwich Avenue, taking up residence at Patchin Place. After marrying Lily Batterham in May of 1919, he moved to 24 Charles Street in September of that year. Then, in January of 1920, Burke moved again to 143 Waverly Place, and a year later, in January of 1921, he was living at 50 Charles Street. It was here that Burke received his first letter from the modernist writer and physician William Carlos Williams, whom he had met just a couple months before. The two would begin a correspondence amounting to hundreds of letters by the time of Williams' death in 1963.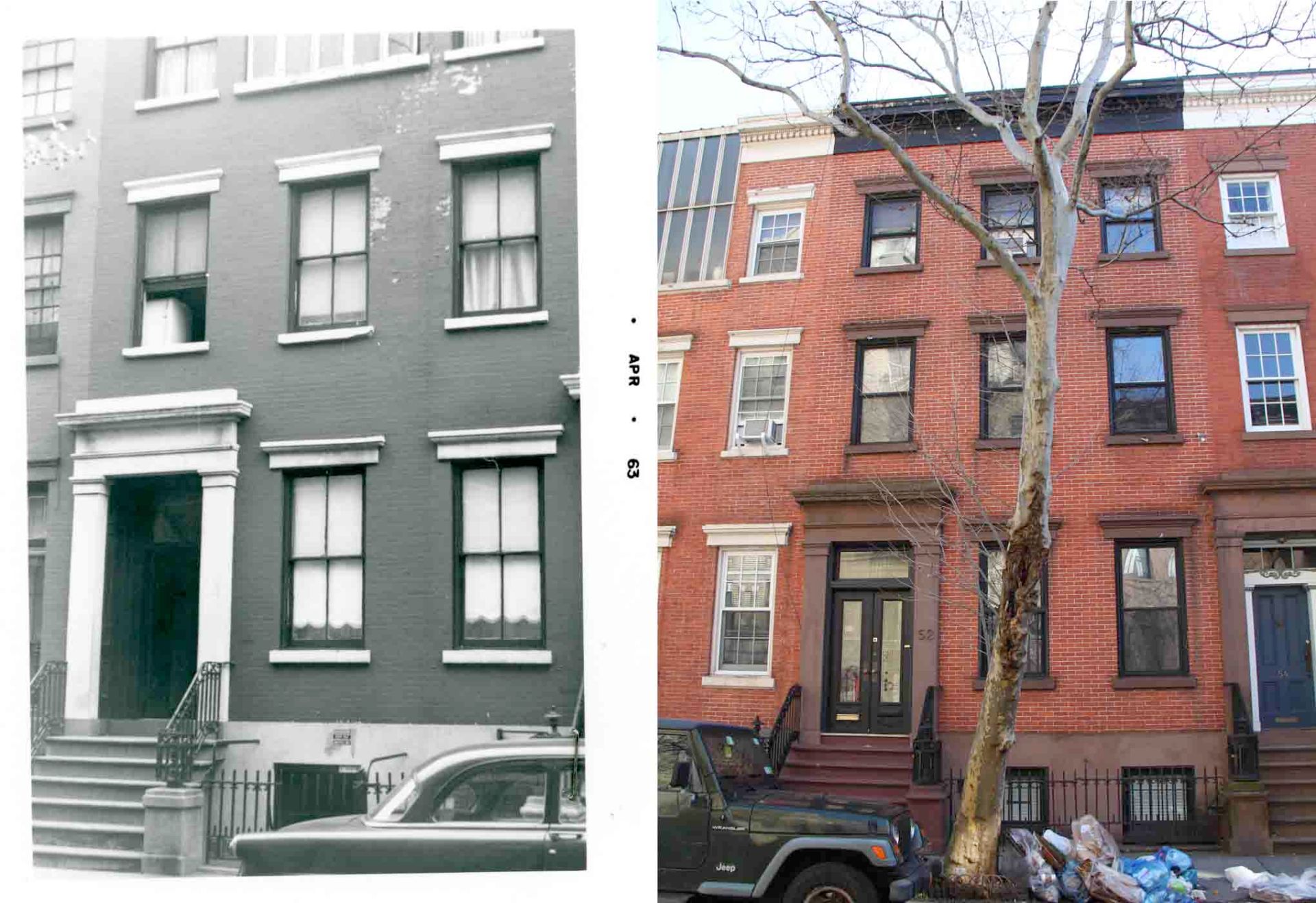 The Burkes continued to live at 50 Charles Street, and in the second half of 1922 Burke prepared T.S. Eliot's groundbreaking poem "The Waste Land" for its publication in the November issue of The Dial. A year later, in December of 1923, Burke sublet 45 Grove Street from his friend, the poet Hart Crane. Around this time, Burke received offers to publish a collection of his stories, eventually named The White Oxen and Other Stories (1924).
From March of 1925 until 1928, Burke had a room at 40 Morton Street, which allowed him to split his time between Greenwich Village and his family's farm in Andover, New Jersey. Here he worked on what would be his only novel, Towards a Better Life (1931). By 1928, his music columns were regularly appearing in The Dial, marking his growing influence in the modernist world. This year, Burke also received The Dial's prestigious award (also received by William Carlos Williams, Ezra Pound, e.e. cummings, and Marianne Moore). By January of 1929, Burke's address had changed to 65 Bank Street, then 58 Perry Street by November of 1930, and finally 381 Bleecker Street by October of 1931.
Ten years later, in 1941, the great poet W.H. Auden called Burke "unquestionably the most brilliant and suggestive critic now writing in America." He was a recipient the National Medal for Literature in 1981, and by the time of his death Burke's work had been collected in over fifteen books. His profound impact on the literary world cannot be overstated, nor can the impact of the Village on Burke himself.
To learn more about the history of writers in Greenwich Village, check out the "Homes and Haunts of Great Writers" tour in our interactive map: Greenwich Village Historic District: Then & Now Photos and Tours.
Sources:
Kenneth Burke Obituary, The New York Times
Kenneth Burke in Greenwich Village: Conversing with the Moderns, 1915–1931, by Jack Selzer