← Back
Chinese American Activists Fight for Their Rights in Our Neighborhoods
Our neighborhoods have been the home of many of history's most important civil rights and social justice leaders, as documented in Village Preservation's Civil Rights and Social Justice Map. Three of our lesser-known map locations, however, highlight the under-recognized stories of 19th century Chinese American immigrant-rights activists. Some of these influential individuals, families, and organizations worked to provide housing, legal, community, and religious support to Chinese Americans contending with discrimination and frequent acts of violence. Meanwhile, others protested discriminatory policies, more directly advocating for institutional change.
The Chinese Consulate and Chinese Mission, 26 West 9th Street
Around 1885, the Chinese Consulate, which was involved in activist efforts to protect the civil rights of Chinese Americans, operated out of 26 West 9th Street. In 1902, the Consulate moved to another office on lower Broadway, and Huie Kin, a prominent Chinese American missionary, moved his family and his Chinese Mission from 14 University Place into this building. By this time, 26 West 9th Street also housed the headquarters of the Chinese Young Men's Christian Association. The Kin family then turned the third and fourth floors into lodging for Chinese students who were unable to find rooms elsewhere due to discriminatory renting practices throughout the city.
The building housing the Chinese Consulate was demolished and in 1923 replaced with the apartment building now located on the site.
The Chinese Guild, 23 St. Mark's Place
The Chinese Guild was founded in 1889 at 23 St. Mark's Place. Though it was formed in partnership with St. Bartholomew's Church at Madison Avenue and 44th Street, the Guild served primarily as a secular social welfare and legal advocacy organization for the city's Chinese American community. Membership cost $2 to join and $1 for every additional year. Guy Maine, formerly a Chinese tea merchant, served as the organization's superintendent. The Guild included up to 600 members, many of whom worked as laundrymen and faced frequent discrimination in their daily lives.
The Guild organized a choir, Sunday school, and English lessons for its members, as well as assistance with rental negotiations and legal documentation. It also offered support for individuals contacting doctors, lawyers, and police. In 1891, Guy Maine was involved in 217 court cases regarding crimes committed against the Guild's members, most of which involved assaults-and-batteries and broken laundry windows. "The Master Laundrymen's Association," a group of white steam-laundry owners threatened by the competition of Chinese laundries, would launch frequent attacks on businesses owned by Chinese Americans, vandalizing their storefronts. As a result, insurance companies would not cover damage to plate glass used in Chinese American businesses. In a 1901 report, Maine requested that the Guild be made a corporation, giving it the legal right to protect its members. At this time, the building at 23 St. Mark's Place included a library, music room, dining room, smoking room, gymnasium, and several bedrooms. It was open all day from 9am until 10pm.
By 1898, The Chinese Guild had moved to the 9th floor of the new St. Bartholomew's Parish House on East 42nd Street. 23 St. Mark's Place survives today, albeit in highly altered form.
Cooper Union
On September 22, 1892, a group of about 1,000 white U.S. citizens and 200 non-citizen Chinese merchants and laborers gathered at The Cooper Union's Great Hall to protest the Geary Act. Together, they formed the Chinese Equal Rights League. The Geary Act, which had passed that year, required Chinese residents of the United States to carry a resident permit at all times. If a person did not carry a permit, he or she would risk deportation or a year's worth of hard labor. Under the Geary Act, non-citizen Chinese residents were also prohibited from bearing witness in court and from receiving bail in habeas corpus proceedings.
At its first meeting, the Chinese Equal Rights League passed a resolution, published as a pamphlet, condemning both the Act's immigration restrictions and its denial of citizenship to Chinese Americans. The resolution demanded that the act make a formal distinction between recent Chinese immigrants and resident Chinese Americans. The Philadelphia merchant Lee Sam Ping was elected president of the organization. Wong Chin Foo, a journalist and activist who is credited with founding the organization and with coining the term "Chinese American," was elected as secretary.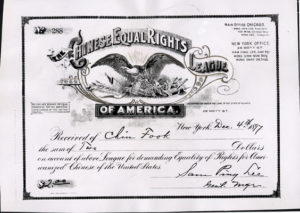 That year, the Chinese American community raised money to test the constitutionality of the Geary Act in Fong Yue Ting v. United States. Over the next decade, the Chinese Equal Rights League's activism extended beyond its resistance to the Geary Act, focusing on the larger fight for Chinese American civil rights amidst the development of increasingly strict immigration laws.
For more information on these remarkable individuals and the historic sites where they fought for equal rights, check out this lecture by Professor Dylan Yeats, Visiting Scholar at the Asian/Pacific/American Institute at NYU.
These are just some of the sites on our Civil Rights and Social Justice Map connected to Asian American history. To explore even more Civil Rights and Social Justice locations in our neighborhoods, including those connected to African American, women's, LGBTQ, Jewish, Hispanic, and immigrant civil rights efforts, explore the whole map here.