← Back
Jazz Age Mayor and Villager, Jimmy Walker
Mayor Jimmy Walker (1881-1946), known affectionately as "Beau James," was New York City's mayor from 1925 to 1932. He was known for his charm, good looks, impeccable wardrobe, and lavish tastes, very much reflective of the Jazz Age during which he served as mayor. He also became known for the rampant corruption of his administration, part and parcel of the Tammany organization. Walker not only grew up in but lived most of his life in Greenwich Village, and today, a park on St. Luke's Place near his home bears his name.
Born on June 19, 1881, James John Walker was the son of William H. Walker, an Irish immigrant who was a builder according to New York City directories of the time. When the future mayor was born, the Walker family home was 108 Leroy Street. By 1886, the family would make their home at 6 St. Luke's Place, while 108 Leroy Street (demolished) would remain the site of William Walker's business until about 1896, when it relocated to 4 Christopher Street (also demolished).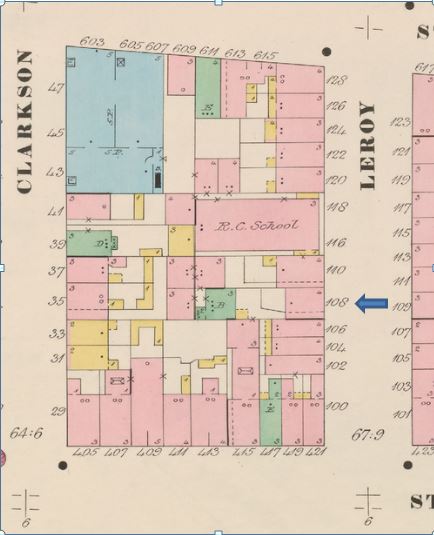 William Walker was active in local politics as a Democratic assemblyman and alderman, and had political aspirations for his son. Although not touted as a stellar student, the younger Walker attended St. Joseph's Parochial School, Saint Francis Xavier College, and New York Law School, graduating in 1904. In spite of being on track to follow his father's wishes, James Walker's true passion was music. He frequented Tin Pan Alley and wrote the lyrics to a number of songs, including "There's Music in the Rustle of a Skirt" and "Will You Love Me in December as you do in May?" in 1908, which was a hit. However, he failed to produce other hit songs, and he turned his focus back to politics; in 1912 he passed the New York State bar exam.
Under the guidance of Governor Al Smith and with the backing of the Tammany organization, Walker's assent in New York politics was swift. He was a member of the New York State Assembly in 1910, 1911, 1912, 1913 and 1914. He was a member of the New York State Senate from 1915 to 1925. He was Minority Leader in the chamber from 1920 to 1922, the temporary President of the State Senate from 1923 to 1924, and Minority Leader again in 1925.
In that same year, the ambitious Walker set his sights on the of the Mayoralty of New York City. He appealed to working-class voters with his dapper appearance, fondness for theater, and his "man of the people" image. He was also unabashedly fond of speakeasies, and notoriously "friendly" with chorus girls, though he was married (he utilized a private penthouse funded by Tammany favors to maintain some level of discretion, or at least separation). He also still had his Tin Pan Alley roots intact at this time, as illustrated by the campaign song written on Walker's behalf by his friend Irving Berlin:
It's a "walk-in" with Walker
It's a "walk-in" with Jim
He's a corker–and one of the mob
A real New Yorker–fit for the job.
With the backing and tutelage of Governor Smith and as well as the support of the Tammany organization, Walker won the election for Mayor in 1925 by a considerable margin. During his first term, he had some notable achievements, including creating the Department of Sanitation, unifying the city's hospitals, implementing improvements to the city's playgrounds and parks, and overseeing the significant expansion of the city's subway system, including in Greenwich Village.
These achievements, however, went hand in hand with political favors and significant corruption. Additionally, Walker continued his lavish lifestyle with his Ziegfield mistress, Betty Compton, with whom he made frequent trips to Europe, while making increasingly few trips to City Hall. His unofficial headquarters was a new opulent casino in Central Park. But this was the Jazz Age and he maintained favor with the populace through his charm and appearance of prosperity, not to mention symbolic gestures such as maintaining a 5 cent subway fare while holding off a subway strike. He easily won his re-election in 1929 against upstart Republican reform challenger Fiorello LaGuardia.
However, time was not on Walker's side. With the crash of the stock market and ensuing Depression, excesses and corruption which were previously overlooked were no longer forgivable. Cardinal Archbishop Patrick Joseph Hayes, once a supporter of Walker's, condemned his amoral ways and blamed his administration and his lifestyle for the economic downturn. In 1931, the New York legislature formed a committee, known as the Hofstadter Committee, lead by Justice Samuel Seabury, to investigate New York City government and its agencies. Fifteen charges were leveled against Walker, including those stemming from the large sums of money deposited in his bank account which he could not explain. Walker finally resigned on September 1, 1932.
What would become James J. Walker Park is located on St. Luke's Place across from Walker's home from childhood through his mayoralty and until he fled to Europe to escape prosecution — he made it the official Mayoral residence, giving it a $25,000 renovation at taxpayer expense. The park boasts an interesting history, not unlike its namesake. From 1812 to 1895 it served as Trinity Church's St. John's Cemetery. NYC parks bought the cemetery in 1895 designed by Carrere and Hastings. Initially known as St. John's Park, by 1896 it was named was Hudson Park. Over the years alterations were made including the addition of a playground, comfort station, and later a sandlot and baseball diamond. In 1947, the City Council changed the name of the park to James J. Walker Park in honor of the former mayor and resident of St. Luke's Place.
Walker did not serve any jail time for his crimes and left for Europe with Compton, not returning again until 1935. In 1940 his former opponent Mayor Fiorello LaGuardia appointed Walker labor arbitrator for the garment industry, and Walker became a popular speaker at banquets and rallies. James J. Walker died on November 18, 1946.