← Back
Business of the Month: Echelon Cycles, 51 8th Avenue (Now at 151 West 19th Street)
Your input is needed! Today we feature our latest Business of the Month — help us to select the next. Tell us which independent store you love in Greenwich Village, the East Village, or NoHo: click here to nominate your favorite. Want to help support small businesses? Share this post with friends.
Summer is here, and the weather invites us to be outside, albeit with spatial distancing for safety. Relatedly, these days New Yorkers are increasingly looking at transportation options that avoid fossil fuel consumption and limit crowding, leading many to two-wheeled options powered by human energy. In line with both trends, Echelon Cycles NYC on 8th Avenue and Horatio Street has been taking care of your biking needs since 2009, and is our July Business of the Month.
Echelon Cycles bills themselves as in the West Village and on the edge of the Meatpacking District. They are a premier full-service bike shop and stock over 500 bikes in all different categories, including road bikes, mountain bikes, cyclocross, commuter & urban, comfort/cruiser/hybrids, folding, and children's, even during the pandemic.
All of their bikes come with a lifetime service plan — an offer that you won't find from online bike shops, and yet another reason to shop local!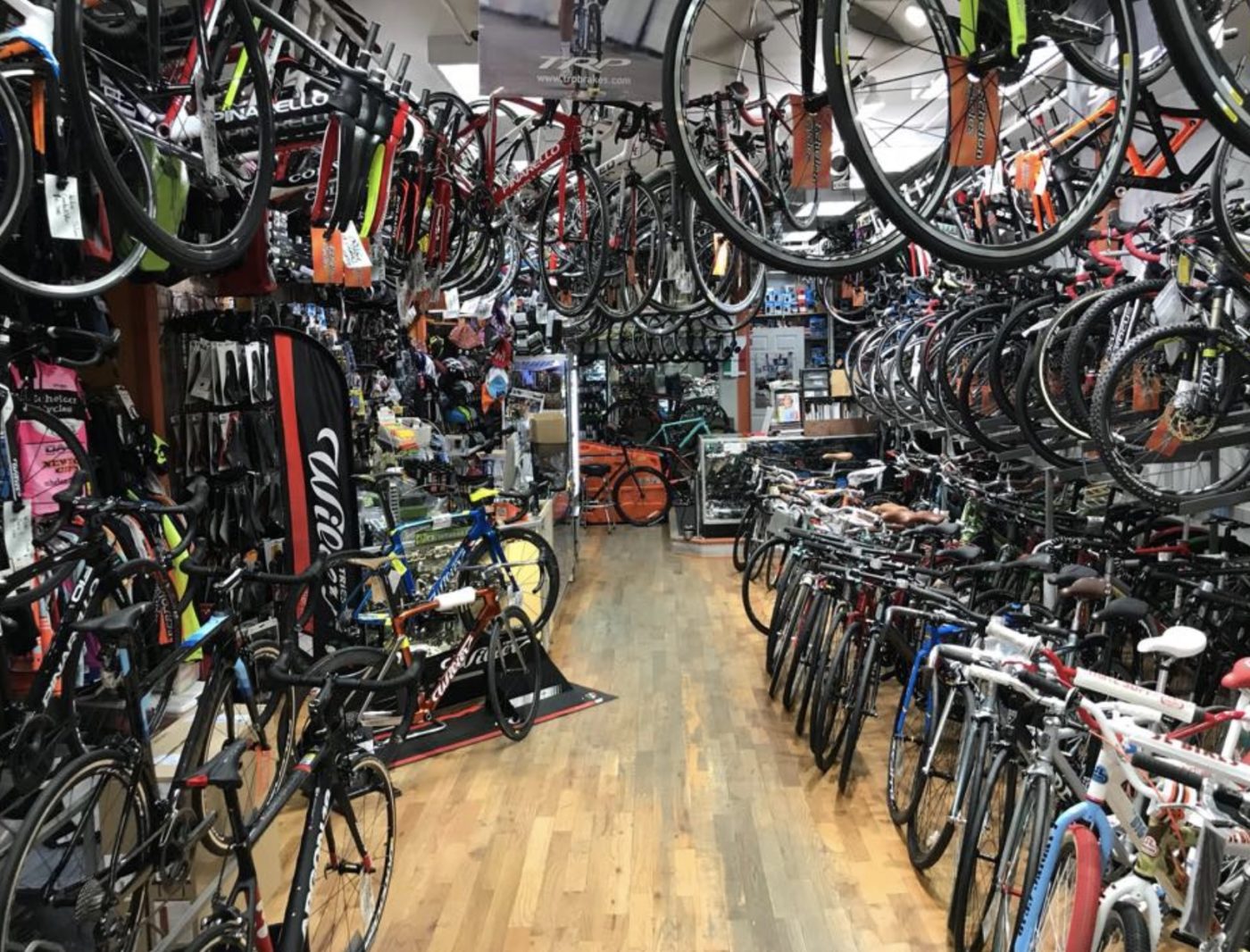 They also offer a wide selection of parts, accessories, bike repairs, and professional fitting services for that customized ride.
Echelon Bikes was founded in 2009 by veteran racer Pablo D. Castro and friends Sha Ran Kim and Daniel (Danny) DeNigris, both avid recreational cyclists. Current shop owner Danny has a great love for cycling and is a passionate advocate of it as boon to healthy living. You can find him six days a week at the store.
Before opening, Danny & co. looked all around the city for good spaces, but the spot they found on 8th Avenue just a few feet south of 14th Street (but paradoxically also near the intersection of West 4th Street) seemed perfect. To Danny, Greenwich Village is more than anything a neighborhood of "nice people," although he notes that they draw customers from all over the city and the world, as well as from dedicated locals.
With the Covid pandemic Danny says there has been "double in demand because people want bikes and 50% down in supply" noting a worldwide shortage of any bike below a certain price point. Nevertheless, they persist. Although certain accessories and parts are sometimes difficult to procure Danny and his team have been able to be creative and obtain good parts or suggest alternatives that are sometimes better. Danny knows that everyone has a different price point that works for them, and thus the store has even started acquiring used bikes at a good value to sell.
But you don't have to know a single thing about bicycles to visit the shop, and get one for yourself or as a gift. That's because Danny and the staff are welcoming and accommodating to novices and experts alike.
When asked what the secret is to their success, Danny did not hesitate to offer: "It is no secret, I am dedicated and hard-working." He is there six days a week and takes only a one week vacation during the year. Danny also was quick to add that Echelon Bike employees do a great job and go well beyond what you would call good service.
What does he ride (when he gets a chance outside the shop, that is)? A Focus Izalco and also a Pinarello Dogma F12. Well, that beats my old Trek Antelope 820!
As far as operating a business in the Greenwich Village Historic District, Danny said there have been no problems or challenges at all for his small business since opening. He did note that in the beginning the need for an architect and a few more hoops to go through. But he said that he appreciated a non "gaudy" look around the neighborhood because of such regulations and the general climate of small businesses all around (more on small businesses thriving in historic districts here).
Danny's a fan of many of the other local small businesses around him. He was quick to list his own favorites, including the Istanbul Grill on 14th Street, Tavern on Jane, Bonsignour, and Hudson Bar and Books and its owner Raj.
If you need some encouragement to get out and ride, here is a good Landmarks Bike Tour. If you are a regular rider or have been pondering the leap to commute or explore NYC on two (or more) wheels, then visit Echelon Bikes NYC and show your support to our July 2020 Business of the Month.
What special small business would you like to see featured next? Just click here to nominate our next one. Thank you! #shoplocalnyc
And here is a handy map of all of our Businesses of the Month: