← Back
Exploring our New Image Archive
We are very excited to share our new and improved Historic Image Archive with you! Whether you are an historic researcher or photography buff, our new archive offers endless layers of history to explore. From our original collections to our most recent additions, our new Historic Image Archive now offers new tools such as an upgraded map, improved search function, and purchasing a print to provide you with a much improved user experience:
New Map
Our new new map groups images by geographic area. Each numbered icon indicates how many images we have for that area. Click on any number and the map will zoom in and show icons that indicate geographically located pictures. Sometimes, icons will indicate several pictures at each location. On the map below, you can see several individual images on East 3rd and 4th Streets, and a number of images located around the intersection of 4th Street and 3rd Ave.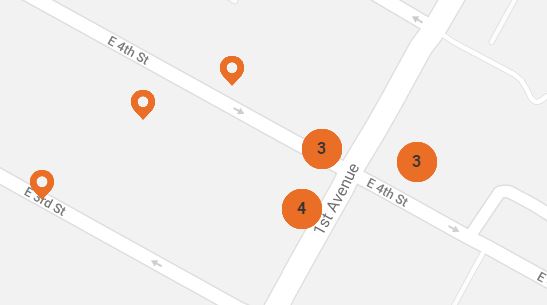 Improved Search Function
The image archive search function is available on our main collections, images, and map pages. You can type any name or address into the "search by keyword" box and all images associated with it will show up. For example, type in "Allen Ginsberg" and nine images of him or buildings associated with him will show up. You can also search by street or Street address such as "East 4th" or a specific address like "113 East 4th Street"
Collection Organization
Since 2015, our image archive has grown from nine to 39 collections. You can search for specific images and collections from our collections page. Some of our larger collections, such as Carole Teller's Changing New York, are broken up into sections.